Create Professional YouTube Videos With These Free Tools
YouTube is a content creator's heaven. It is one of the biggest and most popular platforms to showcase your creativity and even earn from it. But for those who have never dealt with video content creation before, it may look too technical and frankly somewhat intimidating. But trust me, it really isn't.
If you've had that creative itch for making videos for YouTube, you should know that there are so many free apps and resources with which you can create professional-looking YouTube videos in no time.
Hence, this guide is going, to sum up all the elements that you'll need for creating stunning YouTube videos as well as some free and useful resources from which you can get these elements. So, let's get started.
Canva for Intros & Outros
A professional YouTube video has a proper intro and outro at the head and tail of the main content. An intro is important for introducing your channel or brand and the theme of your video to the viewers, while an outro shows video credits and establishes your brand recall.
The intro usually shows your logo or your channel's name animating on the screen along with the title of the video while an outro includes concluding messages like "Thanks for watching" or "Watch our other videos" and once again your channel's name and/or logo.
If you're a novice content creator, the best solution for creating a professional intro and outro is to get pre-made templates. For this, we recommend you visit Canva. From minimal and artsy templates to funky ones, you will find many options available for free download.
What's more is that you can customize these templates according to your brand's colors and add your own logo to the graphics. These templates are in high definition and can be edited or downloaded on the go.
Alternatives:
Animaker for Animation Maker
Another visual element that you can add to make your videos more enticing is the animations. Be it textual animations, explainers, lyrical animations, or simple cartoons, animations can grab your viewer's attention and provide a greater visual impact.
Moreover, animations are particularly useful when explaining complex concepts or processes in your video. The combined effect of entertainment and engagement is what makes animations vital for a professional video.
For adding animations in your videos, you can take a look at Animaker. It offers free and customizable templates of animations related to different categories like greetings, business presentations, animated resume, marketing material, social media videos, and text animation.
You can use Animaker's built-in editor for creating or customizing animations in a few simple and easy steps. Once you have created your desired animation, you can either download it to your computer or share it directly on social media.
Alternatives:
Kapwing – Subscribe Button Templates
When you are into YouTube content creation, it is imperative that you have a YouTube channel and for your channel to gain more viewership, you need subscribers. And so a subscribe button becomes one of the most basic elements for a professional YouTube video.
A subscribe button prompts the viewers to come back to your channel to watch more of your videos and they can even get notifications every time you upload new content. The subscribe button is often accompanied by a textual or audio call-to-action like "subscribe to our channel" or "Don't forget to hit the subscribe button".
You don't have to create a subscribe button from scratch, instead try Kapwing. It is a great resource for getting ready-made subscribe button templates in different designs.
These brief animated subscribe buttons can make your videos look highly professional. Also, you can replace the placeholder with your own logo to make it consistent with your overall branding.
Alternatives: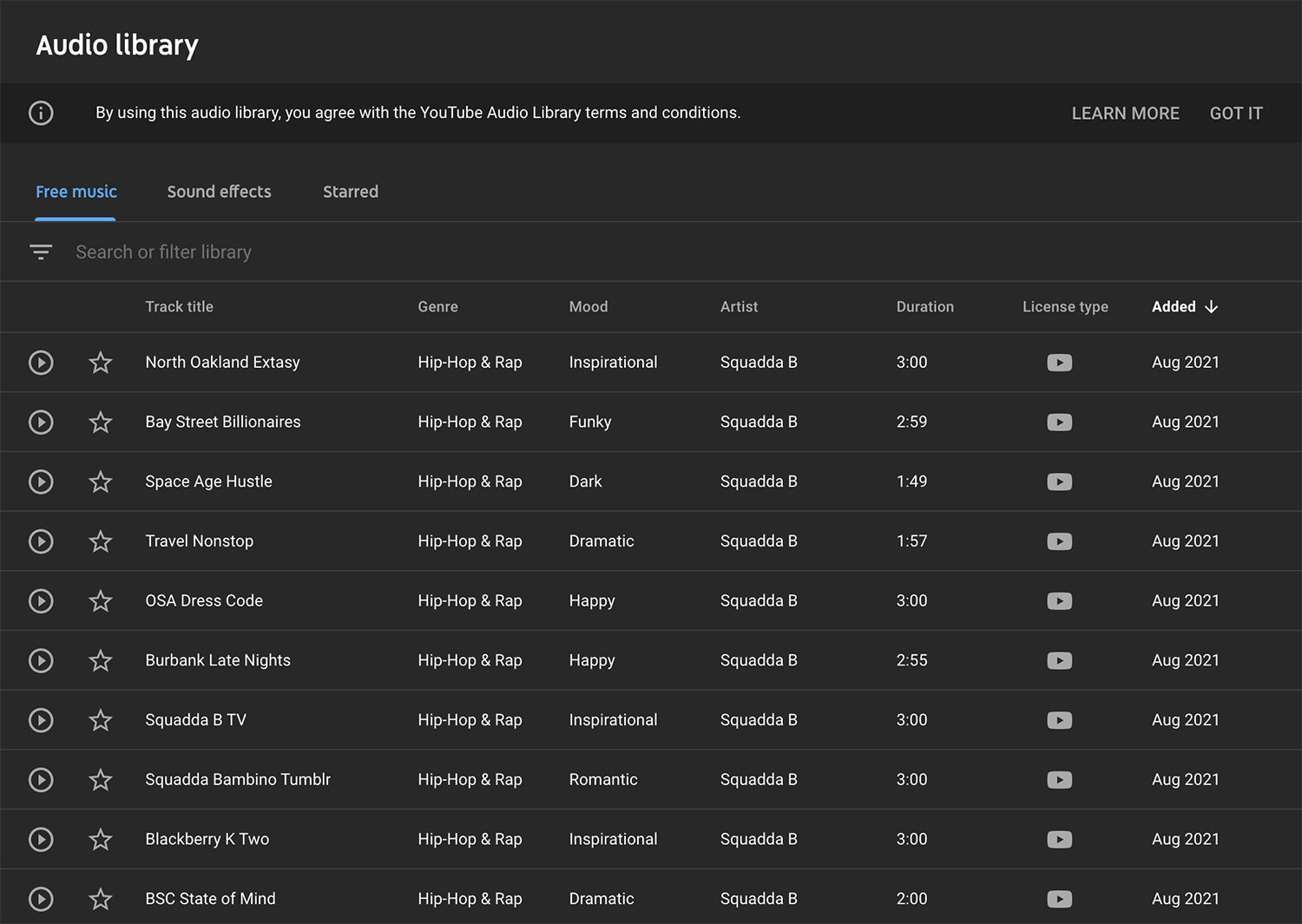 Music is the language of the soul. And so, when you want to make videos that appeal to the senses of your audience, you need to add beautiful background music to them. good background music gives a seamless flow to your videos, especially when you transition between different scenes and ideas.
For professional videos, you need to support your visuals and text with an enticing soundtrack – be it a popular song or simple instrumental music. It also helps in setting the tone and feel of your video so the viewers remain hooked to your content on both visual and aural level.
While creating a video for YouTube, you can head over the same platform to get free and professional music. In the YouTube Audio Library, you can search hundreds of songs related to different artists, genres, and categories.
All the music on YouTube audio library is free to download and can be used in any personal or commercial video. Moreover, you can filter your search by genre, category, or artist and even star any song so you can access it easily in the Starred tab.
Alternatives:
Audacity for Free Audio Editing Tool
In some cases you need to edit the audio separately to add into your video. Like when you're dealing with voice-over or commentary and edit the bloopers or you want only a snippet of a long music score. Such scenarios call for an audio editing tool.
Audio editing tools enable you to edit, modify, or enhance the sounds, commentary, or music that you'd want to use in your video. It also comes in handy when you want to change the format of an audio file or cleaning up noise or imperfections from your recordings.
One tool that offers comprehensive audio editing solutions is Audacity. It is an open-source audio editing software that works on many different platforms including Windows, macOS, Linux, and a few others.
You can use Audacity to edit any segment of your downloaded or recorded sound, improve your sound quality, edit and combine sound files in different formats, add or remove effects, and visualize and select frequencies of the sound files that you want to use in your video. Plus the interface is pretty simple and easy to use.
Alternatives:
We talked about video footage, background music, and sound as integral elements for a professional video. But to combine all these elements into a seamless and stunning video, you need a video editing tool.
Video editing is not just about cutting and pasting clips here and there or getting rid of flawed parts, it is rather a skill that enables you to combine all the elements of a video and make them work in a flow. And a feature-filled video editing tool can make it easy for you to do just that.
One tool that fits perfectly to this description is DaVinci Resolve. It is a powerful video production tool that gives you precise control over your video editing project and helps you create Hollywood-level videos to be shared on YouTube or any other platform.
DaVinci resolves gives you a combination of editing, color correction, visual effects, and motion graphics on through one platform. Apart from the standard video editing features, there are many innovative tools and plugins in the software that you can benefit from. Plus, the interface is pretty neat and offers an easy workflow.
Alternatives:
Dropbox for Free Cloud Storage
Making videos is a bulky business. You have to keep a lot of media files which means not just the final cut but the videos in editable project form as well. So, unless you have a device with humongous storage space, you'll need a cloud storage solution to store your videos and related stuff.
The best thing about cloud storage is that it is easily accessible (online or offline) and just about anytime and anywhere. It is also not prone to hardware malfunction or drive failure and can even be used as a backup for all the data in your physical drives.
For storing your bulky files, the best and most popular cloud storage available is Dropbox. It is a free file hosting service that enables you to store any kind of data and sync your files and folders online and to all the devices in your use. So any upload or change that you do on one device reflects on all the devices synced with the same account.
You can create any number of folders in Dropbox and share with your friends or teammates for seamless collaboration. You can also edit certain files directly in Dropbox which is a big time-saver. On initial signing up, you get 2 GB of storage but you can get additional storage space through referrals.
Alternatives:
Bonus: Some pro tips…
Apart from knowing about a lot of useful resources that may come in handy for creating professional videos for YouTube, here are some suggestions that can help you get better results from your video creation.
Summary
Well, you've read all about the main elements needed to create professional videos for YouTube, now know of the many free and useful resources to create wonderful videos.
Hopefully this guide has convinced you that starting a YouTube channel is not that difficult and even inspires you to jump into the content-creation bandwagon!
Just come up with an idea for your video and leverage the aforementioned sources – you'll be creating amazing videos in no time – and don't forget to tell us about your experience!