10 Sites to Download Free High Quality Stock Videos
As designers use stock photos and images to spice up their designs, videographers can now do the same with several high-quality stock video libraries at their disposal.
Whether you're a professional video editor or a hobbyist videographer, you can use thousands of high definition video footage, that too, for free.
Yep, that's right. Several thousands of free stock videos based on an array of themes are just waiting to be picked and added to awesome video projects.
Also, the best thing about these stock videos is that you can use 90% of them for commercial and non-commercial purposes. So, ready? Let's take a look at the following round-up.
Freepik is a website that provides its users with an array of free video content, ready to download in 4K and HD resolution.
And with a fast-growing community of contributors, new content is constantly updated and quality checked by professionals.
In addition, Freepik has a vast collection of graphic resources such as stock images, vector designs, fonts, and even an AI-image generator tool to create AI images, all the resources to choose to enhance the video experience.
Premium members will prosper from premium content, no need for attribution, and a bunch of features that will streamline your workflow.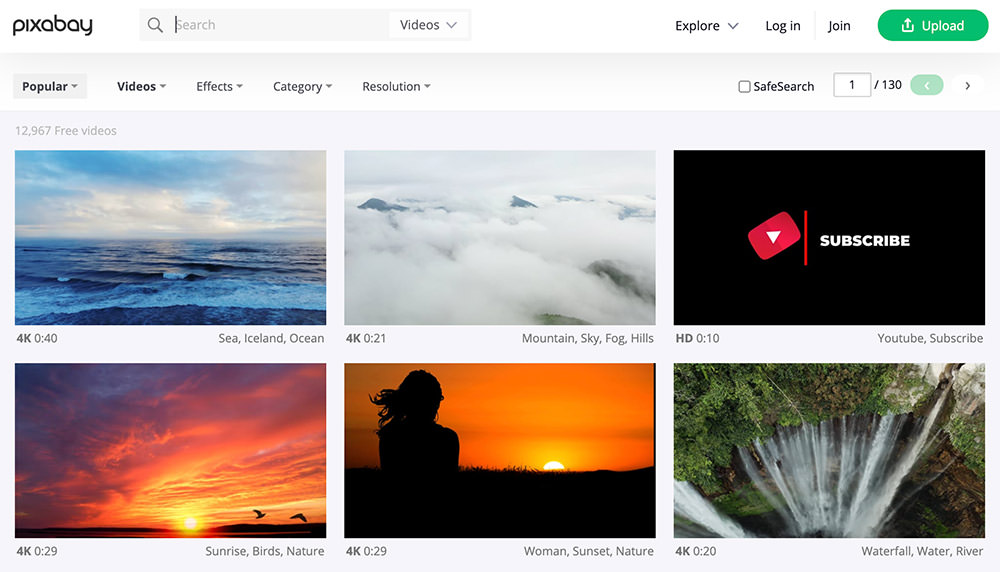 Pixabay has one of the most robust collections of free stock footage.
Currently, they have over 2000 free stock videos available for download, all released under the public domain, meaning you can use them for whatever purpose you want without attribution.
Pixabay's video library is curated by an enthusiastic community of videographers and editors, each doing their best to contribute to the open public.
So if you have something special to share with all editors out there, you might want to submit your work on this website.
Wave.video has an impressive collection of free and high-quality stock videos. The videos are on a number of different themes all you have to do is to enter the right keyword to search one for your project.
The platfom hosts millions of stock videos with different durations and styles and you can edit them through Wave.video's online editor. The stock video can also be downloaded and used on other video editors, though this option is not available for free users.
Pond5 have over 10,000 free video footages! All of this is under Public Domain, meaning they are free to be used and distributed as you need.
Although the videos may be from decades ago, nevertheless, it is a great resource to fall back on.
Pexels is my personal favorite. Originally built as a platform to access and share stock images, today, it has branched into a free stock video library.
It has hundreds of high-quality clips ranging from people, nature, timelapse, and everything you need to create a beautiful video.
There is no limit to how many videos you can download. Make your pick and use the footage for non-commercial and commercial purposes. Also, there is no attribution required.
Distill has the most exquisite collection of free high definition footages. Their library consists of videos of people, architecture, technology, animals and nature, etc.
If you have some creative footages that you want the world to enjoy for free, then create an account and submit your videos on the website.
Distill also offers to send their email subscribers 10 HD videos every ten days.
So, if you are a video editor who could use free HD videos frequently, be sure to subscribe!
Also known as God's gift to video editors, the website currently has over 200 high quality, high-resolution videos in its library.
There are no copyright restrictions; everything can be downloaded and used. However, you want.
The website doesn't even require attribution but encourages it if you can use so that they can create more videos for people like us to enjoy.
If you have footages of your own that you want to share with the world for free usage, submit them to Life Of Vids too!
Mazwai has one of the most excellent compilations of free stock footages of people, nature, and everyday life.
It is a highly curated library of video clips that are impressive and can only be found on their website and nowhere else.
Because of the reliable quality of their free stock videos, publishers often require attribution for their work, so be sure to check on that before downloading.
One unique feature Mazwai has its built-in editor where you could specify the timeframes you'd want to download, so you don't have to download the entire thing.
Videvo is a highly maintained free stock footage site that uploads new free videos weekly.
They have everything you need, from a timelapse of a cityscape down to the regular musings of people in their daily life. You can also download videos of nature, visual effect backgrounds, and the like.
Before downloading, you must first agree never to redistribute the video in its original form. You can, however, edit and manipulate the video for non-commercial or commercial use.
Also, they request you to support Videvo by tweeting or sharing their page on social media.
Vimeo is probably known as YouTube's elite cousin, where you can find a lot of fun stuff. It's where HD quality short films are posted, and where creatives publish their own videos.
But did you know that there's a Vimeo group that allows you to download their HD footage? Yep, there is!
Currently, they have over 19,000 members and 255 videos available for download.
While the group appears to be no longer active since the last upload was six months ago, it's still a fine resource for free stock footage in HD.
Archive.org is the Internet's journal, catalog, or library for all great things from the past. This non-profit organization shelters millions of photos, music, websites, books, movies, and many other files.
It is also home to the famous Way Back Machine which can take you back in time to see what websites looked like when they were first created or at any subsequent point in time until today.
A conclusive look
In today's world, there are still many great things that come for free, and the list mentioned above of high-quality stock video libraries is one of them.
No matter you're working on your college's video assignment or editing a professional film for your client, there is free video footage for everything and everyone.
All you have to do is to check your preferences and find the resource that suits you best.