Getting Started with Clipboard History in Windows 10
A clipboard is the most important part of any platform — be it Android, iOS, macOS, or Windows. It helps you copy and paste data from one application to another application. For example, when you copy some text from a web browser to Evernote or OneNote for keeping it for the future, you're using a clipboard.
Clipboard History helps to enhance your experience while using the clipboard. Clipboard — by default — keeps the latest copied data. For example, if you copy "I like Hongkiat" and you copy "I like Windows", then the clipboard will forget the former one and remember the latter as you copied it later than the other.
Clipboard History helps you in this area. With Clipboard History, the clipboard will remember both the copied texts, and you can access both of them using a simple shortcut. And you can access the latter one as always — just paste it. That said, let's check how to enable and make the best use of Clipboard History.
15 Windows 10 File Explorer Pro Tips
15 Windows 10 File Explorer Pro Tips
Windows File Explorer is one of the most-used native tools in Windows 10. Since it's the go-to tool... Read more
Enable Clipboard History
Clipboard History lists all the items you copied to the clipboard in a simple and intuitive interface. You can enable it following these simple steps:
Go to the Start menu and click on the gear icon to open Settings.
Click on System, then click on Clipboard in the left sidebar.
Under Clipboard History, toggle the switch to On.
Congrats! You have now enabled Clipboard History in Windows 10.
Utilize Clipboard History
Copy to the clipboard
You can copy items to the clipboard as always: select an item and press Ctrl + C or right-click and select Copy. Once you copy an item, it gets to the Clipboard History. However, it becomes really useful when you copy multiple items.
Paste from the clipboard
When you have just one item copied in the clipboard or if you want to paste the latest-copied item, you can paste the item as usual by pressing Ctrl + V or right-clicking and selecting Paste, else you must use Clipboard History.
You can view the Clipboard History by pressing Win + V. It opens a popup showing all the recent items copied to the clipboard up to 25 items. In the popup, just click the item or use the Up and Down keys to select, then hit Enter.
Pin an item on the clipboard
There can be some items on the clipboard that you will be needing more than the others. Or you may want some items to persist even after a system restart. In these cases, you can pin items on the Clipboard History. These pinned items stay available even after a system restart or after deleting the whole history.
You can pin items on the Clipboard History by clicking on the options button for an item and selecting Pin from the options menu. Isn't it easy?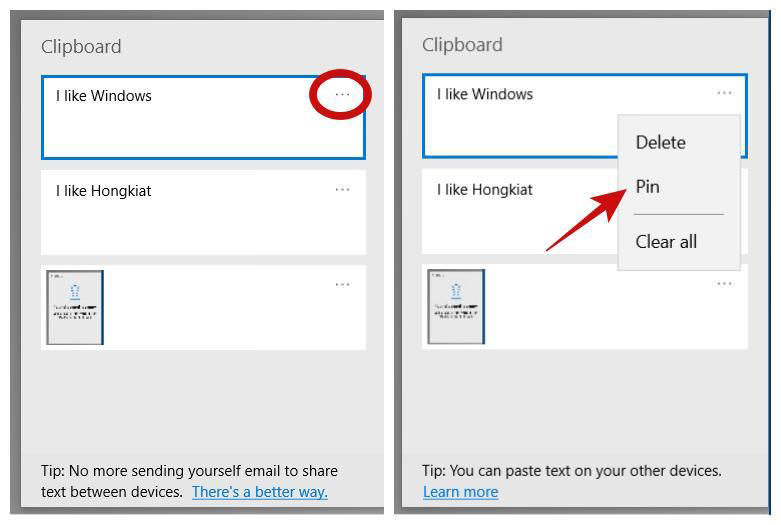 Delete Clipboard History
If you copy some sensitive information (say, passwords or personal photos), it can become an issue with Clipboard History — especially if you share your system with other people. You can avoid misuse of any sensitive information by clearing out the individual item or all items or even the entire history.
Individual item: click on an item's options button and select Delete.

All items: click on an item's options button and select Clear all.

Complete history: open Windows Settings, go to System, click on Clipboard on the left. Then, under Clear clipboard data, click Clear.
Clipboard History Not Working?
1. I can't copy items to the clipboard.
To copy an item to the clipboard, the item's size must be less than 4 MB. And you can copy only bitmap, text, and HTML, i.e., mostly images and text.
2. My clipboard gets cleared automatically.
Clipboard History has a limitation of 25 items. If the old items are not pinned, they will be automatically removed to make space for storing new items. Also, non-pinned items get deleted when you shut down or restart Windows.