9 Best Live Wallpaper Apps for Windows 10
We always want our belongings to reflect our personalities including our devices. That is why we tend to make small or intricate changes to the look of our devices: whether it is a sticker or skin on the outside or a background, dock, or widget in the device itself.
After all, the aim is to make the device our own, right? One of the simplest ways of owning your device is customizing your device with live dynamic wallpapers. The reason being their dynamicity gives a personalized yet dynamic look and feel every now and then.
Moreover, did I tell you some of these apps are free as well? That said, let's explore the best apps that help you set up live dynamic wallpapers as your device's background. Alright, are you ready?
Best Live Wallpaper Apps for Windows 11
Best Live Wallpaper Apps for Windows 11
Animated wallpapers, aka live wallpapers, add life to your Windows 11 desktop environment. The best part? There are... Read more
Desktop Live Wallpapers is one of the best apps offering animated wallpapers for your desktop. It allows you to download dynamic wallpapers from its collection of thousands of wallpapers organized under categories like Cats, Nature, River, Search, Sun, etc.
You can also upload your favorite personal videos on the app and set them as your background in its pro edition. One of its best features is its support for multiple screens (at least three) and various DPIs, helping your entire workspace resonate with your set style.
Desktop Live Wallpapers functions with Android and iPhone videos too. All you need to do is copy the files from your phone to the desktop and use it in this app. You can also choose to play videos with sound by switching its option on under its settings.
Last but the best part is it pauses the video when the desktop is not visible or while using full-screen applications, so you do not have to worry about the live wallpaper hogging the system resources.
Rainmeter is a robust toolkit to add live wallpapers and widgets to your desktop. It is one of the popular tools to display customizable skins and widgets in Windows 10. Its skins include informative widgets like hardware usage, live news, weather forecasts, etc.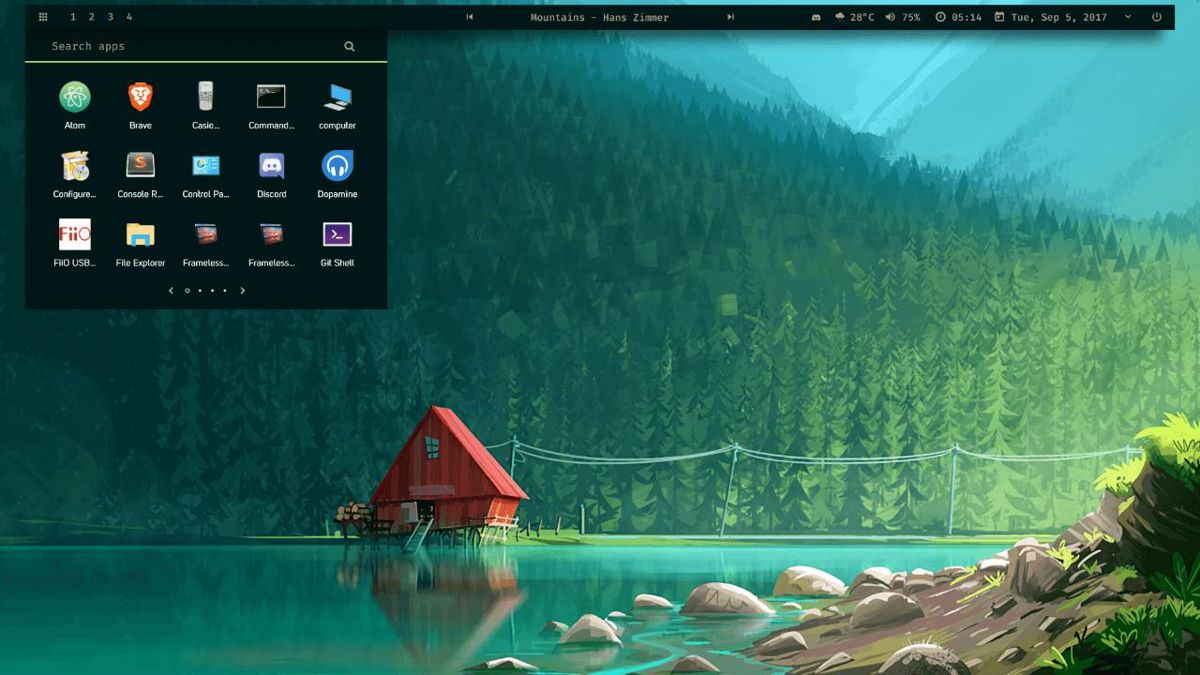 You can choose from thousands of themes and wallpapers or use your videos as the desktop background. You can also select one of the few starter skins offered by the platform or download skins from the hundreds of Rainmeter skin collectibles on the Internet.
One of the most exciting features of Rainmeter is you can add an animation to a still image or use part-GIF as your wallpaper. Last but not least, the other exciting feature about Rainmeter is it goes easy on the hardware resources including memory and storage.
Wallpaper Engine is one of the best apps on this list. You can animate your images, create new wallpapers, download videos from the Internet, or choose from the wallpapers provided by the application. Surprisingly, the possibilities are endless with Wallpaper Engine.
What makes it the showstopper is its extensive display support. It supports all monitor resolutions including all ultra-wide resolutions. Also, it can comfortably handle all multi-monitor setups.
Wallpaper Engine boasts of a powerful editor which allows users to turn static images into live animated wallpapers. Its performance settings can stop playing when full-screen apps or games run.
However, it is a paid app, unlike the above ones. Wallpaper Engine can be purchased from its site via vendors like Green Man Gaming, Humble Store, Steam, etc. for a small one-time fee of 3.99 USD.
Stardock's DeskScapes is yet another application providing live wallpapers for laptops and PCs. Like most other apps on this list, DeskScapes lets you choose from its massive library of wallpapers and upload your images and videos to personalize your laptop.
What makes DeskScapes different is the cool effects it offers to customize and turn your images into wallpapers. Its effects list includes Sepia, Inverted, Night vision, Canvas texture, and many more. Also, its Dream Maker lets you create your animated videos.
DeskScapes offers multi-monitor support, giving you the ability to put customized backgrounds on each of your screens. Also, its user interface is easy-to-use and intuitive, making it easy to navigate. But it is also a paid app like Wallpaper Engine, costing just $6 USD.
WinDynamicDesktop is one of the most popular apps offering live wallpapers. The reason being it brings the Dynamic Desktop feature from the macOS Mojave to Windows 10, which changes the desktop wallpaper based on the time of the day, giving you an idea of the time while working continuously on your system.
WinDynamicDesktop is the only live wallpaper app on this list that changes the wallpaper according to the time of the day. It uses the system's location information to determine the time of the day and use that information to change the wallpaper automatically.
You need to choose a preferred theme and enter your location for the first time you use the app, after which, the app will determine the time and auto-change the wallpaper in the background.
Like most other live wallpaper apps on this list, WinDynamicDesktop allows you to download themes or edit your images and videos to create themes and use them as wallpapers in Windows.
Lively Wallpaper is another app providing the capability to set dynamic images as your desktop background. It is a free, fully open-source application letting you use GIFs, videos, or web pages as your desktop wallpaper.
Lively Wallpaper supports multiple monitors with any resolution and aspect ratios including HiDPI resolutions and ultra-wide aspect ratios. You can set any video as your wallpaper because of its hardware-accelerated video playback powered by the mpv media player.
Video playback is paused when using full-screen applications or while playing games to reduce resource usage. Also, Lively Wallpaper supports two themes: light and dark themes, allowing you to use the current trend of dark themes.
RainWallpaper is another one of the best apps on this list, allowing you to download live wallpapers from its built-in online library. You can also create your wallpapers using its native wallpaper editor (one of its solid features, making it stand out here).
RainWallpaper offers live interactive wallpapers that can be controlled by clicking with the mouse. Also, it pauses wallpapers while playing games or using full-screen applications to reduce resource usage including memory.
Its user interface is friendly and easy to use, and it supports multiple monitors of all aspect ratios and native resolutions. Moreover, it is optimized to provide great visuals without compromising on system performance.
MyLiveWallpapers is another platform like WallpaperWaifu, offering a whole range of downloadable live wallpapers. It has many types of live wallpapers like anime, fantasy, gaming, nature, sci-fi, etc.
MyLiveWallpapers boasts of providing the best anime wallpapers in the market, and I find it right. Unlike WallpaperWaifu, it has an app to apply these wallpapers as your desktop background in Windows.
If you are an anime enthusiast looking for some mind-blowing anime wallpapers for your desktop, MyLiveWallpapers is the one place to find them. It offers a long list of animated wallpapers: its site lists 300+ pages of wallpapers along with an option to install on mobile.
Waifu is a platform that offers a wide range of animated gaming wallpapers that you can use as your desktop background. Waifu houses hundreds of amazing wallpapers to choose from.
However, Waifu does not have its own app that can help you to apply these wallpapers on your desktop. Fortunately, it can be done with the help of apps like Desktop Live Wallpapers or Rainmeter.
Moreover, its wallpapers can be used with various apps without any compatibility issues. That is why when you are looking for classic gaming wallpapers, WallpaperWaifu should be your go-to site.
Bonus: GIFs or Web Pages as Live Wallpapers
If you are looking for a way to use your favorite GIFs as your desktop wallpaper in Windows 10, you can make use of Plasteur. It allows you to set up GIFs, videos, and web pages as live wallpaper. GIFs often lighten our moods and having them on the desktop can be a stress buster when you need a break. You can set them up using these:
Download and install Plasteur from https://plastuer.com.
Select the monitor you want to set the wallpaper on.
Click Select File and choose a GIF, then click Save.
However, Plasteur is a paid application. If you are looking for a free software allowing you to set GIFs as your desktop wallpaper, then Bionix should be your choice though its interface is just basic.
Bonus: Use Videos as Live Wallpapers
Would you love to see a video playing in the background while you work on your computer? Fortunately, there is an easy way of using a video as a live wallpaper. You can utilize VLC media player and its background wallpaper feature to accomplish this in two steps.
Open the desired video in the VLC media player.
Click on the Video menu > click Set as Wallpaper.
That is all about the applications and tips and tricks to apply live dynamic wallpapers in Windows 10. With so many options available at your fingertips, you can customize your desktop easier than ever. Whether you want to increase productivity or display your creativity using dynamic wallpapers, these apps can take care of them all.