10 Cool Gadgets That Bring You Renewable Energy
These gadgets range from mobile phone chargers and emergency lights to wireless keyboard and even portable speakers.
Green energy has the answer to a lot of our power-related problems including environment, cost-effectiveness, and energy conservation. Still, not everyone can afford to install large solar panels and run the entire house on it.
But what you can easily do is to get a cool handy gadget that brings you green energy to run your smaller devices like radio, mobile phones, and even a small fan.
Interested enough? Then take a look at the following list of some really useful gadgets that can prove to be a reliable source of green energy.
This is a cell phone or tablet charger that works with solar energy. The charger is equipped with Monocrystalline silicon solar panel that offers 20% high photoelectric conversation rate making it a truly reliable power source.
The solar panel charger is designed with portability in mind. It is lightweight with 2mm thickness and can be fixed on different surfaces through suckers, in hanging position, or bound to your bag. Moreover, it has an epoxy resin surface seal and frosted panel to avoid scratches make it durable.
Sunlitec Solar Lights are interesting torch lights that emulate a flickering flame. It is a safe alternative to real flames and even though the light they produce is not very bright, still it can be an ideal accessory for camping and outdoor decoration.
The lights run on solar power and produce energy through a photoelectric solar panel attached to the top. Additionally, the lights are weather resistant and offer adjustable height to mach any kind of environment.
Here is a little solar-powered water fountain that floats on any water surface. It is fitted with a small filtration box underneath that blocks dust, dirt, leaves, and other contaminants from getting into the floating fountain and even stops working as soon as you take it out of the water.
You can use this little fountain as an outdoor decoration or a bird bath which comes really handy in hot weathers. Made with a plastic body, it starts working as soon as there's sufficient sunlight and can produce a spray till 30cm to 40cm in height.
This Solar bot is an interesting little DIY toy for kids and adults alike that runs on solar energy. With the construction kit included in the box, you can build yourself a nice little robot friend that enhances your kid's learning and give them a productive pastime.
The robot is fitted with a tiny solar panel on top from where it gets all the power. You can also use some other materials to experiment and convert it into other shapes. It is a nice little educational toy that combines science with arts and crafts to give a complete learning experience to your kids.
WakaWaka Power+ is a portable solar-powered flashlight cum charger. This gadget packs in a 3000 mAh battery, which can be charged to full 12 hours under direct sunlight or in three hours using a wall outlet. What amazed me more is this flashlight comes with ultra-efficient, multiple light settings, allowing to get light in a range of five to 70 lumens.
Power+ provides 200 hours of light and packs enough power to charge a cell phone 1.5 times or a camera and other gears multiple times via its USB port. Surprisingly, you can use both the flashlight and the charger simultaneously, making it super useful during an outdoor activity. Also, its emergency beacon can get you help at the time of an emergency.
Solar/Dynamo LED Flashlight by Secur comes with three LEDs of eight lumens light output, 80 mAh battery, a solar panel, and an inbuilt dynamo generator. You can charge it to full in four hours under direct sunlight or six hours by cranking it. I find its dynamo generator can prove helpful in rainy or in-home situations.
When completely charged, this flashlight can light up to four hours with three LEDs and up to eight hours with just one LED. Also, it is waterproof up to 45 feet. That said, it is a perfect gadget to use while outdoor camping, hunting, boating, and backpacking.
Etekcity LED Solar Camping Lantern is lightweight, portable, and durable with an omnidirectional light that can run all night. It works on a 450 mAh battery that can be charged using its built-in solar panel.
20 Camping Gear Pieces for Avid Traveler
20 Camping Gear Pieces for Avid Traveler
Sometimes in order to escape the hectic, always-in-a-rush lifestyle, we have no choice but to take ourselves far... Read more
This lantern can charge itself when under the sun or you can connect it to a 5V DC power supply to charge it up. You can also hack and convert it into a flashlight by unscrewing the bottom cap. However, I noticed that it does not have a charge level indicator and a bright light. Nevertheless, it works well during power outages and emergencies.
This Wireless Solar Keyboard is sleek and comes with solar panels. It can charge itself from any source of light including indoor and outdoor lights. Moreover, it can hold the charge for at least three months – even in complete darkness. That said, it is wonderful enough to make me replace my wireless keyboard.
It packs in a powerful 2.4 GHz wireless receiver, which eliminates any delays, dropouts, and interference, meaning you can enjoy hassle-free typing. Also, it has a long-range connection, making it super portable and allowing you to control the cast from your sofa.
Rock Out 2 is a fantastic portable speaker with the goodness of harnessing the power of the sun. It features a solar panel and a weather-proof exterior body, unlike usual speakers. It packs in an 800 mAh battery that can run your music for 10 hours on just a single charge. Isn't it amazing?
Moreover, its one-touch Bluetooth pairing functionality offers a hands-free solution to connect your mobile phone. You can place it under the sun to charge it (takes eight hours) or use the built-in cable to charge this speaker from a laptop or a wall adapter (takes two hours). This being the case, it can play music all through the day – even after the sun sets.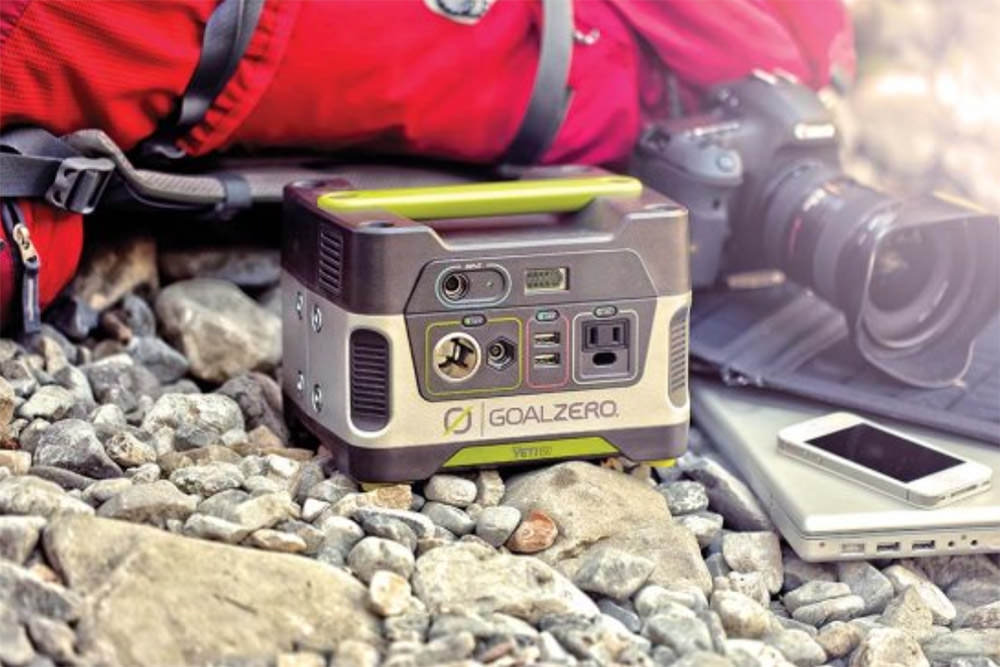 If the above gadgets are not enough for your power needs or you are looking for a fume-free portable power station to use for big emergencies, then Goal Zero Yeti 150 can be your ultimate choice. This power station has a 150Wh battery, which can be charged through a solar panel, or plugging it into a wall socket or 12V adapter of your car.
It offers much more than any power bank on this list including an "LCD Battery Display." Yeti 150 features two USB ports, one 12V output, and a regular socket backed by an "AC Inverter." That means you can charge a range of devices from a smartphone to a laptop until the device does not require high input power or voltage, of course.