20 Camping Gear Pieces for Avid Traveler
Sometimes in order to escape the hectic, always-in-a-rush lifestyle, we have no choice but to take ourselves far away from life in the city. Camping is one of the best ways to really get away from it all. It is also a type of travel that requires a lot of preparation – from bringing the right type of sleeping material, to lugging the right cooking utensils and even climbing tools.
Nowadays, we have plenty of advanced and useful camping gear to make the whole experience a lot more comfortable. In this list we're looking at sleeping alternatives to the humble tent, power sources that can help keep you connected to your favorite gadgets, light sources, cooking tools and more gear that will make you wish you could camp more often.
Read Also:  10+ High Tech Camping Gears and Gadgets
Camping is not a reason to limit your access to a hot cup of coffee. You can bring this with you and enjoy hot drinks anytime you want. It can store up to 6 cups and has a removable silicone grip so you can brew your coffee over an open fire anytime. [$33.04]
This awesome au naturel grill will come in handy in your next camping trip. Light it up and enjoy grilled food in the middle of nowhere. It's made out of wood and will burn itself without any wastes. Once you're done you can leave it there for nature to take its course. [$16.95]
With PowerLight you'll get a light source to use after the sun goes down. It is charged via solar power, and can be charged from any angle. You can also use it to top up your smartphone's battery life. [$127.89]
Read Also:  5 Unorthodox Smartphone Chargers
This is a next-generation wooden stone which you can take with you in your trip! Now you can get fresh hot food anywhere you go. The stove can be used in tents, small houses or the great outdoors. It has easy controls for you to manage the level of heat you need. [£299]
Biolite is a mini clickable lantern with three modes. It can also be used as a bike light or headlight. It provides up to 52 hours of light and can be charged via USB. [$44.95]
No matter rain or shine, keep the tunes pumping with this waterproof Bluetooth speaker. It provides 360-degree sound and up to 8 hours of listening time, and can be recharged via USB. [$59]
This is a full fit sleepwear bag for campers. You don't even need a tent with this sleep bag, you can sleep right under the stars in it. It will keep you warm and comfortable. [$169]
Made with parachute nylon, this hammock is absolutely durable and strong (the maximum weight is 400 pounds). It's super lightweight and can be set up in a few minutes. [$22.99]
The backpack is an essential item in any camping trip. This bag was handcrafted for your future adventures. It has 20 litres of space. The leather strap on top can be adjusted for a mat or something else you need. [$225]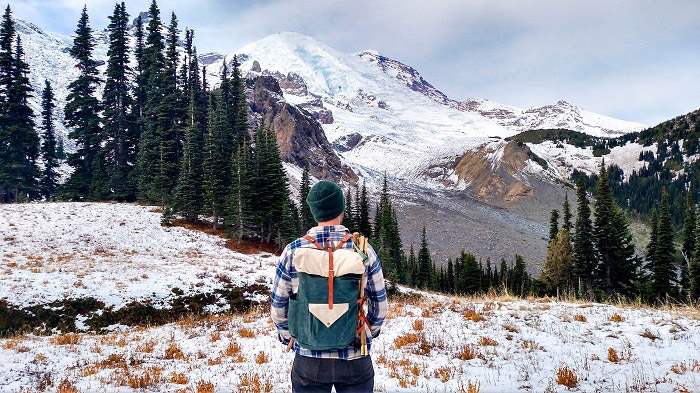 If you're scared of wild animals on your trip, this tent will keep you off the ground during your sleep. Designed for two people, this tent can be attached high up in the trees to keep you safe. [$350]
The Qlipter is the first carabiner with a rotating hook that opens up to hold your things and can be folded closed when you are on the go. It can be used as a carbine or a hook, and is extremely important for travellers and campers. [$19.95]
Even if it's raining, you can be sure this waterproof lantern is on. Adjust brightness to 100%, 50% or 10% and control battery life. It even floats on water and can be made to blink SOS during emergencies. [$65.20]
If you're not ok with the idea of dipping in a creek or river, grab this. You can fill it up with the water from a water source and take a shower in the relative safety of the woods. It is a compact zipped pouch that is easy to take with you. [$32.95]
Make your camping adventures even more stylish with this amazing flask. You can take your favourite beverages with you wherever you go. The flask is made out of stainless steel and has awesome matte black finish. [$30]
15. Bison Bag G1 Sleeping Bag Hammock
Bison bag is the first in the world hammock and sleeping bag in one. If you're don't like sleeping upon the cold ground, you can transform it into a comfortable hammock. It can be packed into one small item to save some space in your backpack. [$130]
The elevate grill is a gas portable grill perfect for camping or picnic. It has two grill beds for you to grill your meats. Now you can grill anywhere you go. [$249.99]
This amazing speaker is waterproof and can be clipped to your backpack. It comes in various colors from black, deep blue to vivid pink. It can also be plugged into a smartphone if you don't want to use Bluetooth. [$49.99]
This small red bag fitting the palm of your hand is actually a water-resistant pocket blanket. This blanket folds out to 63″ x 44″. The fabric is hyperlyte nylon and the blanket is entirely grey with a red stripe. [$24.99]
Anker is a strong power supply packed with an incredible 400Wh of power. This single device has enough juice to charge your smartphone for over a month. [$499.99]
Easily find your way back to your tent with the UCO Stakelight, the LED tent peg. Operated by a single AAA battery in each peg, the UCO Stakelights are highly water resistant so they can be used even in the rain. They provide up to 10 hours of continuous operation. [$33.98]