18 Smart Home Gadgets You Can Control With Android
The idea of robots and machines taking care of your home isn't a fantasy any more. Smart home gadgets can fulfill almost all of your requirements at home. From cleaning to taking care of your pets and entertainment to security, everything can be handled by smart gadgets. All you need to do is sit back and control everything with your smartphone.
If you like the feeling of having control of your home right in your palm, then check out the following list of 18 smart home gadgets that can be controlled with your Android phone.
iRobot Roomba 980 is a smart vacuum cleaner that can automatically clean the whole floor and easily navigate from room to room. From wooden floors to carpets, it can clean every type of floor. You can use the Android app to start/stop cleaning, schedule cleaning and see cleaning history.
WeMo Light Switch replaces your current light switch to give you full control over your light. It can be easily installed with any light switch and let you turn on/off lights with the Android app or schedule when the lights should turn on/off.
Yale LiftMaster Smartlock is a smart lock that lets you open or lock your door with your phone. It uses low bluetooth signals to detect your device and automatically or manually open/close the door. You can also use bridge system to connect it to WiFi and control it from anywhere in the world.
Tile is a small gadget that attaches to any of your important thing and they will never get lost again, whether it's keys, your phone or even your bike. Using low bluetooth signals it connects with your phone in 100ft distance and makes loud sounds when triggered.
You can also use it to make your phone ring (in case it gets lost), and you can track last location history of things as well.
It's a smart video doorbell that lets you have a face-to-face video conversation with anyone on the door using your smartphone. It connects to your home WiFi, and you can use the Android app to start a conversation with someone on the door.
Philips Hue completely changes the way you light your house. This smart bulb is completely controllable from your phone and you can adjust white balance, use presets to make it work according to your mood and change its color to any color in the spectrum.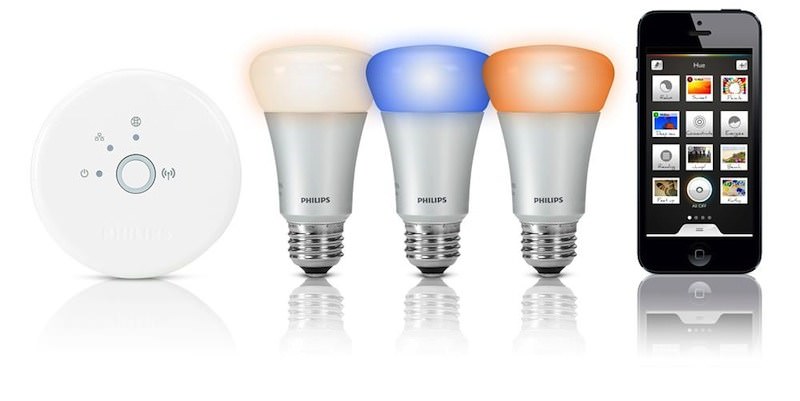 Arlo offers a 6 wireless camera security system that is completely controllable from your phone. You can see live or recorded videos from anywhere and 2-way audio makes it easy to communicate with anyone nearby.
This smart water sprinkler gives you complete control over your garden sprinklers and lets you control them from anywhere. It has a built-in weather forecast feature to ensure you don't give extra water when it's about to rain. You can both schedule watering and give water on command.
Nanit is a smart baby monitoring system that tracks your baby's sleep pattern and helps you understand if they are awake, fussy, or sleeping. It identifies sleep issues and provides insights to help you get back on track. It also lets you monitor your baby in HD video quality, and its built-in white noise helps baby sleep.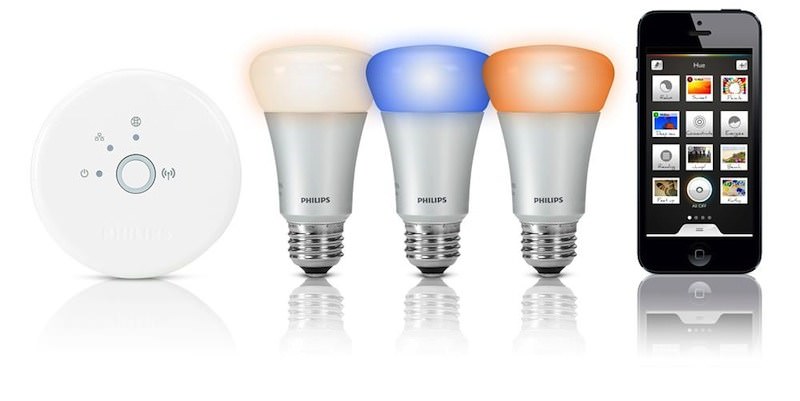 A controllable garage door opener and closer that will let open or close your garage door from anywhere. You will also receive notifications if the garage door is open when you are away or if someone opens it.
BeON is a security bulbs kit that mimic your lighting habits to scare off any intruders when you are not at home. They will turn on when you usually turn them on, even if you not at home; and their 5 hour backup ensures that power outage don't become a problem.
They can also automatically turn on when you enter your home or if someone rings the doorbell.
You can control these window shades from anywhere using the Android app. They come in many different colors and textures to suit your home. There are no wires involved; a battery powered motor quietly closes and opens the shades.
A very innovative baby rocker seat to help the baby both play and sleep in it. It is completely controllable with your Android phone and you can change lullabies, adjust rocker speed, check swing battery and more.
Roost smoke alarm makes your dumb alarm smart by simply giving it the ability to notify you from anywhere. In case smoke or fire is detected, it will send a notification on your Android phone.
It's a remote control cooker to cook food from the comfort of your couch or even your office. All you need to do is put food in it and use the WeMo Android app to adjust temperature and cooking time. You can also increase or decrease cooking time later as required.
A very simple gadget, but can be very useful if used the right way. TP-Link smart plug is a simple plug to which you can connect your electronic devices. However, anything that connects can be turned on/off remotely using your smartphone. You can also schedule on and off times if needed.
Atomi smart coffee maker is a 10-cup remotely controllable coffee maker that can make coffee for you before you enter the kitchen.
Using the smartphone app, you can control when it should start making the coffee, or create weekly schedules to ensure a hot cup of coffee is always there to greet you in the morning.
Similar to iRobot Roomba, iRobot Braava does the job of mopping the floor. It will spray water and then sweep the floor to get rid of the spots and grim. It has an adaptive navigation system to know where it has already cleaned the floor and only move to newer areas.
Conclusion
All of the above smart home gadgets can be easily controlled with your Android phone without any need of subscriptions or paying first. I really liked both the offering by iRobot and TP-Link smart plug is also a tiny yet handy gadget. Which one of these smart home gadgets you like? Share with us in the comments.