10 Best CRMs for Startups on Budget
For a startup business, apart from their product, the most important thing is to manage existing and potential customers. And this is where Customer Relationship Management (CRM) tools come into play. CRM tools help businesses keep track of their sales, potential leads, and customer interactions through a single platform.
As startups usually work on a limited budget, they must have affordable tools to manage business activities. Here's a list of some of the best CRM tools suitable for startups that are cost-effective yet feature-rich. Offered by some of the market leaders in the field, these tools come with different features and pricing options. Read on to learn about each tool in detail.
20 Design Tools for Startups on Budget
20 Design Tools for Startups on Budget
Starting a business often means you and your laptop against the world. Every entrepreneur can relate to this.... Read more
Salesforce Customer 360 is built on top of Salesforce CRM, which offers sales, marketing, customer service, operations, and analytics features across different channels. The platform offers enterprise-grade features for managing all aspects of the sales process, from lead generation to closing deals.
Most interesting feature of Salesforce Customer 360 is the Einstein AI that automates repetitive tasks and provides intelligent recommendations to improve the customer experience of your business.
It also provides real-time analytics and data insights via Tableau. Also, Mulesoft helps integrate cross-platform data across applications for creating powerful engagement among your customers.
Does Salesforce have a free plan?
No. Salesforce's Customer 360 has no free plan available.
Salesforce's paid plans
Essentials plan – $25/user/month and offers all-in-one sales and support features.
Sales Professional and Service Professional plan – $75/user/month when billed annually; provides comprehensive sales solution and customer service solution, respectively.
Learn more about Salesforce Customer 360
Monday.com – the popular task management tool – also has a CRM up its sleeve. Its Monday Sales CRM is as customizable as the task manager, i.e., you can customize the columns, add deal stages, or manage multiple pipelines.
The CRM offers efficient communication with potential clients by integrating email directly with monday.com. It auto-logs all communications to keep an updated record of interactions between your team and potential customers.
It also facilitates the sales processes by automating all repetitive work. For example, auto-assign leads to your representatives, reminders for activities, and receive notifications for potential customers opening or viewing an email or message.
In addition to that, Monday Sales CRM features an instant overview of your deals and improves visibility of ongoing deals through custom dashboards.
Does Monday Sales CRM have a free plan?
No. Monday Sales CRM does not have a free plan per se, but you can try out any of its plans for free for a limited time.
Monday Sales CRM's paid plans
Basic CRM – $10/user/month. Offers customizable contacts and pipelines, contact and lead templates, etc.
Standard CRM and Pro CRM – $17 and $30/seat/month, respectively, offer email integrations, invoices and quotes, CRM automation, and more.
Enterprise CRM – Price not listed.
Learn more about Monday Sales CRM
HubSpot is an all-in-one CRM tool that provides many features to manage customer relationships more efficiently. It offers features as blogging and social media integration, lead management, website analytics, email marketing, SEO optimization, and more.
HubSpot has a simple interface with a plethora of features and free tools. Its paid plans are powered with extras from HubSpot's Marketing, Sales, and Service Hubs, offering ad retargeting, email campaign automation, deal assignment automation, and intelligent lead scoring.
However, HubSpot's plans are limited by the number of contacts, so you can not target campaigns to a large population though you can track up to 1 million prospects.
Related: Pipedrive vs HubSpot: Which CRM is Better?
Does HubSpot have a free plan?
Yes. HubSpot's CRM software has a free option .
HubSpot's paid plans
Professional plan – $1600/month for 2,000 contacts
Enterprise plan – $5000/month for 10,000 contacts.
Zoho CRM is a more affordable alternative to other CRMs on the market today, with many of the same features as competitors but without a high price tag. It helps you to increase customer loyalty, reduce costs, and spend less time on managing customer relationships.
Interestingly, its Canvas feature (a drag-and-drop tool) lets you design the CRM's interface to fit your team's aesthetic needs.
Zoho CRM has a wide range of CRM features fitting for every department in an organization. These include lead capture and management, email marketing, social media integration, sales automation, and third-party integrations.
Does Zoho CRM have a free plan?
Yes. Zoho CRM's free edition supports 3 users with essential features like leads and documents.
Zoho CRM's paid plans
Standard and Professional plans – $20 and $35/user/month offer deals, advanced filters, workflow rules, marketing automation options, etc.
Enterprise and Ultimate plans – $50 and $65/user/month, respectively for features such as email parser, sandbox, approval process, etc.
Freshsales – from the team behind Freshdesk – is a CRM system that enables teams across marketing and sales to collaborate and provide an efficient customer experience. Its user-friendly interface gives quick access to contacts and leads and kanban-style boards for the backbone of its sales pipelines, which helps you for closing deals.
Freddy AI is its most interesting feature that suggests deals to close and provides related data. Moreover, you can get real-time data and insights, which can help you to provide a better experience to your customers.
It allows connecting with your contacts across channels like email, chat, and WhatsApp and integrates with other applications such as HubSpot, Mailchimp, and Zapier.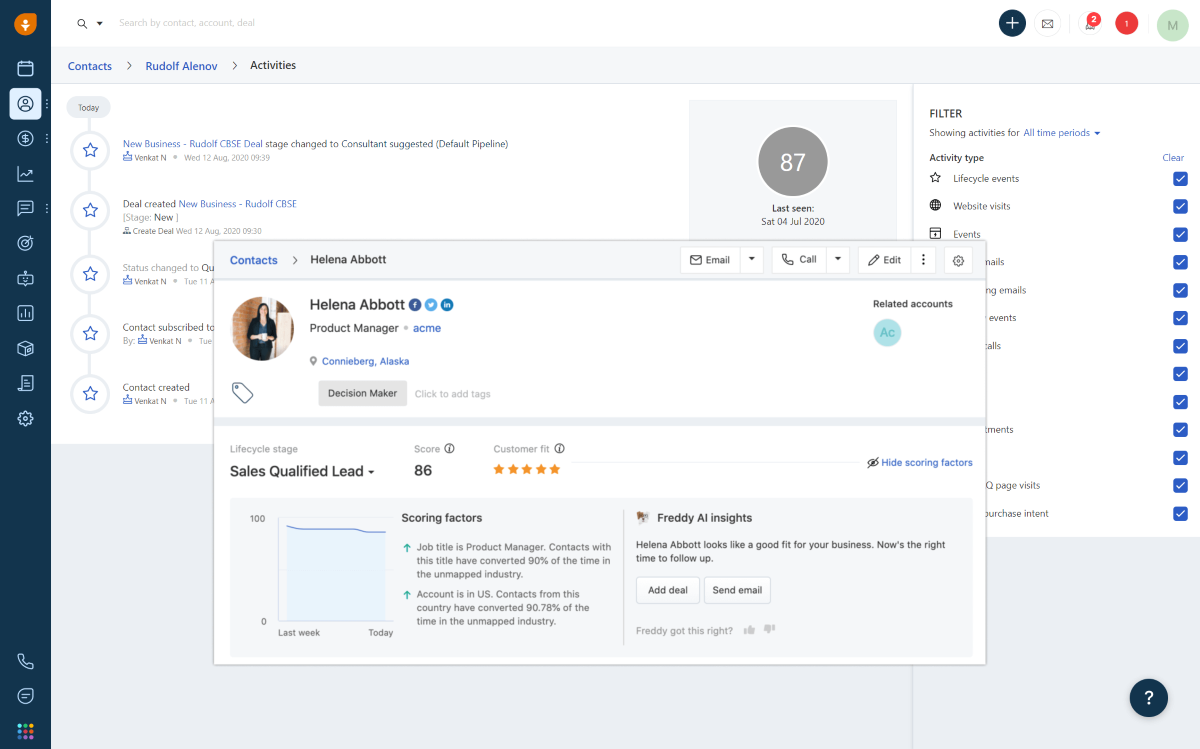 Does Freshsales have a free plan?
Yes. Freshsales has a free plan with essential features like contact management, contact lifecycles, etc.
Freshsales's paid plans
Growth and Pro plans – $18 and $47/user/month, respectively and include sales pipeline, predictive contact scoring, bot sessions, support for WhatsApp Business, and more.
Enterprise plan – $83/user/month and offers forecasting insights, audit logs, etc.
Insightly CRM is a powerful customer relationship management tool that helps businesses to organize their data and leads in one place. It's features include contact management, sales pipeline, marketing automation, leads, ongoing projects, and a lot more.
Interestingly, it provides a real-time view of your business and customers through its analytics dashboards, allowing you to track leads, marketing efforts, and forecasted future revenues. Insightly CRM best-fits for small and medium-sized businesses since it lacks user management features for enterprises.
Does Insightly CRM have a free plan?
Yes. Insightly CRM offers a no-frills, free plan for 2 users.
Insightly CRM's paid plans
Plus and Professional plans – $29 and $49/user/month, respectively, offering features to find and manage leads, email campaigns, business intelligence dashboards, third-party integrations, and more.
Enterprise plan – $99./user/month offers features to stronger relationships, automate business processes, and serverless functions.
Learn more about Insightly CRM
Workbooks is a fitting CRM for small to medium-sized businesses, offering features for sales, marketing, customer services, and operations teams. You can execute effective marketing campaigns, manage your team's workload, prioritize resources, and get data and insights through its dashboards and reports. It also offers customer service automation features and sales pipeline optimization to improve your sales process.
Its unique feature is the Shared Success program, which provides you with free consulting hours and annual workshops to ensure Workbooks align with your business goals. Additionally, its co-funded implementation ensures long-term commitment from Workbooks for your team's success.
Does Workbooks have a free plan?
Yes. Workbooks offer a free plan with essential features for 2 users.
Workbooks's paid plans
CRM plan – $39/user/month offers sales and marketing management and customer service management features.
Business plan – $78/user/month adds order management features.
Along with these plans, it offers add-ons like email marketing, web analytics and intelligence, and social media advanced for added costs that help increase engagement.
EngageBay comes with a lot of features for building healthy customer relationships like building sales pipelines, automating email campaigns and text messages, and more.
It has a kanban board-based sales funnel interface that lets you view and configure your sales, manage tasks, and social media campaigns in one place.
EngageBay also has a set of features andtools help boost post-sale customer relationships as well. Moreover, it supports third-party integrations such as Gmail, Outlook, and Microsoft Office, etc.
Related: EngageBay's All-in-One CRM (Review)
Does EngageBay have a free plan?
Yes. EngageBay free plans support 500 contacts, email marketing, and landing pages.
EngageBay's paid plans
Basic plan – $14.99/user/month offers 1,000 contacts, SMS marketing, and third-party integrations.
Growth plan – $49.99/user/month. supports 10,000 contacts, marketing automation, service automation, and more.
Keap is a CRM solution with a unique set of sales and marketing features. These include appointment booking, payments support, email marketing features and more on top of native contact and pipeline management features. You can convert leads through marketing automation and help improve productivity via workflow automations.
Keap has a simple dashboard, making it easy for novice team members to utilize its features. It offers all features to collect new leads seamlessly, focus on important things by automating all distracting and mundane tasks, and send emails and texts to segmented user lists. Moreover, you can connect with your customers via a line of channels like calls, emails, texts, and more.
Does Keap have a free plan?
No. Keap's has no free plan at the time of this writing.
Keap's paid plans
Pro and Max plans – $169 and $249/month, 1500 and 2500 contacts, and 2 and 3 users, respectively, offers CRM, automated lead capture, email marketing, landing pages, sales pipelines, automation, and more.
Max plan offers promo codes and marketing analytics as well on top of other features.
Salesflare aims for lead management and offers smart information gathering to help with leads and sales. It collects and delivers contact info and more detail automatically from emails, social profiles, and more.
Salesflare fits well for small to medium-sized organizations due to its simplicity and powerful features. It tracks and logs every action taken by your team members like calls, meetings, and emails, maintaining a contact record for all potential leads and customers. It also offers automation tools to speed up sales tasks, team-wide sales opportunities, etc.
Does Salesflare have a free plan?
No. Salesflare does not have a free plan.
Salesflare's paid plans
Growth plan – $35/user/month offers email and website tracking, personalized email campaigns, and more.
Pro plan – $49/user/month features multiple email workflows, user permissions, user dashboards, etc.