5 Best CRM Tools with Facebook Messenger Integration
The best CRM tools that sync with Facebook Messenger, enhancing your business communication.
Businesses need to stay connected with their customers in the most efficient way possible, and one way to achieve this is by integrating customer relationship management (CRM) tools with widely-used chat tools, like Facebook Messenger. This article will serve as your guide to understanding this integration better. We will delve into five CRM tools, discussing their unique features, how they integrate with Facebook Messenger, and their pricing structures.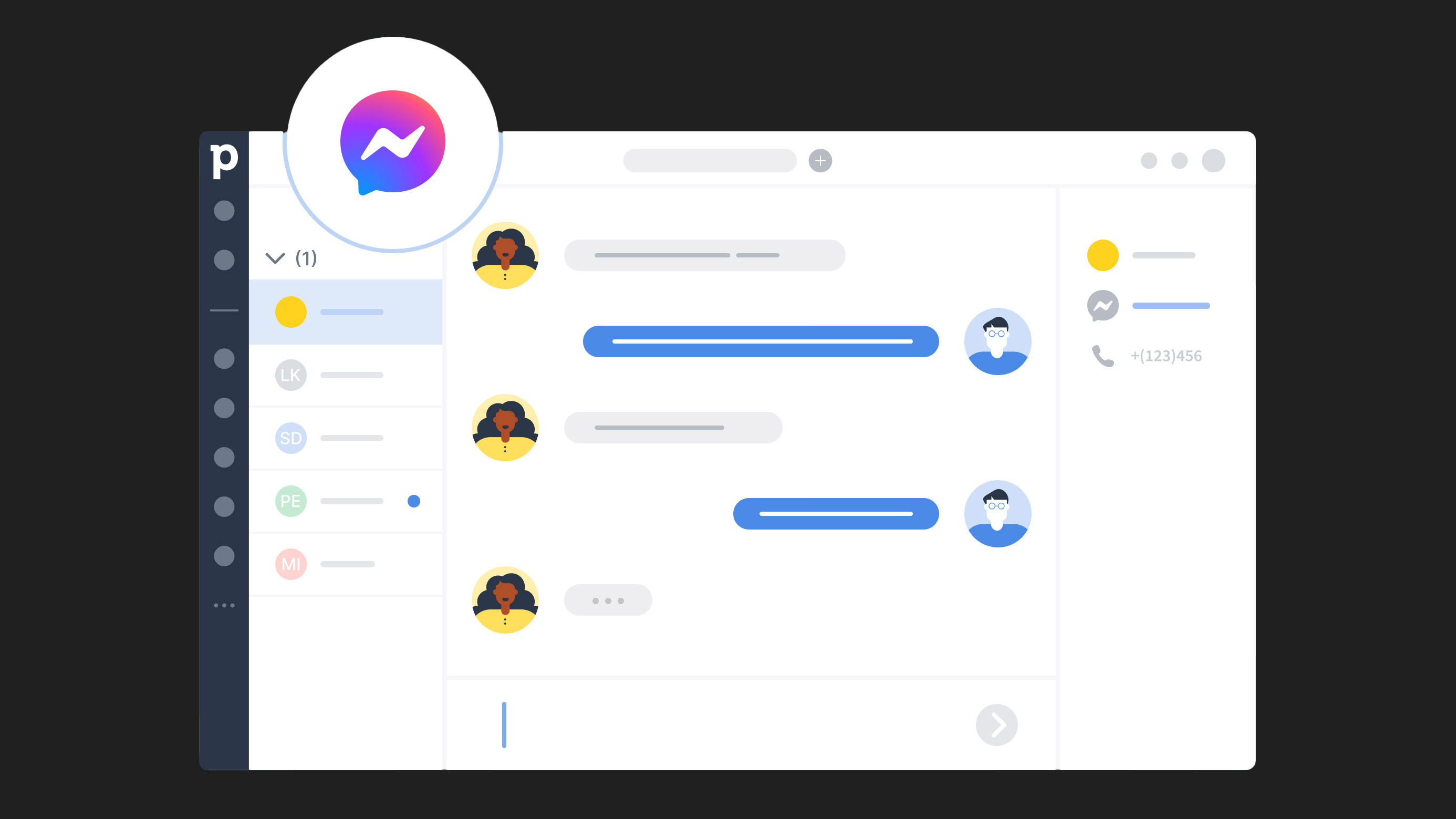 Whether you're a small business owner trying to manage customer interactions, a marketer aiming to generate leads, or simply someone interested in the digital communication landscape, this is for you. We aim to provide a comprehensive overview that will help you make informed decisions about using CRM tools with Facebook Messenger. Let's get started.
Overview:
HubSpot CRM: Ability to create a chatbot for the Facebook Business page.. See details ↓

Visit site for pricing. Has free plan.

PipeDrive: Links Facebook Messenger conversations to PipeDrive contacts, deals, and leads is easy. See details ↓

Starts at $14.92/user/mth.

Salesforce: Unify customer profiles for deeper connections, enhancing efficiency and conversion rates. See details ↓

Visit site for pricing.

Kommo: Great when it comes to lead generation.. See details ↓

Starts at $15/user/mth.

ChatSilo: Create Messenger funnels in minutes. See details ↓

Starts at $29/mth.
HubSpot CRM stands as a comprehensive tool in the realm of customer relationship management. Its unique offering is the integration with Facebook Messenger, which empowers businesses to cultivate a Messenger experience directly on their Facebook Business page. This feature enables businesses to manage these interactions seamlessly from their Conversations inbox, creating a unified platform for customer engagement.
The features of HubSpot CRM are designed to optimize customer interactions and streamline communication processes. One standout feature is the Shared Inbox. This function allows businesses to manage interactions from their Conversations inbox, just as they would with live chat or email. This consolidation of communication channels enhances efficiency and ensures a consistent approach to customer engagement.
Another key feature of HubSpot CRM is Conversation Intelligence. This allows everyone, from Marketing to Sales and Service teams, to have a full context of conversations. By providing a comprehensive view of customer interactions, businesses can deliver more personalized and effective communication, enhancing customer relationships.
HubSpot CRM also offers the ability to create a chatbot for your Facebook Business Page. These automated response systems provide instant assistance to customers, improving response times and customer satisfaction.
Related: How to Create a HubSpot Chatbot
Lastly, the Integration feature connects the popular messaging app to HubSpot, offering businesses unified customer profiles for better in-depth connections. This integration enhances customer understanding, enabling businesses to deliver more personalized and effective communication.
Read more on: HubSpot-Facebook Messenger integration.
HubSpot's Price:
HubSpot offers the following:
Starter CRM Suite that includes Marketing Hub Starter (with 1000 marketing contacts),
Sales Hub Starter (with 2 paid users),
CMS Hub Starter, and
Operations Hub Starter.
The pricing starts at $50 per month, but there's a special offer for new customers at $30 per month if you commit annually. For more detailed information, you can visit their pricing page.
PipeDrive is a CRM tool that is specifically designed with a sales focus. It offers an integration with Facebook Messenger, which is a platform where many people spend a significant amount of their time. This integration provides a direct and conversational way for individuals to take action, making it a highly effective tool for businesses.
One of the key features of PipeDrive's integration with Facebook Messenger is the ability to unify all conversations. This means that all your interactions on Facebook Messenger can be brought together in PipeDrive, making them both accessible and shareable. This feature allows for a seamless flow of communication and ensures that no important messages are missed.
Another significant feature is the ease with which Facebook Messenger conversations can be linked with PipeDrive contacts, deals, and leads. This feature is designed to boost productivity and manage communications with your leads and clients on Facebook Messenger more effectively. It simplifies the process of keeping track of various conversations and ensures that all relevant information is readily available.
PipeDrive also allows you to select the app extension visibility for your connection with Facebook Messenger. You can choose between private visibility settings, where only the user who installed the app can see and reply to Facebook Messenger conversations in the Messaging Inbox and link them to contacts, leads, or deals in PipeDrive, and shared visibility settings, where any user in the company account can do the same. This flexibility allows you to customize the integration to best suit your business needs.
Learn more about: Pipedrive Integration with Facebook Messenger.
PipeDrive's Price:
As for the pricing, PipeDrive offers various pricing plans. You are encouraged to visit their pricing page for more detailed information. They also offer a free 14-day trial with no credit card required.
As one of the world's largest CRM platform, Salesforce has made a significant stride in integrating Facebook Messenger into its system. This integration aims to provide businesses with unified customer profiles, fostering better in-depth connections and creating a customer-centric environment.
The integration of Salesforce and Facebook Messenger offers businesses a unified view of their customer profiles. This feature allows for better in-depth connections, providing a comprehensive understanding of each customer's journey. It creates a customer-centric environment where consumers can freely navigate their shopping journey, whether on social media or any other platforms they decide to switch to halfway through.
One of the key benefits of this integration is its ability to shorten sales cycles. By leveraging instant messaging, businesses can close deals faster, thereby increasing efficiency. Furthermore, the integration can boost conversions, particularly from customers who prefer to use Facebook Messenger for their interactions.
Salesforce CRM goes a step further by using tools like Facebook lead ads, click-to-messenger ads, and comment auto-replies to strengthen the customer database. This feature not only enhances the quality of the customer database but also streamlines the cross-channel customer experience.
Related: How to integrate Facebook lead ads data with Salesforce
In terms of work efficiency, the integration boosts productivity with a two-way sync of Salesforce contacts, leads, and opportunities. This feature ensures that all customer data is up-to-date and easily accessible. Moreover, with the Salesforce lead stage positioned right next to the chatbox, the integration significantly upgrades the quality of customer service.
To integrate Salesforce with Facebook Messenger, certain requirements need to be met. These include having a Salesforce account with API access, a Facebook account, a Facebook Business Page, and admin access to the Facebook page. This ensures a seamless and effective integration process.
Learn how to: Set Up Facebook Messenger in Salesforce Service Cloud.
Salesforce's Price:
Salesforce offers various pricing plans for different business needs. However, the specific pricing details are not directly listed on their website. You are encouraged to contact their sales team or visit their pricing page for more detailed information.
They also offer a free trial with no software to install and no credit card required.
Kommo, previously known as amoCRM, has carved a niche for itself as a conversational sales tool specifically tailored for small businesses. It holds the distinction of being the world's first Sales CRM based on Messenger, offering a suite of custom-tailored messenger features and automations. These features are designed to enhance your communication with customers, making Kommo a powerful tool in your CRM arsenal.
One of the standout features of Kommo is its lead generation capability. Whenever a new person sends you a message on Facebook, they are automatically added to your pipeline as an incoming lead. All you need to do is approve, and their lead profile is created instantly. This seamless process ensures you never miss out on potential customers.
Kommo also boasts a built-in chat feature within the lead profile. This means you can continue your Facebook conversation without ever having to leave Kommo. Every interaction is logged and visible in the profile's feed, providing you with a comprehensive communication history at a glance.
Another innovative feature is the Salesbot. With Kommo, you can create the perfect Salesbot companion and integrate it with Facebook Messenger. The Salesbot takes over the conversation, saving your team valuable time and enhancing communication efficiency. It can even be equipped with AI responses that understand the intention behind questions and provide appropriate responses, including invoicing.
The integration of Facebook Messenger is built-in and designed by the Kommo team, ensuring a smooth and efficient process. Setting it up is as simple as navigating to the digital pipeline in the incoming leads column, scrolling down to the chats block, and clicking the connect button. With Kommo, integrating your CRM with Facebook Messenger is a breeze.
Learn more about: Kommo's integration with Facebook Messenger.
Kommo's Price:
Kommo offers three pricing plans:
Base: For small businesses that want to boost sales quickly. It includes a unified inbox, unlimited sales pipelines, task management, and more. It costs $15 USD per user/month.
Advanced: For growing companies that want to automate their work. It includes everything in the Base plan plus no-code Salesbot, pipeline automation. It costs $25 USD per user/month.
Enterprise: For larger businesses that keep up with a lot of leads. It includes everything in the Advanced plan plus an increased client database, advanced client profiles. It costs $45 USD per user/month.
You can try Kommo free for 14 days with no credit card required. For more detailed information, you can visit their pricing page.
ChatSilo is a compact CRM tool designed specifically for Facebook Messenger. Its primary goal is to assist you in nurturing leads, managing projects, keeping track of crucial conversations, building strong relationships, following up with potential clients, and ultimately, achieving your sales objectives.
One of the key features of ChatSilo is its tagging (a.k.a labelling) system. This system, combined with canned responses, message templates, notes, reminders, and Google calendar integration, helps you organize and follow up with potential Facebook Messenger leads without getting lost in the sea of chats. It's a comprehensive feature that streamlines your communication and ensures you never miss an opportunity.
Another powerful feature of ChatSilo is its bulk-messaging capability. By using the Chrome extension, you can send mass messages to all tagged contacts or friends on Facebook Messenger. You have the flexibility to set a limit on the number of messages to send at a particular time or the interval between messages. Plus, you can randomize the message content to maintain a natural and personalized feel.
The reminder system in ChatSilo is another feature that stands out. It uses both a browser reminder system and Google Calendar event notifications to keep you updated on when to follow up with your prospects. This ensures you never miss a crucial follow-up and helps maintain a consistent engagement with your leads.
Finally, ChatSilo provides the ability to export tagged contacts. With just a click of a button, you can export your tagged contacts into a Google Sheet. The sheet will contain the contacts' first and last names, their profile URL, and the tag. This feature makes it easy to manage and analyze your contact data, providing valuable insights for your business.
ChatSilo's Price:
ChatSilo offers a simple pricing plan at $29 per month. This includes unlimited custom tags, unlimited tag colors, unlimited notes, support for Facebook Marketplace and Facebook Page, unlimited follow-up reminders, unlimited message templates, Google Calendar integration, lifetime automatic updates, access to ChatSilo web app, and more.
They also offer a 7-day free trial. For more detailed information, you can visit their pricing page.
5 Best CRM with WhatsApp Integration
5 Best CRM with WhatsApp Integration
Discover top 5 CRM tools with seamless WhatsApp integration for efficient customer service and outreach. Read more