6 Drag-n-drop Email Builders to Speed Up Email Production
Have you ever paused to consider how much time your team dedicates to email production? Is it days, or perhaps even weeks? Time is of the essence, especially in today's fast-paced world.
According to research by Litmus, businesses allocate considerable time just to craft a single email:
A mere 20% of teams can generate an email in a few days or less;
Nearly half, or 44%, take 1 to 2 weeks to finalize an email;
Another 22% require 3 to 4 weeks per email.
In the competitive landscape of 2023, wasting such extensive amounts of time and resources is not an option. Companies must adapt and find efficient methods to produce emails quickly and affordably, without sacrificing quality.
Why Does Creating an Email Campaign Take So Much Time?
Creating an email campaign is no simple task. It involves several steps, each requiring time and effort. Let's break down these steps to understand the workload involved and how we can make each stage more efficient:
How Can We Make Email Campaigns More Efficient?
Here are some effective solutions to streamline the process:
Use Collaboration Tools: Platforms like Figma can help your team work and communicate in one centralized space. This approach is more efficient than relying on endless email threads, as messages are less likely to be lost or overlooked.
Leverage AI: Tools like ChatGPT or Midjourney can help accelerate copywriting or design tasks. While they're not perfect, these platforms can point you in the right direction and serve as a starting point for your emails.
Utilize Drag-and-Drop Editors: These platforms enable you to build emails using pre-made blocks, negating the need for coding skills. Plus, you can tailor the templates to fit your specific requirements, saving time on design and coding.
Today, both design agencies and individual businesses are increasingly using email builder platforms. These tools are particularly useful for saving money, time, and manpower. The email builder landscape is rapidly expanding, offering options that cater to freelancers, small and mid-sized businesses, as well as large enterprises.
Let's explore the different types of drag-and-drop email editors to help you find the one that best suits your needs.
Enhance Your Email Marketing Through Drag-and-Drop Editors
If you're on the lookout for the perfect no-code, drag-and-drop email editor, you're in the right place. We've tested six of these tools, comparing their standout features and pricing models for you.
Whether you're working alone, part of a small team, or managing a large crew, there's something here for everyone. Let's dive in.
Blocks is a no-code drag-and-drop email editor that caters to a wide audience – from individual users to small teams and large enterprises.
Key Features of Blocks
With Blocks, you can either pick a ready-made template from a gallery or create your own using various structures and elements.
In addition to its template gallery, Blocks offers the following advantages:
Clean Code: Blocks ensures that its generated code is free from unnecessary clutter.
Team Collaboration: You can add team members to your projects, assign specific roles, and collaborate right within the editor.
Modular System: Blocks allows for the addition, modification, and swapping of pre-saved template sections.
Mobile Responsiveness: Your email templates will display well on both mobile and desktop devices.
Image Hosting: Blocks provides storage solutions for your images.
Blocks enables users to export templates directly to Email Service Providers (ESPs) and other marketing automation platforms that support HTML, without any limitations.
Pricing Plans for Blocks
The cost of using Blocks ranges from $0 to $95 per month, based on your usage requirements.
There are four plans to choose from: Free, Personal, Advanced, and Pro. Each plan varies in the number of users, projects, and email templates you can create per month. If Blocks meets your long-term needs, opting for an annual payment could save you up to 16%.
The Free plan offers all essential features and doesn't require credit card information. However, it does have limitations on the number of users, projects, and monthly email templates. If your team needs to collaborate or you plan to send more than 10 emails per month, you might want to consider one of the paid plans.
Stripo is an email editor renowned for its extensive template gallery, boasting over 1,200 ready-to-use email templates designed for a variety of industries and events.
Key Features of Stripo
Stripo offers an array of features for speedy and efficient email creation:
AMP Emails: Stripo enables you to create interactive content to engage your audience.
Responsive Design: The editor ensures your emails are automatically optimized for all devices.
Custom Modules: Stripo allows you to create and save custom modules for future use.
Stripo supports integrations with more than 75 Email Service Providers (ESPs), such as HubSpot, ActiveCampaign, Mailchimp, Klaviyo, Oracle Eloqua, Salesforce Marketing Cloud, and others. However, if your ESP isn't on the list, you might encounter issues, as Stripo includes custom code elements in its templates.
Pricing Plans for Stripo
Pricing for Stripo ranges from $0 to $95 per month and varies based on the number of users, exports per month, and daily test emails. The Pro plan includes access for up to 10 users, with the option to add more at an additional cost.
With the free plan, you won't have access to premium templates or the ability to share preview links. However, most other features are accessible, albeit with certain limitations.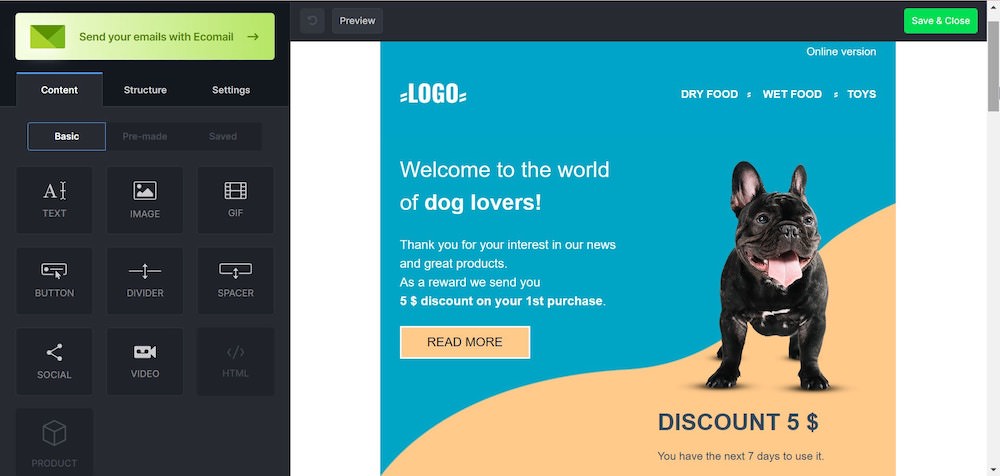 Topol.io is a no-code email editor designed for both individual and team collaboration. It offers a range of features that simplify the email creation process.
Key Features of Topol.io
Here are some features that make Topol.io stand out:
Direct Export: You can export your templates to most of the popular Email Service Providers right from the editor. If your ESP isn't listed, you can also export the template as an HTML file.
Free Image Gallery: It offers a selection of stock photos from Pexels that you can use for free.
Collaboration: Real-time collaboration with team members is possible within the editor.
Saved Blocks: The paid plans allow you to create custom blocks that you can save and use in future projects.
Topol.io also features a template gallery with both free and Pro templates. You can even edit a free email template without creating an account. However, certain functionalities are restricted in the free version. To download a template, you'll need to sign up for Topol.io's newsletter.
Pricing Plans for Topol.io
Pricing for Topol.io ranges from $0 to an unspecified upper limit, depending on your needs.
The free plan offers basic features but restricts you from using premium templates and saved blocks. The Pro and Team plans mainly differ in the number of users they support; all other functionalities are the same. A 14-day free trial is available to help you assess whether Topol.io fits your requirements.
One caveat is the data traffic limit: no matter which plan you choose, only 5GB of data traffic is included. Exceeding this limit will incur additional charges.
BEEFree is a no-code builder designed for crafting both email templates and landing pages.
Key Features of BEEFree
One of BEEFree's standout features is the ability to convert an email template into a landing page, and vice versa, with just a few clicks.
Besides this, BEEFree provides:
Collaborative Mode: Enables seamless team collaboration within the editor.
Multiple Export Options: You can copy and paste HTML code, download your design as a zip file, convert it to PDF, or export it to various platforms like Mailchimp and ActiveCampaign.
Styling Options: Supports custom fonts, merge tags, and special links to help your content pop.
Extensive Template Library: Offers over 1,200 HTML templates and 300+ landing page templates that can serve as a starting point for your projects.
Pricing Plans for BEEFree
Pricing for BEEFree starts at $0 and goes up, depending on your requirements.
The free plan allows you to create up to 10 templates or landing pages per month, making it a good fit for infrequent creators.
Both the Team and Enterprise plans offer the same core features. The Enterprise plan, however, includes premium support, multi-workspace capabilities, custom domains, and advanced user management.
If you're interested in the Team plan, a free trial is available without the need for a credit card. For the Enterprise plan, you'll have to request a demo and consult with the BEEFree team to get a custom price and further details.
Stensul is a no-code email builder designed to make collaborative email creation simple and efficient.
Key Features of Stensul
Stensul offers a variety of features aimed at streamlining the email creation process, such as:
Comprehensive Integrations: Stensul can connect with a variety of platforms, including Salesforce Pardot, Marketo, Liveclicker, Moveable Ink, Microsoft Teams, Slack, and more, allowing users to consolidate their email creation activities.
Real-Time Collaboration: Enables team members to collaborate in the editor in real time.
Dynamic and Live Content Preview: Allows users to preview live and dynamic content within the email before sending it.
Drag-and-Drop Functionality: Empowers users to create emails without requiring coding skills.
Stensul also ensures that the emails you create are on-brand and adhere to your company's guidelines.
Pricing Plans for Stensul
Stensul adopts a custom pricing model tailored for enterprises, making it potentially less suitable for small businesses.
To get an approximate pricing estimate, you can use the Stensul cost calculator. This tool will consider factors such as the current and projected volume of emails, as well as the time spent on email production. However, for a final pricing quote, you'll need to schedule a meeting with the Stensul team.
Knak is a no-code email and landing page builder that's particularly well-suited for enterprise-level marketing teams.
Key Features of Knak
Knak provides numerous features to expedite the email creation process:
MAP Integrations: Knak seamlessly integrates with Adobe Marketo Engage, Eloqua, Pardot, Salesforce Marketing Cloud, Adobe Campaign, and more.
Live Content and Video: The platform supports live content and video integrations to make your emails more dynamic and engaging.
Free Templates: Offers over 50 free, responsive templates for crafting appealing emails and landing pages.
Brand Generator: Automatically incorporates your brand assets into templates.
If you're looking for some creative inspiration, Knak's Inspiration Centre showcases a variety of email templates that you can browse through.
Pricing Plans for Knak
Knak adopts a custom pricing approach tailored for enterprise clients. To get the full pricing details, you'll need to schedule a call with Knak's team.
In my assessment, Knak may not be the best fit for individual users or smaller teams. However, after signing up, you'll gain access to over 50 free email and landing page templates.
Final Thoughts
Email production can be a complicated task, but there are ways to streamline the process. Utilizing drag-and-drop email builders can significantly conserve your team's resources, eliminating the need for time-consuming coding and design work.
We're moving toward a no-code future, and it's a convenient shift. No-code drag-and-drop email editors enable you to stay current and competitive. Just pick the one that aligns with your requirements, and you'll be well-equipped to excel.