19 Home Automation Gadgets You Should Know
Looking for a gift idea for your tech-savvy friends and family members? How about smart IoT based home automation gadgets? Such futuristic gadgets ease peoples lives, enable always-on entertainment and help automate home chores.
Thats not all, these gadgets wont even be a burden on your pocket. Do you find it interesting? Read on to find the perfect gift for your friends and family members.
30+ Awesome Gifts Ideas for Geeks, Vol. 1
30+ Awesome Gifts Ideas for Geeks, Vol. 1
In one's family or friends circle, there's always someone who's smart and loves everything related to tech, video... Read more
Amazon Echo is a futuristic voice-controlled device powered by Alexa – the AI-based Siri's competitor from Amazon. A smart home device for everyone, Echo is a speaker with voice controls that tells weather, plays music, answers questions and controls other IoT devices like lights, switches and thermostats.
If you already own a speaker and find Echo costly for your pocket, you can go for Echo Dot, which is an Echo without a speaker.
SmartThings Hub is a controller hub – the device that connects wirelessly to other IoT devices. It forms the brain of a smart home that allows you to monitor and control all the smart devices in your house. Using its companion mobile app, you can control lights, locks, cameras, thermostats and a lot more devices at your home from anywhere.
Google Home is the search giant's answer to Amazon Echo – its own smart home technology for voice-controlled entertainment and more. Powered by the Google Assistant, this device brings the power of Google's AI to your home same as Google Now works on your phone.
You can ask questions, listen to music, get weather and traffic updates, set alarms and reminders, control other IoT devices and do much more with this Googles tech.
Logitech Harmony Elite is your easy-to-use universal home control system that also responds to commands from Amazon Alexa. You can remote control numerous devices, schedule recordings, switch on lights and do much more from one controller.
Its one-touch actions provide easy switching to your favorite channels or games, Netflix, Apple TV, etc., and allow you to create custom or scheduled actions for an enriched experiences.
Nest Protect is a smoke and carbon monoxide alarm for a smarter home. This device, unlike traditional fire alarms, doesn't just beep to tell there's a problem, it even speaks to you to notify what and where the problem is.
Nest Protect sends alerts to your phone whenever it detects problems, and its app also tells status of its sensors and batteries.
Nest Cam lets you look after your home day and night on your smartphone using its 24/7 live video stream. This device sends alerts to you whenever it detects any activity – phone alerts as well as emails with photos.
It incorporates built-in speaker and microphone, allowing you to talk and listen using its companion app. That's not all, the camera also supports night vision tech to let you view the whole room even in the dark.
August Doorbell Cam is one-of-its-kind surveillance cam for entry doors. With its one-way camera and mic abilities, you can always keep a watch on your visitors and pretend to be home even if you're not there.
It sends notifications if someone presses the doorbell and also sends alerts if it detects motion. Its paid recording service allows storing the video stream in the cloud and lets you view recordings up to 30 days old.
Dropcam Pro is a smart-tech live video recording camera that lets you keep an eye on a place, person or pet. Unlike Nest Cam, this device stores the video stream in the cloud so that you can rewind back up to 30 days.
It sends notifications for motion and comes with speaker and mic to allow two-way talk using its app. Moreover, the camera supports zoom and night vision features to shoot videos at nights too.
August Smart Lock converts your smartphone into a key for your house's entry door. You can lock and unlock the door anytime, for anyone, from anywhere and command the same using Siri on your iOS devices.
It lets you create virtual keys for your guests with custom expiry times and keep track of who comes and goes using its 24/7 activity log.
Ecobee3 is a wireless multi-room thermostat for smart homes. The device connects with multiple sensors placed in rooms to detect the temperature everywhere and adjust the settings accordingly for maximum comfort along with savings. You can control the same using your smartphone and its even compatible with Amazon Echo, Apple HomeKit, etc.
WeMo Insight Switch is a smart plug for easy home automation. With this innovative switch, you can control any dumb device from anywhere using your smartphone.
Its Away Mode switches on and off the device randomly to confuse potential intruders. Thats not all, you can track energy, set schedules and get alerts for devices turning on or off. Insight Switch supports Amazon Alexa, Nest and IFTTT for an efficient automation.
Crock-Pot WeMo Smart Slow Cooker is a wireless remote-controlled cooker for smart people. Using its companion WeMo app, you can schedule cooking the dish (say, in the night everyday), turn on or off the cooker, monitor its state and temperature and take control from anywhere. The device also sends you notifications when the dish is ready.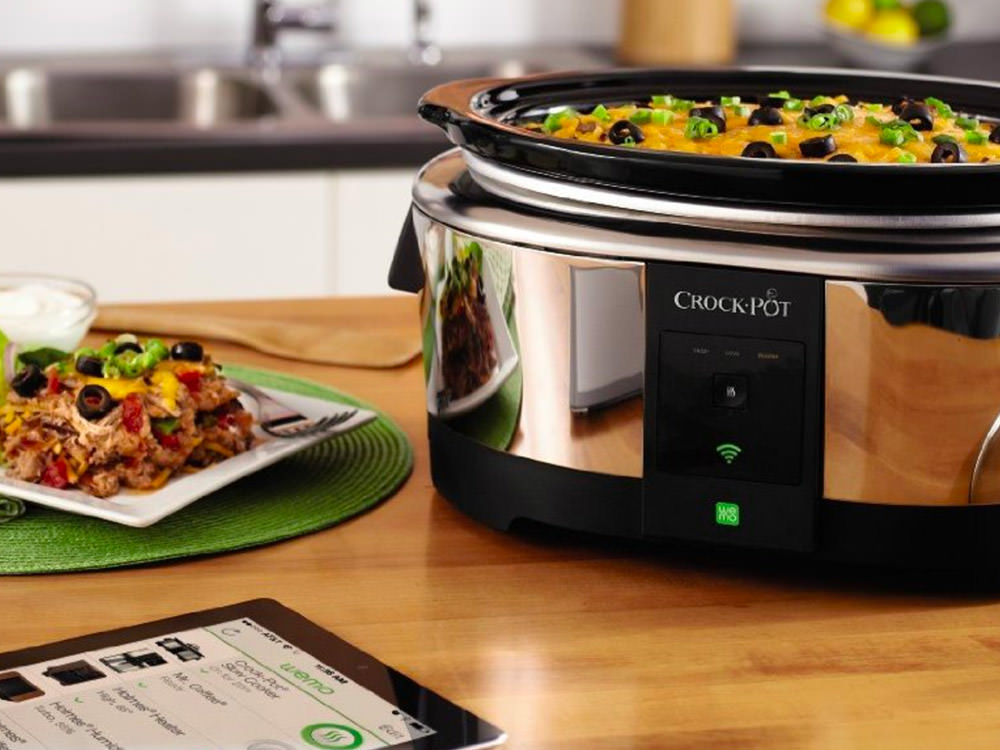 Mr. Coffee WeMo Smart Optimal Brew Coffeemaker is a wireless remote-controlled coffee maker for coffee lovers. With its WeMo app, you can brew a pot of coffee from anywhere using your phone.
You can schedule the coffee maker, say to make coffee in the morning everyday, and monitor and modify its brewing settings from the app. The device also sends you notifications when the coffee is ready for you to enjoy.
iDevices Socket is a superb wireless bulb adapter that lets you use any light bulb and control the same from anywhere using your smartphone. It's like Philips Hue without lights – the adapter works without a hub and can listen to commands from Apple Siri or Amazon Alexa. You can monitor and even schedule lights using its companion app.
Philips Hue is a wireless lighting system for smart homes that allows controlling the lights from anywhere using your smartphone or Amazon Alexa.
The lights support glowing in 16 million colors and 50k shades of white light, giving you the ultimate experience of personal lighting. Its bridge can connect to 50 wonderful lights and syncs the lights with your music, movies and games to provide an immersive experience.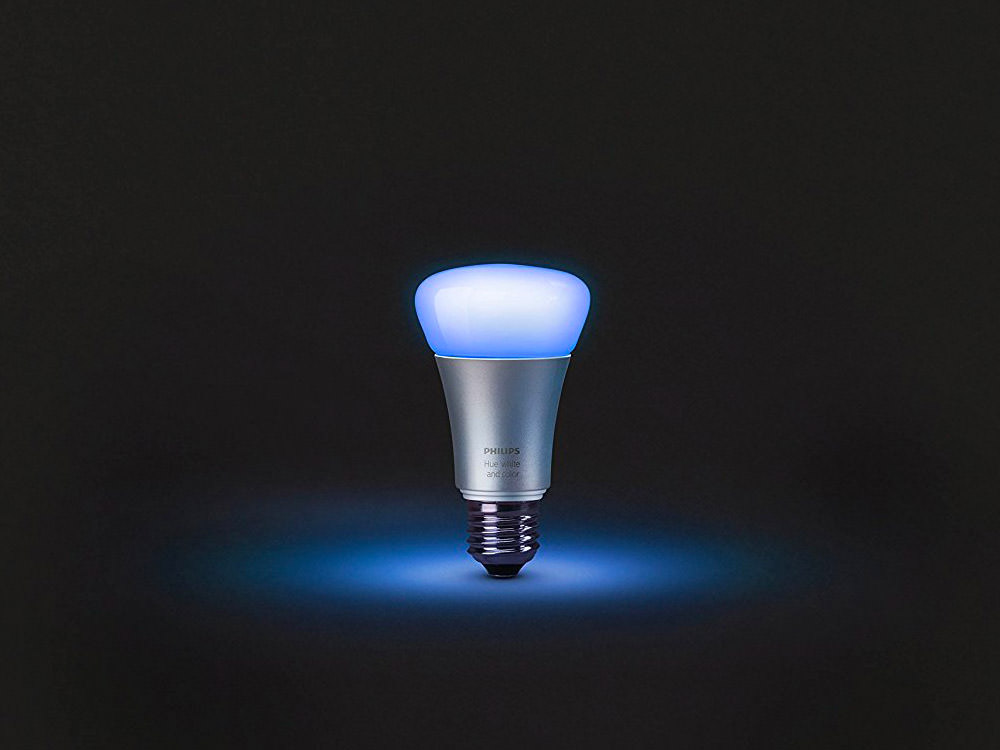 Rachio is an innovative sprinkler controller for a smarter home that saves water and minimizes your house's energy costs. The controller schedules watering using advanced algorithms and proven practices, and adapts to the local weather forecasts.
Using Rachio, you can control the sprinklers from anywhere using your phone or computer, or command them using Amazon Echo, Nest, IFTTT and other home platforms.
Holmes WeMo Smart True-HEPA Premium Air Purifier is a wireless remote-controlled air purifier for smart homes. Using its free companion app, you can check air quality, adjust its settings and create schedules from anywhere on your phone.
The device sends alerts for air quality and even when it requires cleaning and maintenance – quite smart, right?
Inkbird Aqua Controller is a smart aquarium controller that lets you live your hobby without making it a full-time job. This tool monitors and controls your aquarium for providing a healthy habitat for your favorite water animals.
That's not all, it detects problematic issues, takes corrective measures and informs you of the problems on your phone.
iRobot Roomba 960 is a robot vacuum cleaner for your smart home that you can control and monitor using your phone, and even schedule cleaning. It uses an adaptive cleaning algorithm for thorough coverage and efficient cleaning.
Roobma is so smart that upon low battery, it recharges automatically and resumes cleaning afterwards. Moreover, its patented system automatically manages power to provide maximum cleaning performance.
That's all in the gift store. Which are you going to pick from the above smart gadgets? If you know anymore tech-enabled smart-home gifts for tech-loving folks, then please share with us using the comments section.
Read Also:  30 Cool Gifts Designers Would Love