20 Unique Workstations and Office Desks, Vol. 1
Next to the bed and the car, our workstation is probably one of the places where we spend most of our time. Who hasn't ocassionally had to do lunch while they're working, right? If that's really the case, maybe it's about time we spruced up our workstations.
Your workspace reflects a lot about you. If you're thinking of going with artsy frames and tasteful flower arrangements, put that aside. Instead, why not take a look at the bigger picture?
Here, we'll share you with 20 uniquely designed workstations & office desks that'll leave you amazed, inspired and perhaps even a little confused. Some of the designs are rather simple yet elegant while others are truly groundbreaking. Some are also more practical than others (we'll let you be the judge).
Whether you're a workaholic that's always on-the-move or a hardworking car buff, you're bound to get some pretty great ideas here for your own workstation.
The Surf Chair is a concept design made more for the comfort of the user. Users won't have to sit upright to use the computer but instead be able to relax and meld into this uniquely designed chair/workstation.
Car Desk
The car desk uses an old car, strips it of all its components to leave it with its good looking exterior body which is then transformed into a work desk.
It's a cool concept for car enthusiasts who want an original workstation.
iClubby Workstation
The iClubby Workstation looks like the workstation of the future. No need for any tables to work on and it doesn't take up much floor space.
You can even customize your workstation to add computer, monitors, speakers or any other gadget.
The Emperor Workstation resembles an alien spaceship. It can't take you to outer space, but it's built to have the ability to recline.
And is teched out with in-built touch screens or buttons that lets you control what you see on the multi-monitor setup.
The Paradise desk has a carbon fiber top that looks great and compartments to hide cables for a neat workstation. It also comes with USB and power outlets on the top, so you won't have to break your back while removing plugs.
SlatePro Techdesk
A clutter free workstation without the need of additional iPhone Dock or cable organizers.
The table has precisely cut holes where you can place your smartphone, tablet, coffee cup, and also holes to manage cables or cool your laptop better. It may look a bit odd but it does the job.
The Kinetic desk is a futuristic desk with in-built touch screens that allows you to easily change the height of the table to turn it from a standard desk into a standing desk. Desk height profiles can be saved and loaded automatically.
It also has built-in power and USB hubs that hides all your charging cables. Great for those who like to keep things neat and tidy.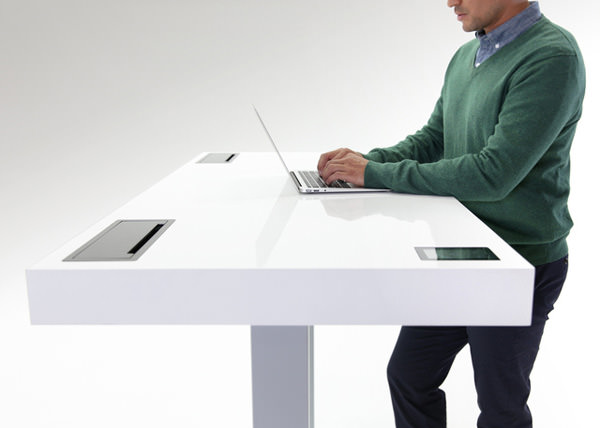 This enthusiast built his PC into his transparent table top, so that he could show off all the components and custom water-cooling parts.
It makes for a one-of-a-kind workstation that's very beautiful, and also neat as there's no need for a PC case.
Nebbessa Table
The Nebbessa Table by architecture company, Nuvist has a unique shape that seems to defy gravity, and a minimalist design that conveys elegance.
There's also a complementary coffee table on the side that gives it an extra touch of class.
Pallet Table
We don't think much about pallets as they're usually ignored and just used for storage purposes.
However, recycling a pallet and turning it into a work desk with clear glass on top would make for a very unique looking but inexpensive workstation.
Ninja Standing Desk
The Ninja Standing Desk is a simple yet elegant desk that can be adjusted for users of any height.
It's made out of straps and light-weight shelves that can withstand 30 lbs each. It's easy to set up and can even be hung over a door.
Designers of the Tetra Shed wanted to make a modular workstation that can be placed at the backyard of your house.
The shed has makeshift doors and windows and can "house" 3 people comfortably. It looks so cosy that you probably wouldn't want to leave.
WheelMate Extreme
The WheelMate Extreme allows you to work comfortably in the comfort of your car. But it only works when the steering wheel is upside down, where you secure the small wooden table for a Bluetooth keyboard and tablet holder.
AutoExec iPad Desk
For the workaholic on-the-go, the AutoExec iPad Desk sits on the passenger seat of your car to instantly turn it into a simple, mobile workstation.
It comes with a tablet holder and space for writing and simple organization of documents.
The hand-made Pedal Power desk forces you to pedal and move its gear and chains in order to produce electricity to power your electronic gadgets.
Not the prettiest but it's definitely environmentally friendly and gives you a workout too.
TrekDesk
Take standing desks to the next level with the TrekDesk. The treadmill desk allows you to keep healthy by walking on a standard treadmill while working on documents or a laptop. Just make sure to keep your focus.
The Zero Gravity Workstation is a rig built around a PC chair that allows you to recline backwards.
You can view your monitor and use your mouse and keyboard as the entire rig moves with your reclined chair. Perhaps one for the thrill seekers.
You can take this Tactical Desk anywhere on the field. It's equipped with a built-in power source to power all your gadgets on the field.
The table included drawers that secures your belongings well and the side table can be folded up to mobilize the entire desk with its wheels.
This takes the term working-in-bed to a whole new level. This rig allows you to mount a monitor and use an almost full-sized desk to use a mouse and keyboard while lying down comfortably in bed.