Levitation Photography With 65 Examples and Tutorials
Many say floating in the air, or so-called levitation is impossible. Well, everything is possible; all you need to do is believe in yourself, seriously, believe that you can achieve it! And uh, believe that Photoshop can help you achieve it. Okay, I'm talking about achieving levitation with the help of cheat tool like Photoshop.
Levitation is said to be some sort of skill that allows humans to float in the air, and yes, nobody has done that successfully until now. However, it's an interesting concept played out in many movies to impress people, thus attracting photographers to produce their own fantastic levitation work.
Every miracle needs evidence, right? Well, we've 'flown' through several websites to get you 56 very inspiring and somehow a little bit spooky examples of levitation photography with a different kind of 'floating' pose. Also, we are not gonna just show you how people 'fly', but teach you how to 'fly' with 15 tutorials collected into this post. So all you have to do is sit there, for now, enjoy these inspiring examples, and, maybe, get yourself 'floating' in the air afterward!
Floating Without Boundaries
198. 'No meaning to this, just a quick shot with some levitation and flying hair to add interest. I was thinking of some of my favorite painters and the luminous quality to their work when I edited this. The reflection was quite a feat! '
Image Source: Somewhere Lovely
A Breeze In The Room. Truly professional work with great composition; the floating cloud is just amazing!
Image Source: brookeshaden
A Moving Caste. Loved the shadow and feathers; it would be more epic if there were wings in the shadow!
Image Source: Terra Kate
An Alternate Route. Many have done photography with the levitation effect, but only a few can create the effect with a very natural feel, such as this dazzling work.
Image Source: brookeshaden
At Water Level. Fantastic composition, a perfect reflection, and the ripples even make the levitation effect more realistic!
Image Source: ChelseyLeBlanc
Bad Dreams. This fantastic photo itself tells a story, probably an underrated piece.
Image Source: Christina Arrivillaga
Because I Don't Trust Airplanes. I believe airplane is much safer! Gorgeous shot with the natural pose, loved the idea very much!
Image Source: redredhead
Books Can Take You Anywhere. A meaningful shot with warm colors, every photo with a levitation effect tells a story.
Image Source: -Emillie-
Broken Wings. Well, this is simply epic. Respected the hard work of the photographer, too, you can probably check out the entire process behind this epic shot.
Image Source: Jenny Jacobsson
Chasing Elephants. Amusing shot with a perfect tone and extremely realistic shadows, faved this!
Image Source: Terra Kate
Defying Gravity. Life without gravity is just fantastic, creative shot.
Image Source: stumayhew
Delusional Imprisonment. 'It was really fun despite being really dirty, dusty, having near insect-nest touching incidents, bumping into four stray dogs and a civil defense worker.'
Image Source: JolsAriella
Easter Laziness. Had a lovely feel with this piece, a levitation photo with the peaceful theme.
Image Source: eva
Electric Jon. The expression has made this common levitation photo entirely uncommon.
Image Source: RachelMarieSmith
Every Little Thing She Does Is Magic. I wonder how she got the permission from the gas station to do this, amusing and creative work anyway!
Image Source: gigikassis
First Levitation. When was your first levitation? A great attempt by Kelly.grace.
Image Source: kelly.grace
Floating Woman. A levitation with elegance applied, love the lighting as well.
Image Source: maneeacc
Getting Food. I think standing will be easier to get the food, very interesting attempt by SANI GZ!
Image Source: SANI GZ
Gypsy. Beautiful production with magical feel, falling cards are the best part that makes the entire photo more realistic and believable.
Image Source: hilaryament
Heaven. Masterpiece.
Image Source: Dejon
Insomia. A typical use of levitation effect in ghost movies, very spooky yet excellent work!
Image Source: delila
Levitating Baker. 'Something magical going on as Kim checks on her sugar cookies!' An impressive and magical work indeed.
Image Source: Royce Hutain
Mother's Day. Levitation is more realistic when more people get involved!
Image Source: Tin Wedding Whistle
Moving Block. Different with most photographers, Natsumi Hayashi prefers jump to create the levitation effect, but her works are even more realistic than most photographers who embraced photo manipulation.
Image Source: Natsumi Hayashi
My World. Levitation is not human's ability anymore, a charming piece!
Image Source: RachelMarieSmith
Ninety.Seven. I like the legs' pose, it's so relaxing and realistic.
Image Source: mebemrslerman
Paradox. 'Seriously, I have never spent so much time editing a photo, 4 hours on Photoshop non-stop. There were a lot of things that I wasn't happy with when editing this photo I have about 10 PSD files sitting on my desktop at the time of writing and about 30 JPEG files, what a mess.'
Image Source: alexcottrillphotography
Pixie Dust. Sensational work with great model acting on, model is probably the most important element in achieving most realistic levitation.
Image Source: brookeshaden
Playing Piano. Every musical piece will sounds epic if you play with this style, stunning work!
Image Source: Anka Zhuravleva
Ropes. A totally creative product utilizing the rope, which is also signified by author as some kind of 'social bond' in our life.
Image Source: Somewhere Lovely
Saying Goodbye. When is your last separation with the beloved person? When it's used correctly, levitation is one of the greatest way to tell a heart touching story.
Image Source: Kristi Fräzier
Scared Of Sleep. Scared of sleep? I'm scared of you. Deadly amazing work.
Image Source: The Dirty Projector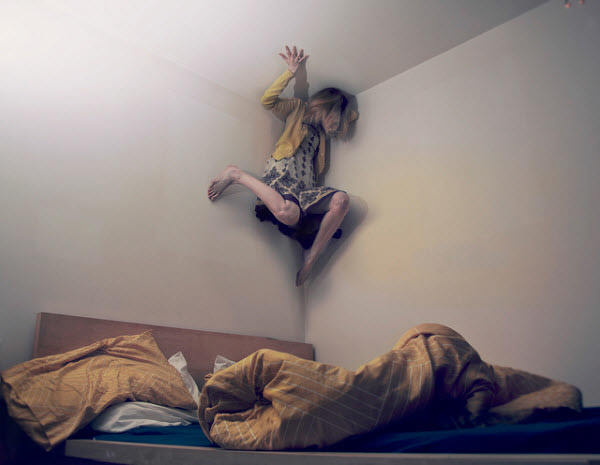 Stirring Dust. 'Only in our sleep can we read the pages of our dreams.'
Image Source: brookeshaden
Sugar & Spice. Levitation applied to life activity, how magical!
Image Source: RachelMarieSmith
Unity Of The Universe. 'I wanted to do a levitation photo because it's the best way I can demonstrate how great music makes me feel.'
Image Source: Anka Zhuravleva
Violinist. Music is known for no boundaries, so is levitation.
Image Source: Anka Zhuravleva
When Will I See You Again. A levitation work that talks a romantic love story, perfect expression.
Image Source: blakejacobsen
Tutorial
Anatomy Of A Shot. Just as its name, this tutorial will show you the entire process of creating the photo with levitation effect as below. The secret weapon is rope.
Floating In Photoshop. A comprehensive tutorial that lists out all tools and steps you need to get yourself 'floating' in the air.
How To Float In Mid Air. 'In this photography tutorial I teach you how to take a picture of a person (or object) floating in mid air.'
How To – Levitation. Different with all tutorials here, this in-depth tutorial's gonna show you how to create 'levitating' objects.
How To Photograph A Flying Cat. Learn to shoot your flying car with this amusing yet thoughtful tutorial!
Levitation Photography And Working With Textures. Not really a tutorial for complete beginners but a good read for those who want to apply texture into its levitation production.
Levitation Tutorial. Step by step tutorial guaranteed to help you get anything 'levitating' in your photo; worth a read!
Simple Levitation. Tutorials before are too hard for you? Take this, the simplest tutorial, to create your first levitation photo.
The Purist Method. This is actually not a tutorial, but good documentation to show you how a photographer creates a levitation photo by just using the jump method, which is also the method embraced by famous levitation photographer, Natsumi Hayashi.