10 Sleek Portable Scanners You Can Buy
Many modern mobile scanners have features traditionally found on desktop document scanners. The difference is that they are lightweight and easy to take along with you. With the aid of portable scanners, any person on-the-go can easily manage business cards, statements, invoices, and any other documents they need to digitize.
Here I have put together the best, handy and sleek-looking portable scanners of the new age, aimed to make your life a little easier. Let's take a look.
If you are an analog film photographer, you might just have tons of photo films stored away in dust-covered boxes in your wardrobe. If you need or want them in digital form to keep, the iPhone and Android Film Scanner can do that with ease!
This cool portable mouse USB scanner instantly creates a digital copy of any document placed beneath the mouse. This includes anything from articles, photos, maps, receipts, business cards and even something more detailed, like artwork.
Most (but not all) desktop scanners these days are capable of capturing photos, videos, and even fax and email documents to others. The O King S200 portable scanner lets you do all these things in a sleek and compact manner.
Made on DSD (Desk Saving Design), the Brother DS-940DW Duplex is a super compact scanner that fits into your bag or backpack and can be used anywhere. It works on a lithium ion battery so you don't need to plug it into a switch for using as it works as a stand-alone device.
You can input data using a microSD card or connect it via WiFi with your mobile device through Brother's free iPrint&Scan mobile app. The documents you scan can be received on you mobile or PC without having to install any driver.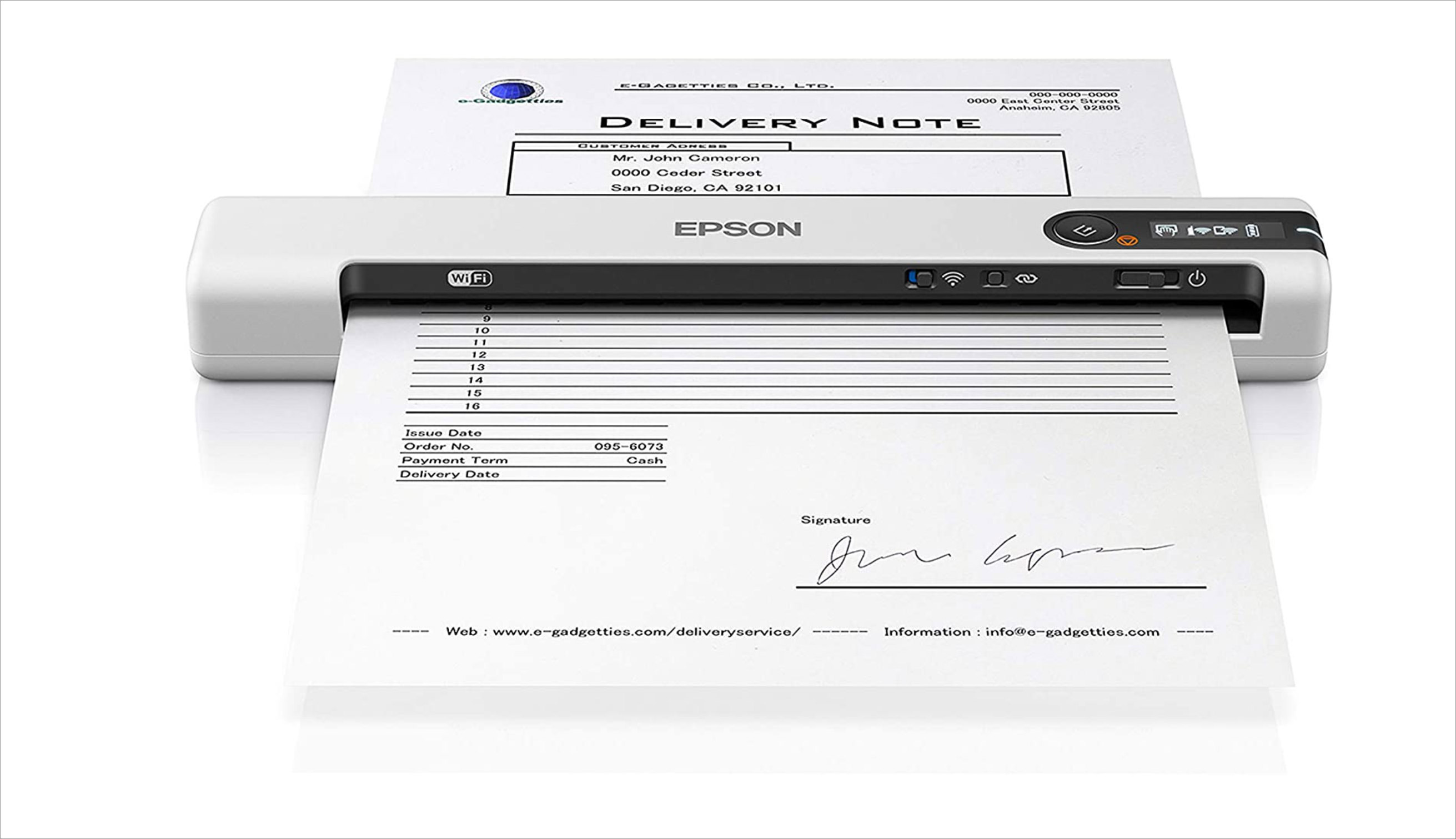 Epson DS-80W scanner is a sleek and portable document scanner. Weighing just 0.66 lbs, it is one of the lightest single-sheet-fed document scanners in the market.
The scanner connects with your iOS, Android, macOS. or PC wirelessly through WiFi and has the ability to do fastest scanning you'll ever find in portable scanners – a single page scanning in 4 seconds.
A magic wand of portable scanner, IRIScan Book 5 Mobile Wand is a handheld document scanner with high-quality scanning resolution and amazing scanning speed of just about 1 second.
It has the capacity to scan 250 pages (both colored and black and white) with one battery session and you can save the scanned document directly into a JPG or a PDF file.
Doxie Go SE is an intelligent portable scanner with which you can just get up and start scanning any kind of document on your desk or on the go.
You can scan black and white to full color pages in just 8 seconds at up to 600 dpi and with the help of the Doxie app, you can send the document to your mobile device or PC. Moreover, with one battery charge, you can scan up to 400 pages.
CZUR Shine500-Pro is a high-speed document scanner that offers smart paging, auto cropping, combine sides, stamp mode, and multiple color modes all in one. Being lightweight and foldable, it is highly portable and can be easily carried around.
The scanner also doubles as a document camera compatible with ZOOM for teaching and distant learning purposes. Being powered by ABBYY, you can convert your scanned documents into JPG, PDF, Searchable PDF, Word, Excel, and TIFF.
Here is a handy little photo scanner that allows you to scan any kind of 3×5, 4×6, 5×7, and 8×10 photograph with in 2 seconds. The scanned photos can be saved in 300 or 600 dpi resolution and you can easily share them on social media or cloud storage.
Not just photos, it can also scan A4 size paper documents and works more efficiently than a flat bed scanner. It also comes with a powerful image enhancement function that restores old photos with just one click.