30 Awesome Gaming Devices for PC Gamers
Gaming is serious business. The game industry alone is worth US$74 billion (yes, with a b) in 2011 and the numbers are rising. Chances are, you have several games going on on your smartphone and you have one or two consoles at home equipped for some heavy gaming sessions. But if you want to talk about extreme gaming pieces – let's just limit it to PC this time – then you will definitely love today's showcase.
Manufacturers across the globe have been coming up with gaming devices beyond just the mice, joysticks and keyboards for years. Some are built for durability, others for added functionality and an enhanced gaming experience. Most of them are futuristic and sleek but all of them are for built for one purpose, to give the best darn gaming session hardcore gamers deserve.
Recommended Reading: Evolution of Home Video Game Consoles: 1967-2001
In a class of its own, this flight system is perfectly crafted for looks and comfortable gaming. The Force Feedback effect in the joystick even lets you feel wind shear, turbulence and g-forces, so you will feel that you are really flying an airplane. The use of illuminated and programmable buttons on the base of the throttle adds to the effect, making you feel like you are sitting in a real airplane cockpit.
This is the world's first motion-sensing gaming controller for PC, according to Razer, which coupled with good connectivity provides a flawless gaming experience that's at a whole new level. Precision magnetic motion-sensing technology and the use of ultra-low latency allows fast response that makes all the difference when every second counts.
Racers would go crazy for this gaming piece. Check out what it has: dual-motor force feedback to make you feel traction losses, weight shift, a six-speed shifter, sturdy steel pedals for precise throttling, brakes and gear shifting and a steering wheel that turns 900°, i.e. about 2.5 times from lock to lock.
An ergonomically designed 8-way directional gamepad with 16 programmable and Hyperesponsive™ keys giving you better control over your games. It features a soft touch rubberized wrist pad for added comfort.
If you are looking for a hardcore gaming mouse, few would be more rugged-looking than this one. It features a wide array of programmability for mode shifts, game commands plus a 5D button for quick access to commands using your thumb. Not only that, it also has backlights for the buttons.
Thrustmaster T-Flight Hotas X Flight Stick.
12 buttons and 5 axles, all entirely programmable, an exclusive "Mapping" button, which lets you to switch functions from one part to the other instantly and easily and to add to the user experience, you can also program the resistance of movement to the joystick.
If multi-player modes are your thing, you'd want this gaming headset to block out the white noise so you can focus on the distinct sounds of the game and team play. With a noise-cancelling microphone, 2.4 GHz wireless connectivity, surround sound, you can receive and deliver your commands to team mates smoothly and clearly.
Another mouse that is built for heavy-duty gaming, the Razer Naga is an ergonomically designed gaming mouse that features 17 MMO optimized programmable buttons. This mouse also has a scroll wheel which can be clicked in 24 different positions for advanced gaming.
Saitek X52 Flight Control System.
Built for flight simulation games, this gaming controller has a 5-position handle adjustment system, is designed for comfort and enhanced game play. It even has an LCD display.
They are not binoculars or mini-power plants. These two tubes are gaming speakers with 360° omni-directional sound. Perfect for gamers who want the full surround sound experience.
If joysticks are not your preferred flying utilities, then perhaps this one would be a better fit — a stainless steel shaft and precision bearings for smooth controls, a stopwatch for monitoring your flight timings, a three lever throttle for speeding up the airplane in the game, as you would in reality in a cockpit.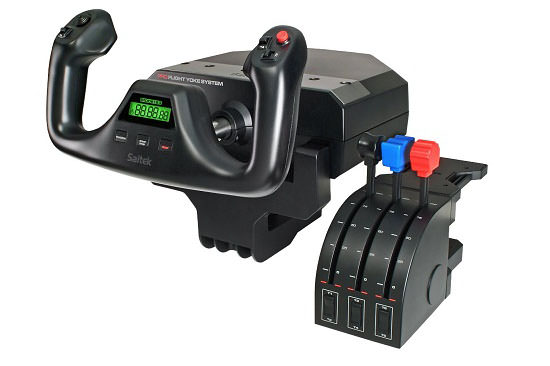 Another addition to the wholesome gaming experience, these are gaming lgihts that gives your room the matching ambience you experience in the game. For games which support amBX, these lights will automatically change according to the lighting conditions in the game at any instance.
Experience 7.1 Surround sound with this gaming headset for clear and distinct sounds in your game. You can tune the sound for each channel using the advanced controller that comes with the headset. It has soft ear pads to make the headset fit with ease and comfortably over your ears.
Thrustmaster Ferrari Wireless GT F430 Cockpit.
Inspired from the Ferrari 430 Scuderia, this driving simulator has two metal pedals fixed to the cockpit, for maximum stability and high-speed gaming, precision steering wheel for the perfect control during a simulated race. The steering wheel is also detachable, that means you can easily store it easily as well. The piece is fully programmable and also has its own internal memory.
This mouse may look demure but don't let its looks fool you. Perfectly engineered for gaming, it has 9 programmable buttons, for easy access during gameplay and it supports the storage of three user profiles, along with their lighting preference, so that you can find those profiles ready even at a different PC! This mouse can also perform flawlessly over a wide variety of surfaces.
Saitek P3600 Cyborg Force Rumble Pad.
Designed much like a game console, the buttons on this Rumble pad can be programmed with gaming commands and you also get to play on the analog joysticks. This gamepad is designed to give you a comfortable gaming experience for hours or even days. It has a FPS button which lets you configure your controller with a single stroke.
Shift gears in style and ease with this gaming piece. It features 7 gears and 1 reverse gear for maximum performance. It's very precise in shifting gears, using the H.E.A.R.T. technology (Hall Effect AccuRate Technology), to detect every move for a flawless gaming performance.
Razer Orochi Chrome Edition Gaming Mouse.
This gaming mouse provides wireless gaming with Bluetooth connectivity, for hassle-free gaming. It has a 3G laser sensor which provides about 5 times the speed of a normal optical mouse.
Logitech G13 Programmable Gameboard.
Game with 25 programmable keys that eliminates the need of a keyboard in gaming. Create macros for gaming commands on the fly. The inbuilt GamePanel lets you have a quick peek at the game stats, system information, and messages from your fellow gamers.
Logitech G9X Programmable Gaming Mouse.
This takes the customizable mouse to a whole new level. It has two interchangeable grips and a weight tuning system that allows you to customize the weight of the mouse by adding or removing weights from the mouse. It also supports custom LED lights to match the gaming environment and your style.
Optoma PT105 Gaming LED Projector.
When gaming on a monitor or a TV screen is not enough, maybe you should be getting a projector instead. This projector projects 75 Lumens, a display brighter than most other projectors. It supports different inputs like VGA, HDMI and composite video and audio inputs, so you can connect it to your pc, in any port that suits you. It projects a 60-inch display on the wall at a distance of 10 feet. How's that for wide screen gaming?
Creative Sound Blaster Recon3D Omega Gaming Headset.
One of the best headsets available for gaming, with the power of Sound Core3D quad-core audio processor, this headset gives you surround sound and a Scout Mode, which lets you hear your enemies from far away, to stay ahead in the game.
With this glove, you can control about 30 actions with the movement of your fingers, like tapping and touching on your palm. It has 18 touch points and 3 activator pads, so you can strike or cast a spell just by making a hand gesture. This glove is made of washable and breathable material to ensure that long hours of gaming doesn't forgo comfort on the user's part.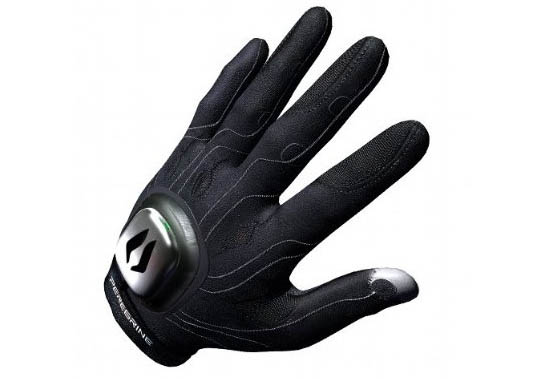 Roccat Kone[+] is a maximum customizable gaming mouse, which gives you easy access to over 22 functions using the EasyShiift[+] button duplicator with just a single click. It has a 6000dpi Pro-Aim laser to give you precision at its finest level. With its 4-LED light system, you can customize your mouse with colours and light effects.
Creative Sound Blaster Tactic3D Omega Gaming Headset.
It's built for gaming, and with its sturdy steel core, this headset is not easy to rip apart or damage, so you can take it wherever you game. You can also create your own TacticProfile™ EQ settings for your game sounds and share it with other gamers, and vice versa.
Feel every hit, or crash in the game with help of the dual motor vibration feedback on this Gamepad. It also has a unique floating D-Pad which gives you better controls.
Cisco-Linksys WRT330N Wireless Gaming Router.
This router can automatically detect which type of data is time-sensitive (like games), for a smooth gaming experience. You can also make clear VoIP calls using this router to stay in touch with your fellow gamers, all the time.
Microsoft Sidewinder Strategic Commander.
Great for strategy based games, this futuristic gaming device lets you control your moves, command your forces and analyze the map easily with just a touch of a few buttons, making your moves faster than a normal keyboard and mouse combination.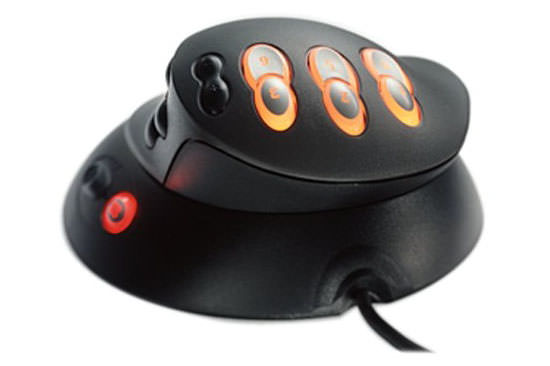 Corsair Vengeance M90 Gaming Mouse.
With 15 nicely placed buttons and 9 macro keys for easy access to abilities, combo moves and spells, this gaming mouse uses the Lift detection technology, which tracks movement even when the mouse is lifted above the mouse surface.
Essential Reality P5 Gaming Glove.
This doesn't look like much at first but once you strap this on and get the controls set up, you are controlling your movements in the game with hand gestures via this virtual 3D controller. What's not to like?