40 Beautiful Shots of Cute Nendoroid Figures [Photos]
Beware, the insanely cute Nendoroids are here! In short, Nendoroid is a brand of mini plastic figures created by the Good Smile Company in Japan, and they are commonly designed based on famous Japanese animes, games, and Vocaloid series. They might sound unfamiliar at first, but trust me, you will love them as soon as you lay your eyes on them!
Let the photographs prove their 'aweshumness'! In this particular post we want to showcase to you a total of 40 quality photos depicting the daily life of Nendoroids. Besides the cuteness, you will witness the amazing details in these figurines, which make their poses and expression look really realistic, giving you the illusion that they are almost (dare I say it?) alive!
So take five and let these charming Nendoroid figures clear your thoughts and calm your soul with their impressive quality. But beware, they might cause you diabetes with their immense cuteness!
Read Also: 50 Adorable Photos of Danbo That Make you go Awww!
Aim and Fire
I wonder how much damage can that mini cannon causes? It could blast me away with its cuteness though!
Source: jen-den1
Black Christmas
Hmm, this Christmas party is pretty… dark. So emo…
Source: chwan79
Cheer Up
You don't need to seek much for happiness, just bring a Nendoroid home, and you will be cheered up by just looking at its face.
Source: thechevaliere
Stalking
Miku stalks her prey, with dark glasses and some fire power.
Source: thechevaliere
Classy Life
I wonder how the photographer got that mini mirror, and full respect to OvermanXAN for the extremely detailed background scene!
Source: OvermanXAN
Songstress of the Orient
The next feature of the Nendoroid? Definitely sound integration.
Source: Etherien
Playing Chopin
Ah, through the window of the school music room, that's how I wish to lay eyes on my first crush. Too bad my school's music room is on the second floor!
Source: nendonesia
Do You Want One
I think… I'm in love.
Source: ayinai
Forever
If cupids really exist in this world, I believe they will look like this.
Source: ArianeCreations
Friends Talk
Meeting good friends is one of the happier moments in life, and these faces say it all!
Source: jen-den1
Let's Have Fun
"The opening sequence in Project Mirai – the bit where they all link hands – inspired this photo. You know, this bit."
Source: jbrowneuk
Gamers
Uh, is it my illusion that these Nendoroids look bigger than usual? Yep, they are perfectly photoshopped into the scene.
Source: vihena
Having a Break
It's not good behavior to snap a photo of someone taking a break, but just look at it! It's so cute; also the color and contrast manipulation fit perfectly in this scene, good job xXTornadoXx!
Source: xXTornadoXx
Sleepy Time By The River
Everything falls into silence when a beautiful Nendoroid is taking a nap.
Source: kookykonata
Learning
This Nendoroid is learning to write its name, check out how she holds the pencil.
Source: KuroDot
Love in December
Black Rock Strength has big mechanical arms, but they didn't stop her from being charming!
Source: shinelikestars
Spiral
Artistic shot for Nendoroid? Here you go.
Source: Uyre
Musketeer Girl
Seriously, why do cute Nendoroids get all the cool shots?
Source: zh3us
Sword
Nikicorny knows how to turn a cute Nendoroid into a fiery one! The cooler thing here is that you could even learn how to do the the light painting by following the source link!
Source: nikicorny
Tiger!
Now you don't really want to mess with it, or it will unleash immense cuteness upon you!
Source: KuroDot
No Reason to Fight
Uh, what were we fighting about just now? One of the effects of fighting is aCute memory loss ;)
Source: shinelikestars
OH SHIII
Okay, not exactly the photo that will cure your soul, but the expression O_o" is pretty classic, right?
Source: Lorrainefish
Miserable Miku
Miku is in a bad mood as it's raining! Luckily she has an umbrella, that works, somewhat. Catch the detail of the droplets on the wood she is leaning on. This photo is so awesome that it could even become a wallpaper for your desktop!
Source: jen-den1
Out to Dry
Found this Nendoroid in the pocket yesterday, and now she's being hun out to dry.
Source: jbrowneuk
Planning Something Wicked
I'm not sure what they are planning, but there is certainly something evil going on! And cute.
Source: pus2meong
Skateboarding
Wings don't help when you skateboard. Sigh. It's a creative shot though, Nendonesia!
Source: nendonesia
Sena's New Hauls
A Nendoroid Sena is pleased with its Nendoroid collection. Nendoroid-ception!
Source: shinelikestars
Tea Time
Cool Kirino, she's got the iPad Mini Mini!
Source: shinelikestars
Shopping
Brilliant idea of using the photo as the background to make the Nendoroid look even more realistic!
Source: OvermanXAN
Idatakimasu
This one is epicly cute, since it's the official mascot of the Good Smile Company. Also that miniature ramen makes me drool.
Source: nikicorny
Snack Time
Seriously a creative one from shinelikestars! Besides, these photos always make me wonder where the photographers get all these wonderful miniatures, as they really contribute to the creativity of Nendoroid photography!
Source: shinelikestars
Yum Yum
The question is, how much effort did the photographer take to construct such perfect scene? It's amazing!
Source: shinelikestars
Welcome
The only thing that sucks here is these are all toys and not reality! Well done, qrullgx13!
Source: qrullgx13
Priorities
Butler, where's the butler! Here's… a mini one for you, my master.
Source: Xedosarthea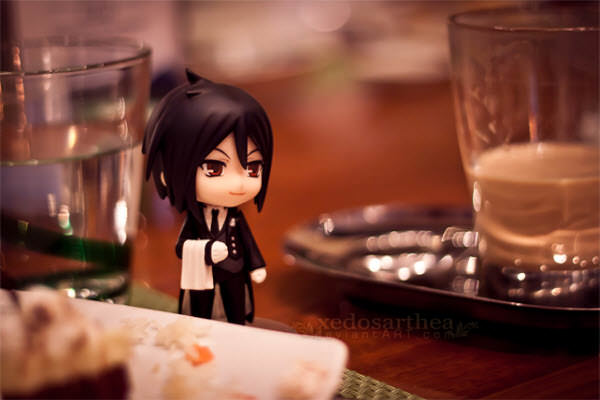 Reach Out
Easily one of the best masterpieces of the Nendoroid photography, it even looks like 3D-rendered graphic rather than an actual photo.
Source: OwaranaiNATSU
Sakura Chan
For your information, that mini pink Nendoroid is only about 4-5 cm tall.
Source: nendonesia
The Ride To Biscotti
A wild bird and a Nendoroid appear! What will you do? Take a shot!
Source: kookykonata
Whose Puppy Is It
Can I adopt it then? Oh, I mean the Nendoroid, not the dog.
Source: nendonesia
Cat Crave
It's hard to say this as a guy but yeah, he's cute.
Source: Valandill
Yahoo
Eiji Nizuma looks really energetic even in Nendoroid form, but I wonder about the trick that makes him "float" in the air!
Source: Uruviel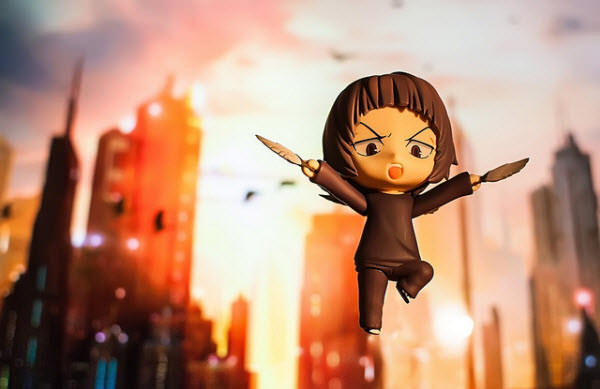 Reflection
While Nendoroids themselves are already impressive, what surprises me more is the dedication of the photographer. I have photographed Nendoroids too and I know how much extra effort it takes to photograph these mini figures. Yet these photographers even construct the entire scene using miniatures. Talk about professionalism! You guys are as professional as the Nendoroid creators.
That said, there are possibly more Nendoroid photos lying somewhere in the Internet world. If you happen to spot an awesome one, or would like to showcase yours, share it with us in the comments section.