The Best iPhone 12 / Pro Cases So Far
A new iPhone doesn't come cheap, and the first thing you do after getting it is to buy a protective case for it. So as the new iPhone 12 has made its debut and people are already in the process of pre-ordering it, protective cases are also being sought-after.
Now there are thousands of cases out there in the market with different features and attributes. To help you decide on a suitable one, here is a list of the best iPhone 12/ iPhone 12 Pro cases. Read on to know about each item's features in detail.
38 iPhone Tips & Tricks You Should Know
38 iPhone Tips & Tricks You Should Know
Your iPhone is nothing less than a magical device that can do hundreds of functions and substitute many... Read more
If you're environment-conscious or like the things that are made with sustainable materials, then this beautiful Pela case is just for you. It will not just keep your brand new iPhone 12 safe from drops and scratches but is also completely degradable.
As for the design of the case, it features a unique cosmic blue color with a retrograde motion design that'll surely make some heads turn. Also, once you hold it, you'll be amazed how soft it'll feel in your hands yet giving a solid grip.
Another fabulous case by Pela, this iPhone 12 case, is not only beautiful but is quite multi-purpose as well. It comes with a pocket or mini wallet at the back where you can keep your money or cards while on the go.
Like all other cases by Pela, this one too features eco-friendly yet high-quality material that is 100% compostable. You can choose among different color options like black, green, lavender, and shark grey. Also, the pocket at the back allows you to carry a thin stack of money or 2 cards providing great convenience.
This is an amazingly robust Ultra Impact Case by Casetify for the new iPhone 12 that'll keep your device safe from drops and scratches. Well, it's not a joke – the case has been successfully tested with a 9.8 feet drop that vouches for your phone's ultimate protection.
Made with high-quality shock-absorbing material, the case features a cool black leopard pattern, ultra-thin design, and anti-bacterial coating. What's more, is that it is compatible with wireless chargers, and you can even customize it with your own monogram or initials.
Camo by Casetify
Here's another sturdy case by Casetify that offers mind-boggling protection to your new iPhone 12. It's made with their proprietary shock-absorbing material (qitech™) that's extremely light-weight yet amazingly durable.
The case features wireless charging compatibility, extra thick corners for maximum protection, and a cool blue two-tone pattern that'll look stylish in your hand.
If you're looking for a phone that offers ultimate protection to your iPhone 12 and features an intriguing design as well, then take a look at this Ultra Impact Case by Casetify with a classic camera design.
The case will make you worry-free about the protection of your new phone as it's been tried and tested with a 9.8 feet drop. The best part is, if you don't like any available design, you can get customize it with an image or your initials.
Some people like a really slim case for their iPhone, and this case is just the one for them. Manufactured with highly eco-friendly material, this Pela case is so slim that you won't even know if you have a protective layer on your phone.
Even though the case offers minimal design and ultimate thinness, it doesn't miss out on the durability factor. With a fit and grip texture, your phone will smoothly slide in and out of your pocket but holds solid in your hand. There's also an option to choose among different colors according to your taste.
For the ones with clumsy hands who're always dropping their stuff, Gripzilla Armor Case will turn out to be a boon, especially if you want to house the new iPhone 12 in it. With grooved sides and textured surface, you'll never lose a grip on your precious device.
The case features a hard exterior coupled with a soft interior lining that would not scratch your phone. Your finger will simply fit into the side grooves of the case, and the hard protective case will keep the effects of drops and shocks away.
This one is a special case for iPhone 12 offered by the tech giant Apple itself. The Clear Case is an innovative product that comes with (Apple's signature) minimal design and MagSafe technology – a new ecosystem of accessories for easy attachment and faster wireless charging.
The Clear Case is light, made with durable material, and high-quality coating that keeps it from yellowing and built-in magnets that align perfectly with iPhone 12 | 12 Pro. It has undergone many testing standards to ensure you get a durable product.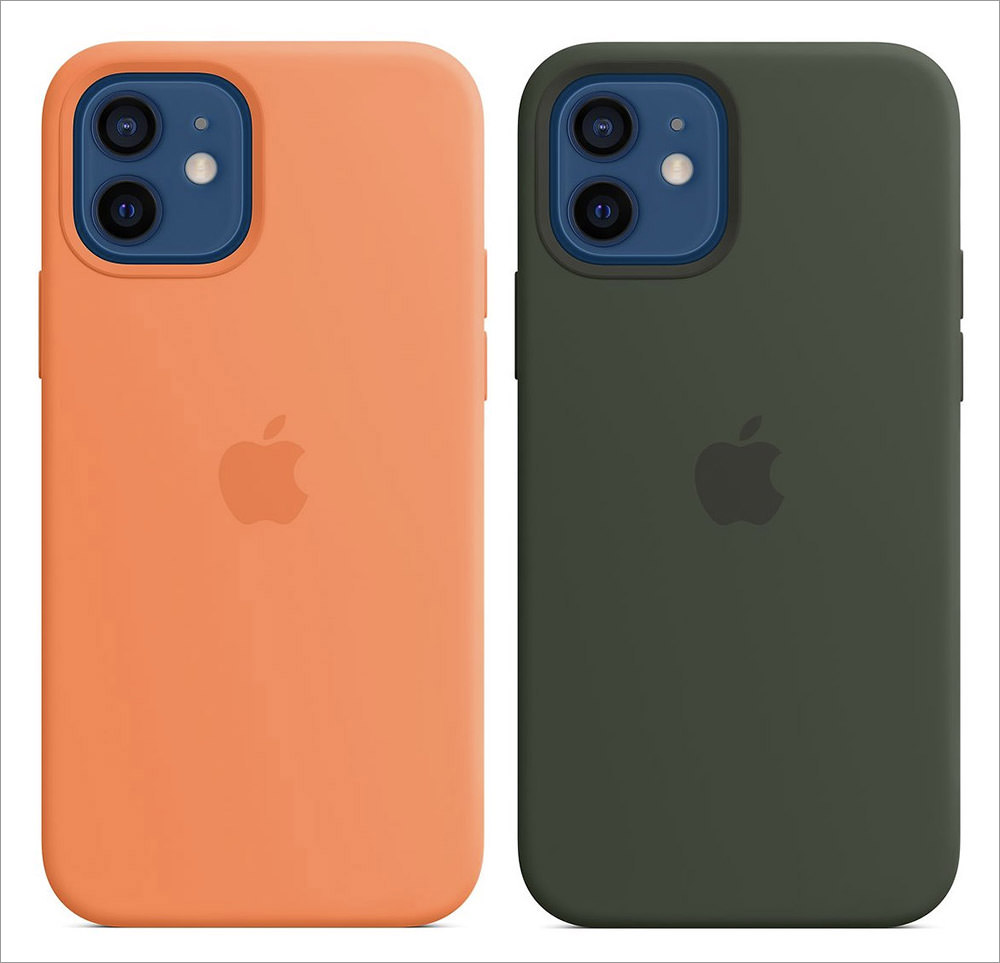 Another one by Apple, this case for iPhone 12, is made with premium silicone material and is embedded with Apple's proprietary MagSafe technology that offers a faster and reliable wireless charging to your iPhone.
Quite like all other Apple-designed case, it went through rigorous testing throughout the design and manufacturing process, so you get only the most reliable product. Moreover, the soft silicone exterior and microfiber-lined interior will make the phone feel so good in your hands.
For the classic leather accessory fans, here is a dashing rugged leather case for iPhone 12. The case is built with a high-grade polycarbonate body, internal shock absorption bumper with a raised TPE bumper along the perimeter of the screen, so you get maximum protection for your iPhone.
The most prominent feature about this case is the Horween leather that has been used in its making, and that will develop a patina with time and takes on a unique look. Moreover, it has been tested with a 10 ft. drop and is wireless charging compatible.
Nomad already has its fair share of popularity when it comes to iPhone cases. And so, here is a rugged folio case by the company that promises rugged protection for your iPhone 12 with an enticing leather design.
The case features a high-quality polycarbonate body and a durable internal shock absorption bumper that's raised along the perimeter of the screen so as to offer maximum protection. You can use the folio case to put your money, cards, or other essentials while on the go.
Slim Armor Wallet is a multi-purpose case that offers high protection and a slim wallet at the back as a great usability factor. The case is made with Polycarbonate and TPU material, both of which offer maximum protection to your device.
The case is compatible with iPhone 12 and 12 Pro and features a dual-layer for extra drop-protection. Even though the wallet case allows you to hold up to 4 cards, still it's quite slim in design and fits well in the pocket.
Everyone knows the great quality and durability of Spigen cases, and this one is not any different. As the name implies, the Tough Armor case gives your new iPhone 12 the ultimate protection it deserves. The case is also wireless charging compatible, which is a great advantage.
Made with extreme impact foam that offers extra shock absorption, a dual-layer body, and a military-grade certified design, you can be ensured of your phone's protection against drops, falls, and scratches.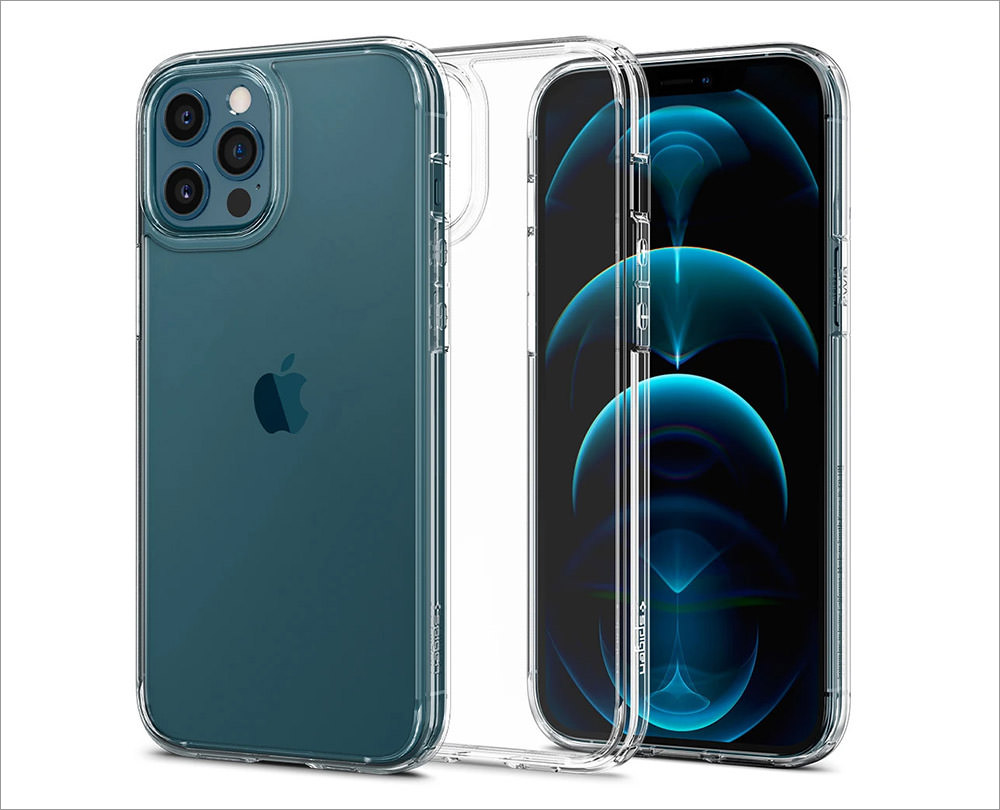 Another one from Spigen, here is a classic iPhone 12 / iPhone 12 Pro in a crystal clear frame. Clear cases usually start yellowing after some time, but not this one. The case features and amazing long-lasting clarity. It has a hybrid nature of the single-layer piece that brings lasting clarity into a reality.
Manufactured in a slim and hybrid structure and a soft feel yet rigid back, the case offers multiple protective features. Moreover, the Air Cushion technology keeps your phone shock-proof and grip-friendly for everyday use.
A unique one in the list, here is a metal case for iPhone 12 by Ghostek that's made with extremely tough military-grade space Aluminum that ensures all-round protection and a solid grip in your hand.
The metal case comes with an atomic alloy bumper frame, thin and flexible TPU inner lining, anti-slip handgrip, and lifted bezel for better protecting your camera and the screen. It also has face-ID unlocking and wireless charging compatibility.
For the ones that are always on an adventure or are into outdoor shooting, here is a full-body extreme waterproof case with a built-in screen protector. The case can bear a 12 feet drop and is submersible underwater unto 6 feet deep.
With shock-absorbing edged and corners, scratch-resistant back, and a sealed shell, you can be assured of your phone's protection even in some of the most extreme conditions. Even with such a protective armor, you can easily use the fingerprint unlock feature and its crisp, responsive buttons.
Another multi-purpose iPhone 12 case in the list, this magnetic wallet case by Ghostek, also features a slim card-holder at the back. With a dual-layer shock-proof design and a firm anti-slip grip, you can keep your phone safe from drops and scratches with ease.
This versatile case offers a lot in terms of protection and usability. You can detach the card-holder, and the built-in magnet will make it super easy for you to attach it to magnetic car mounts. Additionally, it has raised corners around the screen and the lens for an extra layer of protection.
For the Mr. clumsy hands out there, here is an ultimate grip case rightfully named Kung Fu Grip. The case features super grippy sides yet an ultra-light construction so you wouldn't even know you're holding the phone.
Even though the case is made light and super-grippy, it doesn't fall short in terms of durability. It's made with high-quality soft material and protective air pockets corners that work as airbags for your phone.
Another one of the eco-friendly options, this iPhone 12 case is made with earth-friendly vegan leather that is 90% recyclable. The cases are crafted in luxe-textured material and fitted with a black flash-absorbing camera ring.
The most highlighted feature of these cases is that you can customize them with your initials or monograms. Simply choose the color font and style for your monogram and enter the text while ordering the case.
OtterBox already prides itself on making the most amazing and durable iPhone cases in the market, and these cases from the defender series are not an exception. These amazing iPhone 12 and iPhone 12 Pro case that delivers legendary defense against drops, dirt, scrapes, and bumps.
The multi-layer design of these cases protects your device, and the built-in holster doubles as a belt clip or hands-free kickstand. Moreover, the case has a very slim finish, raised edges for the camera and screen, and useful port covers that keep the dirt and dust away from entering your phone.