20 Beautiful 3rd Party Apple Watch Straps to Buy
List of 3rd party Apple Watch Series 4 straps equally as beautiful as the officials that do not break the bank.
Apple Watches were already one of the best wearables in the market, however with the launch of the latest Apple Watch Series 7 its popularity has catapulted. The gadget is not just advanced smart device, it is also a fashionable one.
If you want your Apple Watch to look as amazing as it works, take a look at these cool straps from different manufacturers that you can easily buy. You can check the special features of each strap and simply buy the one you like.
#1 – OYODSS Braided Sport Band
OYODSS braided sports band for Apple Watch are made with soft, stretchy, and skin-friendly materials. They are available in different vibrant colors (and even a multi-color option), and come with a stylish stainless steel buckle.
The bands are compatible with all models of Apple Watch for 30mm, 40mm, 42mm, and 44mm watch sizes.
#2 – Floral Silicone Strap Band
These floral silicone straps are high-quality and are available in beautiful designs. The straps are made with premium silicone material and printed over advanced printing technology that does not fade with time.
You'll love the light-eight and soft feel of the strap which is also quite durable and doesn't catch scuff marks easily.
#3 – ULLOO Adjustable Elastic Band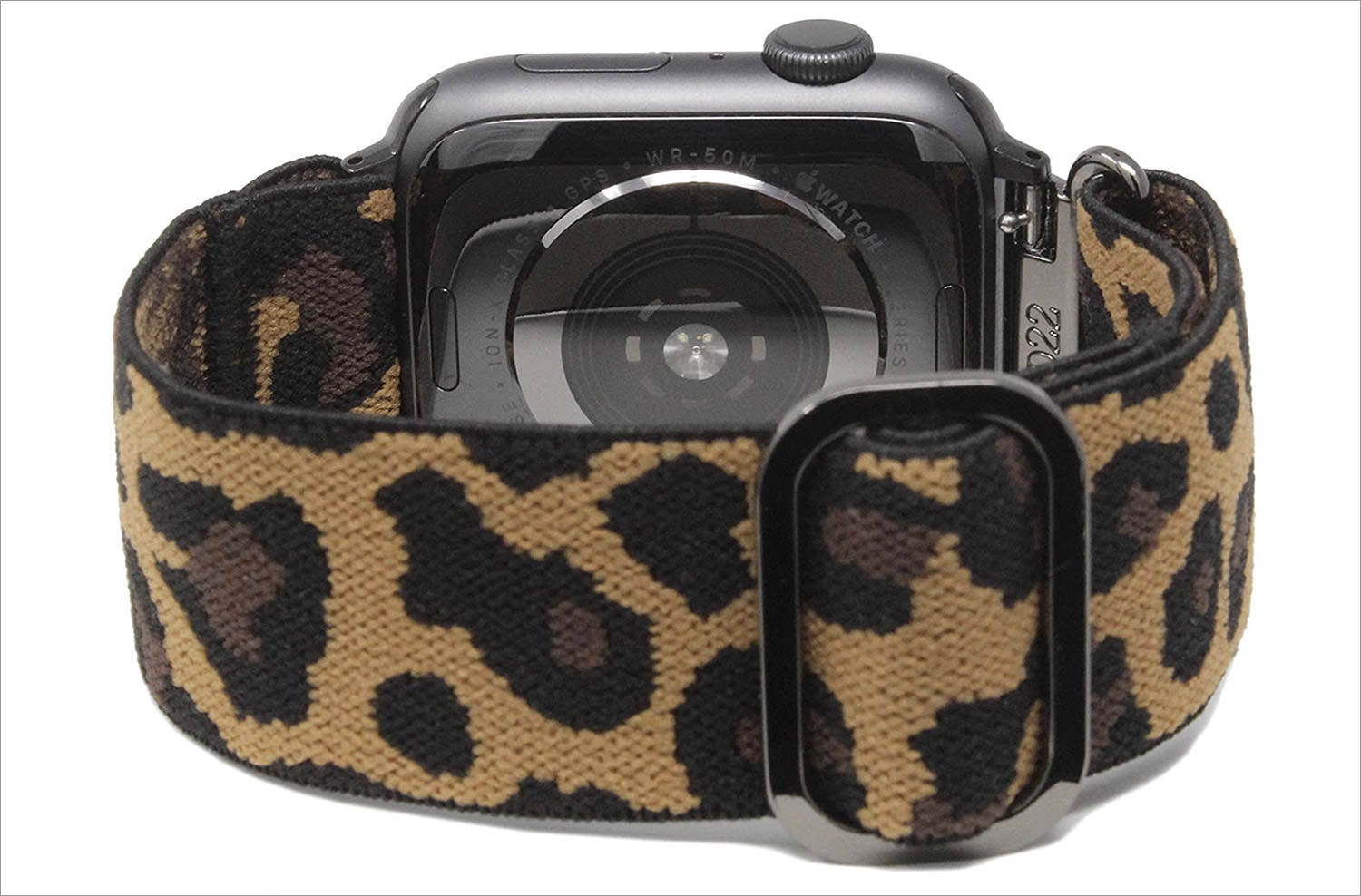 These adjustable elastic bands from Ulloo are made with high density elastic that makes it super easy to put on without having to manage clips and buckles. The bands are light-weight, breathable and come in many amazing designs to choose from.
With premium stainless steel adapters you can easily attach them with any Apple Watch model.
#4 – PROATL Sport Braided Strap
Here is a loop strap that's ideal for sporty types. Portal offers braided straps for your Apple Watch made with soft nylon elastic material and premium finish. You'll feel absolutely comfortable wearing your watch because the silicon is very skin-friendly and fits nicely on your arm.
The bands are sweat-resistant, water-resistant and come in many different color options.
#5 – Swhatty Band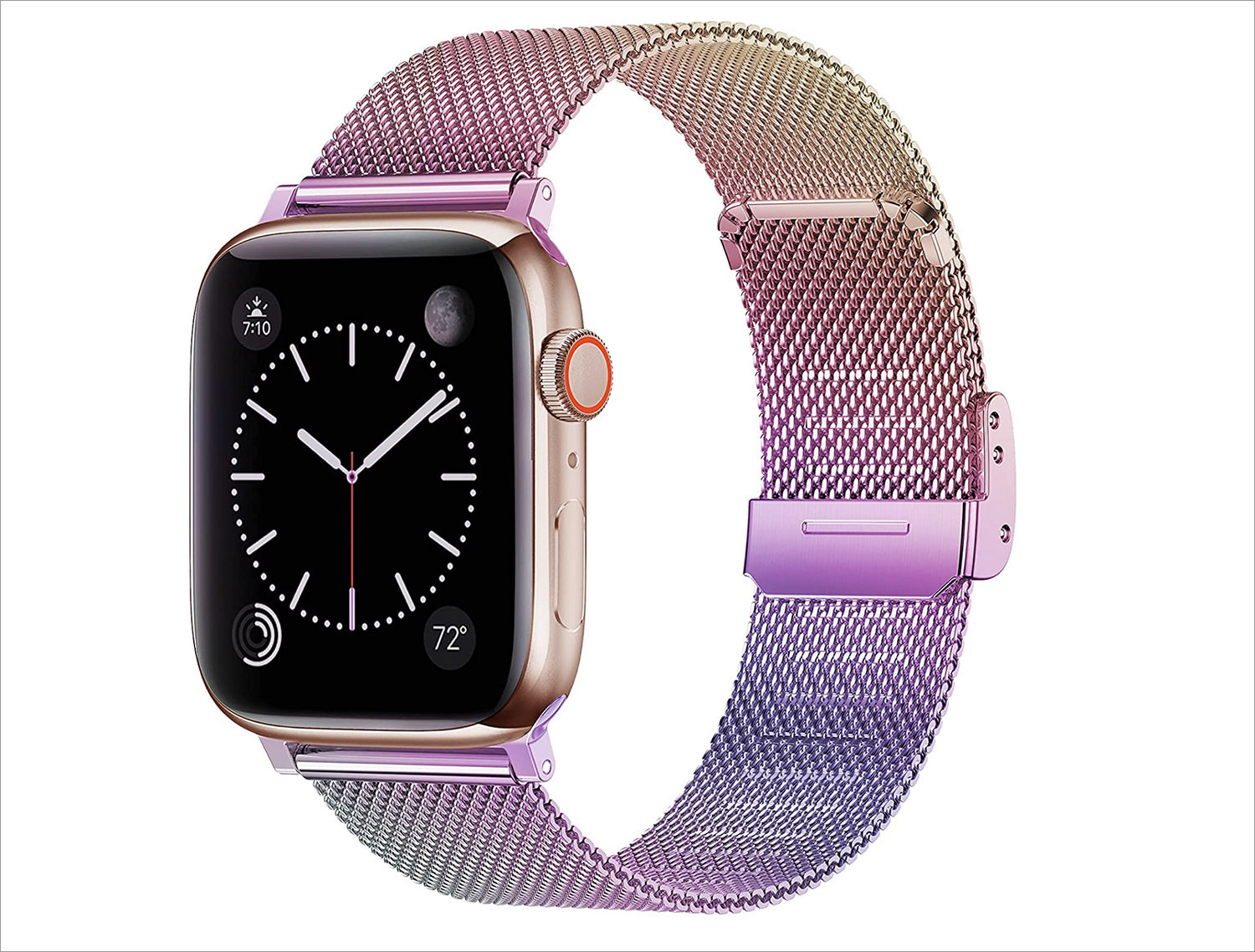 With elegant-looking Milanese mesh loops, the Swhatty bands give your watch a classic look. The straps have a buckle design that's easily adjustable and doesn't
feel too heavy on the arm. Manufactured with light-weight stainless steel, the bands are a mark of exquisite workmanship. You can buy them in different finishes suitable for both men and women.
#6 – Blueauty Adjustable Elastic Band
Blueauty Adjustable Elastic Band is an easy to wear and comfortable to carry strap for Apple Watch. You can choose from different design and color options that may suit your style. These quality bands are made with soft nylon that's breathable and skin-friendly and go with all Apple Watch models.
#7 – WASPO Silicone Solo Loop Band
Waspo brings unique solo loop bands for Apple Watch. The bands are made with flexible Elastomer that's soft on skin and works best during your sports routine.
There are many color options for both men and women and the premium silicone braided color loop is absolutely easy to wear and take off.
#8 – KYISGOS Band
These absolutely dashing leather bands from KYISGOS are a thing to marvel at. Beautifully crafted with genuine leather, the band is soft, light-weight, and fits comfortably on your wrist.
There are stainless steel adapters at both ends that lock precisely with any model and any size of Apple Watch.
#9 – OUHENG Band
This is a one-of-a-kind hybrid band made with genuine leather and layered with rubber. The strap has a neat finish and great durability that makes it equally useful in daily life as well as on adventure trips.
The inner surface is designed with tiny air channels that give you a comfortable wear even in hot and humid weather. With stainless steel connectors, you can fit it precisely to your Apple Watch.
#10 – Grit & Grazia Leather Band
These elegant straps from Grit and Grazia are marvelously designed with style and comfort in mind. The strap is made with premium grain leather that's been treated to give a beautiful finish and are easily cleanable.
With a beautiful diamond pattern, the band will give your Apple Watch a very unique look.
#11 – Greatfine Stretchy Solo Band
Here are beautifully-patterened stretchy and flexible loop straps. These are created with elastic nylon material that's quite tough against wear and tear but feels very soft on the skin.
You can select from an array of interesting looks that work for both men and women. Fixed with stylish stainless steel buckels you can adjust the strap to your wrist to your comfort.
#12 – Dark lack leather band
All the roadeo types, this Apple Watch strap is just for you. The strap is made with 100% genuine leather with a very masculine look. You can choose the design of the leather bracelet and color of the adapter.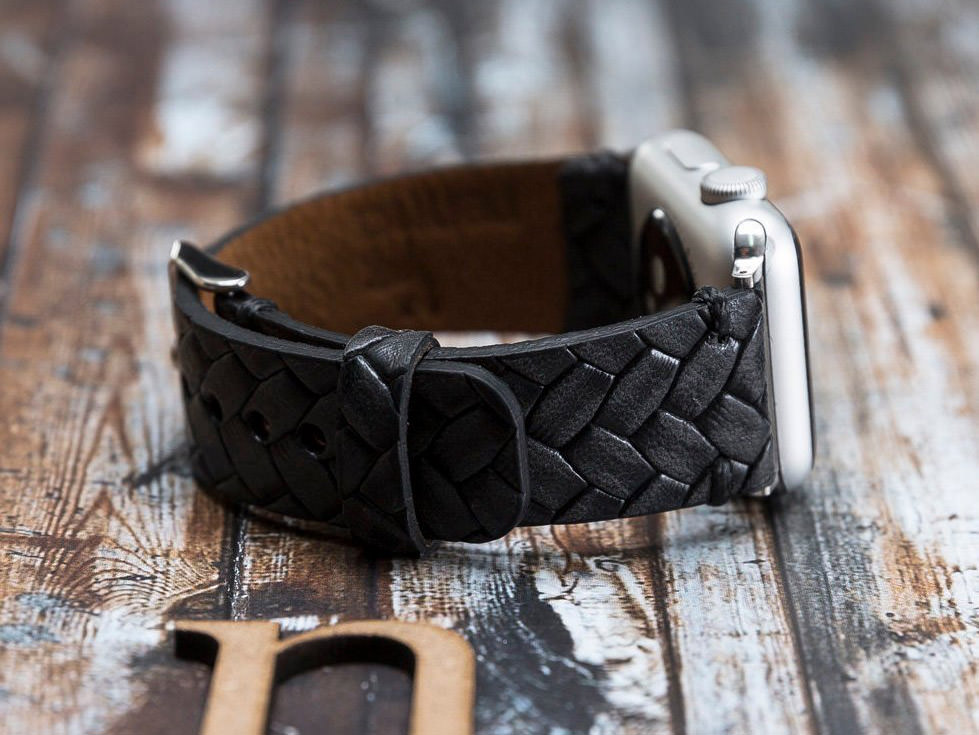 #13 – Soft silicone sport strap
A soft and comfortable strap that fits with Apple Watch Series 4, Series 3, Series 2, Series 1, and Apple Watch Nike+. It's biggest aspect is its lightness that makes it ideal for sport enthusiasts. The holes add to the lightness, improve ventilation and make it a breathable band.
#14 – Marge Plus leather band
Made with high-quality leather, this Apple Watch strap comes in different gorgeous finishings and stainless steel connectors and buckle. These straps will give your watch a simple but attractive look.
#15 – Youkex sport band
An ideal sports band for your Apple Watch, it is made with highly durable and soft material. It comes with multiple colors to choose from and amazing Watch Lugs on both ends, which lock onto the watch's interface precisely and securely.
#16 – V_moro Apple band
An elegant strap for your Apple Watch in Tortoise tone, it is high-quality and water-resistant. Each piece of the chain is hand-polished and made of durable material that is also lightweight.
#17 – Carterjett
A genuine leather, durable black adapters, and a dashing dressy look makes this Apple Watch strap ideal. Other features include premium buckle clasp, soft leather loops, reinforced stitching, and finished edges for a luxury look.
#18 – Fullmosa
Made with genuine top cowhide leather that is soft and looks luxurious on the wrist. It comes with stainless steel buckles that makes it easy to interchange and a wide variety of colors.
#19 – LDFAS band
Crafted with high-quality stainless steel metal and natural Black Sandalwood, this unique Apple Watch strap comes in amazing colors and design. It has a butterfly folding clasp that prevents from loosing up.
#20 – Top4cus
An elegant-looking Apple Watch band that's made with 3 layers of genuine top leather plus 1 more filler. It is durable, soft on wrist, anti-sweat and anti-slip as well as a delicate grain spread.