The new iMac is one of the latest and most advanced machines by Apple. The new machine is not just faster than the previous version but it has also been given a new design.
Though the new iMac is a wonderful computer in itself, there are still some accessories that you may need to make your iMac experience even better. From monitor stands to protective covers, this post lists 10 of the best accessories for the new iMac that are a must-have for every iMac user. Let's get started.
10 Best iMac Pro Accessories
10 Best iMac Pro Accessories
The new iMac is one of the latest and most advanced machines by Apple. The new machine is not just faster than the previous version but it has also been Read more
For better ergonomics, you need your monitor to be elevated to your eye level. This simple Curve Riser Stand is ideal for placing your iMac to a comfortable viewing position. Made with high-quality metal, the stand has a unique design with proper ventilation.
One cool aspect of the Curve Riser stand is that it is fitted with a shelf that offers additional storage space for small items like keys, hard drive, notebook, or speakers. Overall, the sleek sweeping curves give a beautiful look on any desktop.
Though the iMac comes equipped with speakers that offer great sound, but if you want more powerful and realistic sound, you can get this Bose Companion 20 Multimedia speaker system. Made with one-of-a-kind TrueSpace® stereo digital processing circuitry, you get sharp and crisp sound.
Moreover, you can have powerful low-note performance and full natural sound that fills in every environment with any kind of music or sound you play. The speakers are also pretty compact in design so they can easily fit on any desk.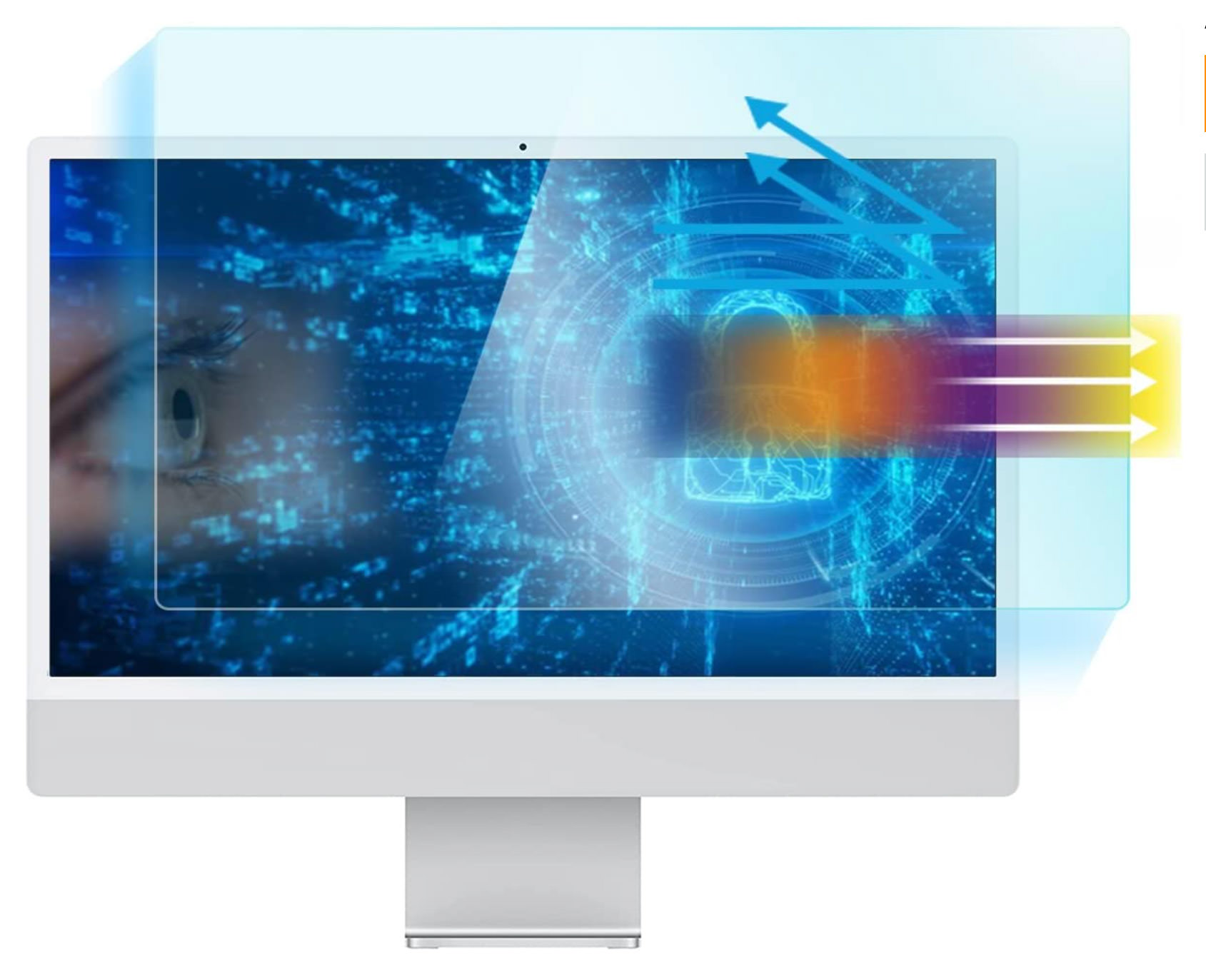 No matter how amazing your computer is, working on it regularly exposes you to harmful rays that may affect your vision. To eliminate this risk, here is a screen protector made specifically for iMac screen to reduce eye strain of the users.
The protector relieves you from eye strain that causes insomnia and vision issues in users and protest against UV lights. It is also anti-glare and the oleophobic coating keeps moisture, oil, and smudges off the screen.
It's not just the iMac but its accessories also need proper protection. This is a sleeve for iMac's magic keyboard to keep dust and damage away from the device. The sleeve is made with high-quality PU leather and sleek design ideal for storing your keyboard.
The efficient and really lightweight design of the sleeve allows you to carry your keyboard anywhere. Plus, the inner suede lining will keep your device protected from scratches and any kind of damage.
For those who often have to show their monitor screen to colleagues, it is pretty difficult to rotate your iMac so often. This 360 degree turntable stand is an ideal solution for this. Equipped with hard-wearing ball bearings, you can place your monitor on it and rotate it smoothly.
The stand is made with high-quality aluminum and a minimalistic design. Additionally, it offers load balance for iMac and other flat panel displays.
Your iMac is a powerful machine but it is still prone to scratches and accidental scuff marks. One good way out of it is to use this monitor dust cover that fits nicely on your new iMac and keeps it protected from dust or scratches when not in use.
One cool feature of this dust cover is the storage pocket on the back. You can use it to hold your mouse, keyboard and trackpad once you're done working. Plus, you can get it in colors matching with your iMac's.
You can never have enough USB ports and slots for different devices. Therefore, this cool USB-C hub from Satechi gives you three USB-A data posts and an external HDD or SD card slot with USB 3.0 speeds of up to 5 Gbps.
With the hub, you can connect all your standard USB devices to your Type-C smartphone, tablet, or laptop. Moreover, the sleek and minimal design compliments your iMac and looks great on any desk.
For professional and regular computer users, storing and managing your data is a menace. As a solution, you can get Western Digital's My Book – external hard drive with a whopping storage capacity of 4TB up to 18 TB.
Some of its interesting features include auto backup with WD backup software, MacOS' Time Machine compatibility, supports USB 2.0 and 3.0, and 3 year manufacturer's guarantee.
To give your new iMac a full convenience of useful ports, this thunderbolt dock gives you freedom of connecting a number of devices with your computer. There are 14 ports including USB 3.0, USB 3.1, HDMI post, SD card slots, digital output slot, ethernet connector, headphone jack, and much more.
What's more is that the dock fis perfectly under your iMac's stand and keeps your desk from getting cluttered with cables.
Here is a mount bracket stand for iMac to give it more movability. Designed specifically for the new iMac, the bracket holds your monitor firmly and fits flawlessly on any desk.
Made with premium steel, you can be assured that your monitor is mounted on a high-quality stand. It's not just easier to move it around better with the mount but you can also easily keep it to your eye level.