Boost CTR and Conversions with Google Rich Cards
Google Rich cards was launched on 17th of May 2016 through a new markup format which is capable of displaying content (movies and recipes as of now) in a more attractive and visually stimulating manner. The main aim is to provide more visually appealing search results for users.
The announcement by Google is to notify the web community about an upgrade for the current Rich Snippets format, which is widely employed in most of the organic "mobile search results" for movies and recipes to a revamped structure, officially named as Rich Cards.
However, the initial rollout of new cards is only available for Google mobile search results for movies and recipes websites in English language. However, it is added that this will be expanded to add more types of websites and users in the near future.
Read Also:  Boost Your Search Results with Schema.org and Rich Snippets
What Exactly Are Google Rich cards?
A card can be defined as a "graphical" representation unit which can be used to depict a product or service in a visual manner.
Google Rich Cards refer to a new revamped Search result format. It is a restructured update of the very successful rich snippets style. Cards apply the same schema.org structured markup, previously employed in snippets which are famous for displaying content in a visual manner (making it more attractive and engaging).
The Importance of Using Rich Cards
Rich cards can be quite useful for site owners, especially movies and recipe websites. They provide an opportunity of standing out in the search results and creating a benchmark for digital marketing of products and services. It makes your service more desirable and provides you with higher Click-Through Rates (CTR) and eventually better conversion rates.
For instance, individuals providing food and recipe services can build a richer and more tempting preview of their content by using good quality images of their dishes. When a potential customer searches for the dish, your product might get featured in the top results of Google rich cards. If your image thumbnail "looks delicious" user is more likely to visit your website.
The use of Rich cards can be summarized as below:
They enhance visibility of your product in the search results.
They boost conversion rate by making the content more tempting.
They help in getting more targeted traffic by using a card carousel feature which is very user friendly and is already widely employed in major android and iOS apps.
Cards have a higher image resolution and visual appeal to it, aimed at improving the web search and browsing experience of the user, creating a visual appeal to your product and service.
The Webmasters tool provides reports and a detailed analysis about CTR, bounce rates, conversions etc to monitor performance of your Rich Cards.
The carousel of cards has images with brand names, logos and user reviews. It makes user's search more comfortable and response more spontaneous. They help in raising brand awareness of your product.
Unlike the currently used Rich Snippets, Rich Cards present users with a more enhanced visual design, helping customers to relate to your product more efficiently.
Main Features of Rich Cards
Rich cards are assigned a new page in the search results.
Additionally rich cards will be displayed on the top of general Google search results, just like the Google Images results.
Results in the Google rich cards page will be shown in a carousel format (widely employed in Facebook ads) which can be easily scrolled across the page.
Each card in the carousel will display the logo of publisher, a high quality image thumbnail from the page and a timestamp.
The AMP annotation on mobile results display a page customized for fast loading and consistent content for a smoother browsing experience.
The carousels may display cards from one specific site or from numerous different websites.
It is prudent to note that rich cards appear to resemble and work on the same line as Adwords sponsored shopping cards that are seen when searching for specific products. However, there are fundamental differences between the two. Rich cards are being planned to be inherently embedded in the Google search results which will not only enable cards to show up organically, but also make it populate faster.
The use of high quality image for cards thumbnail is also going to make the results more attractive. The following features are already being provided in the service:
Ability to manually enable or disable Google rich card results.
Supports the leading eCommerce platform Magento in its majority of versions. A single Magento installation can work for multiple views (can work for a number of customers and products).
They are made according to the most recent Schema.org and Google standards.
They are easy to set up.
How to Use Rich Cards
For using the Google Rich Cards feature your content must use Accelerated Mobile Pages (AMP). Additionally you must use schema.org and a highly recommended JSON-LD format for easy markup of content.
One can test the functionality of Google Rich Cards with this testing tool from Google. The code can be tweaked in real-time and the preview can be generated instantly to know it's working. A link from the user's website can be placed in the tool to generate structured data that show how your page will look in the Google Rich Card format.
Use the following steps to successfully use Google Rich Cards feature:
Step 1
Check this link and select a "markup" which suits your product.
Step 2
You can edit the markup by using the structured data testing tool and customize it to add relevant content in your card. You can test it for errors and watch the preview in real time. It is important to add "name" and url of the image for your Card.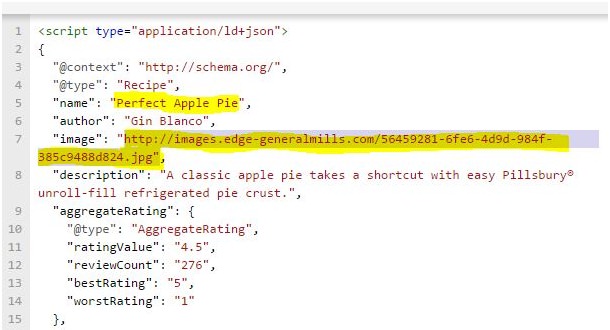 Step 3
Add relevant details to the mark up to make it look more informative and attractive. See how adding subtle details to your cards enhances its quality.
Step 4
Check your markup for any error, validate it and check its preview. If you are not satisfied with its look and feel, try changing the image and content by changing the code accordingly.
Step 5
Add the markup to your page. You can deploy the customized tag at any relevant place on your website. Please note that the below snippet is valid if you are using JSON-LD and tag manager.
As soon as you deploy the markup cross your website, it will start generating the Google Rich Card for your product.
Check out the video below to learn how to use Google rich cards for your product.
Examples of Rich Cards
There are various types of Rich Cards which can be employed according to the custom needs, some examples:
1. Recipes
Google rich cards are tailor made for Recipe websites. It can be presented as a part and parcel of a "host carousel" or even as individual Rich Cards. The figure below depicts an example of delicious-looking "Apple Pie" recipes in the search results.
2. Event-Rich Cards
Rich Cards can even be used for broadcasting organized events such as weddings, art festivals or musical concerts to a targeted audience with all the relevant details like place, time, duration etc in a subtle and pleasant format.
A separate markup for a renowned artist can be created to drive carousel listings for various events. Here's a markup for one such event.
3. Product Rich Cards
Rich Cards can contain relevant information regarding a specific product. The information may include reviews, ratings, availability, price and a brief product description. Here is a product rich card generated for "lava lamps".
4. Review Rich Cards
Rich cards can be used to check reviews of products in a more exhaustive manner. It could comprise of review for items like a store, movie, restaurant etc. Check out this card which depicts a search result for a particular book.
Final Words
As the latest offering from Google, Google Rich Cards seem promising and a wise decision to make use of when attempting to improve your CTR. The subtle appeal and exceptionally detailed analysis provided by Google could change the digital marketing domain in the near future.