Why Choose SEMrush Over Any Other SEO Tool
Search engine optimization plays an integral role in streamlining the digital marketing strategies for any organisation. However, the nature of operation is quite challenging and hence, you will surely need to invest in SEO tools to effectively manage all the marketing relevant tasks. 
Data and Analytics are key elements for SEO, and only the relevant information to those elements will provide you with adequate data through which you can understand exactly what your website needs to increase traffic and conversions.
For all your hurdles, we have a one-stop solution that can help you enhance digital marketing performance rapidly. Here, we introduce you to the SEMrush, a complete package of SEO tools that will help you apply new SEO strategies, review data, and improve your digital marketing strategy. The tool has now become the first choice for almost every software development company.
In this article, we have demonstrated many distinctive features of SEMrush. Once you understand them all, you will have a clear idea of why SEMrush is the most preferred SEO tool in the industry.
10+ SEO Tools You Will Need
10+ SEO Tools You Will Need
As an SEO consultant, you need a particular set of tools to know exactly where your competitors rank... Read more
So without any further ado, let's get started..
Offers Most Accurate Search Volume Data
Keyword research is an essential operation when it comes to SEO. However, it is also important to understand the average monthly search volume of the keywords along with preparing a keyword list for website content.
The data you receive will help you pick the right keyword. Based on the search volume, you can easily decide which keyword is worthy to be fit in the content.
Businesses offering specific niche services would want a higher rank in the search engine results. Sadly, keyword ranking would become a challenging task if the niche selected by the company is broadly competitive.
In such a scenario, SEMrush regularly updates its database with a view to providing accurate search volume data which will help users discover the keywords which can bring extra traffic onto your website even if they are less competitive.
Largest Keyword Database Available
Having the largest keyword database is beneficial to implement highly effective SEO strategies. Companies that are offering different services or products look for SEO tools that offer varieties of keywords that fit the most niche.
And, unfortunately, most SEO tools lack a keyword database, except SEMrush. This powerful SEO tool provides more than 20 billion keywords, the largest in the industry.
SEMrush helps you create diverse keyword lists. This tool facilitates you with the option to enrich your PPC and SEO campaign through diverse keywords. In addition to that, with the help of SEMrush, you can compare the keywords ranking of your website with your competitors' companies.
Unmatched Position Tracking Facility
While most software for SEO expects you to overhaul your purchaser level if you need to expand the number of keywords or if you need everyday updates for your rankings, SEMrush doesn't need anything like that. You can have day by day updates and rankings for desktop and mobile.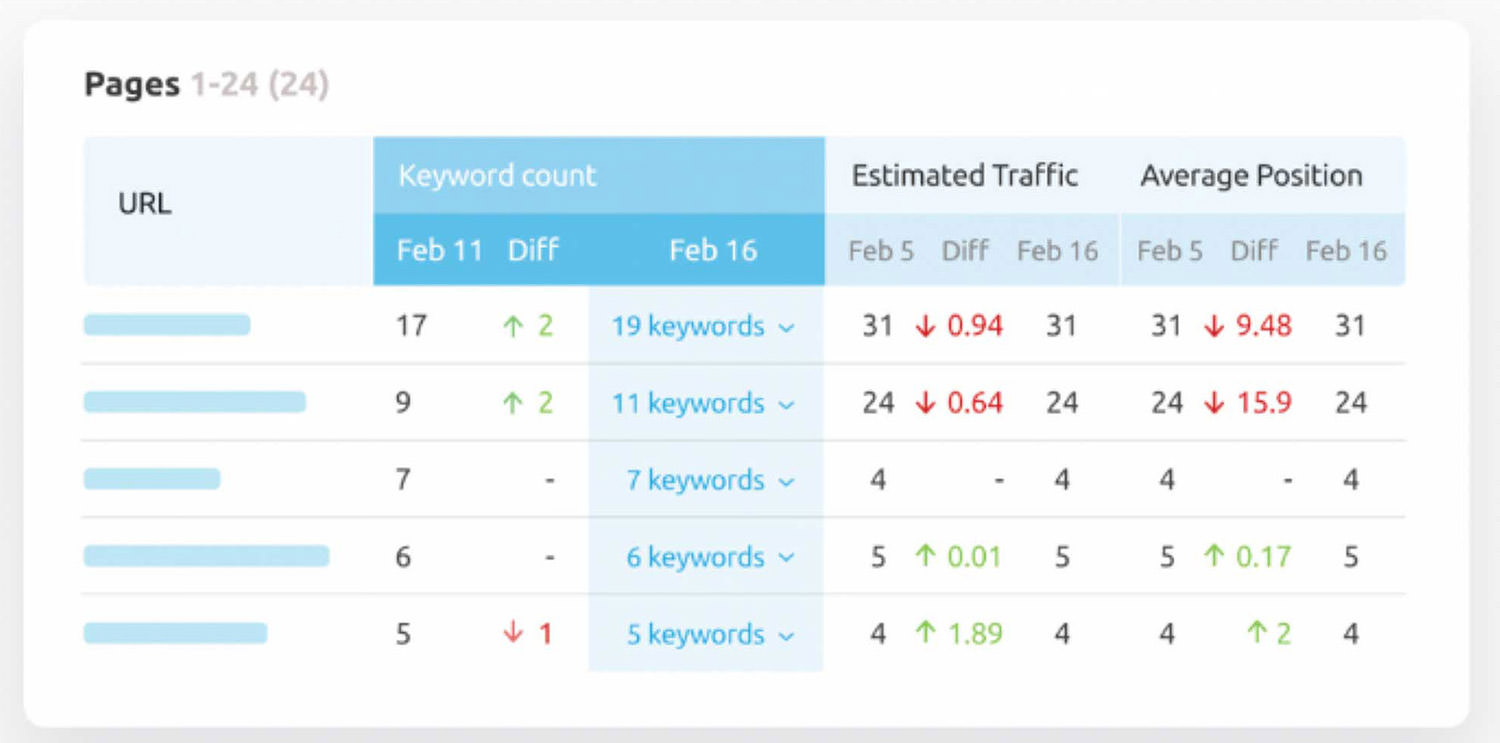 It's ideal for individual sites that need to follow their keywords or agencies with different customers. Exceptional keywords measurements are essential to understanding the adequacy of your SEO procedure.
In business, you need information quickly to outdo your rivals. You can hardly wait three days or more to see the latest numbers. By then, at that point, your rival might have surpassed you.
Top Notch Reporting
You know the importance of reporting when it comes to discussing SEO strategies with your company's stakeholders, clients, and managers. If you are showcasing the positive results of an SEO program, then you must have to carry SEO reports that convey all the necessary information.
SEMrush offers many default reports and also facilitates you with the option to create custom reports according to your specific requirements. The best thing about SEMrush is the integration with Google Analytics and Google Console which help you prepare visually appealing SEO reports.
Another interesting feature of SEMrush is that it allows you to white label your company's logo on the report. The report includes all the important data including keyword indicators. In addition to that, you can also schedule reports and send them to people via email.
Backlink, Reporting, and Analysis
"Backlinks are the links from a website that links back to your site, it could link to the main page or picture or blog content".
Google's algorithm takes many factors into consideration while ranking your website, and backlinks is one of them.
SEMrush helps you discover all your backlinks. Besides, this SEO tool also brings you toxicity ranking for each backlink. Where high ranking backlink can enhance your SEO ranking, a toxic backlink can contrastingly damage the result of SEO ranking.
SEMrush helps you generate toxicity scores for backlinks so that you can remove such backlinks or deny those on Google Search Console.
Powerful Content Marketing Platform
Well-written informative content gets great attention from Google. Such content will have a powerful impact on SEO rankings as well as customer experience on your site. Creating quality content is still manageable, but the challenging task is to find the topics for your content which justify Google's need.
SEMrush content marketing platform is one thing you were missing till now. It allows you to discover unique topics and ideas. Besides, you can utilize an SEO writing assistant in order to prepare quality articles that have a higher chance of getting ranked in Google Search results.
One-stop Solution For All Your Digital Marketing Needs
SEMrush is one of the best-preferred SEO tools as it covers everything that one would require to streamline effective digital marketing strategies. From competitor analysis to keyword search volume, the marketing calendar, site audit, and many more, SEMrush provides unmatched service.
Though, other SEO tools available in the market provide similar kinds of benefits, they all come with different subscription plans. SEMrush subscription plans are at a low price and allow you to choose specific features that you want to add to the SEO tool.
Wrapping Up
We hope this article will help you understand why most organizations prefer SEMrush over any other SEO tool. Compared to other SEO tools, SEMrush is the only one that offers multiple benefits and a large keyword database.
Tell us what you think about this article, do share your views in the comment section below.