How to Write SEO-Optimized Content (Tips and Tools)
Generating organic traffic on your platform requires serious efforts. This includes striving for higher rankings and ensuring prominent visibility on Search Engine Results Pages (SERPs). Maintaining these factors consistently can significantly enhance your site's optimization rate.
The optimal way to achieve and sustain this is through the creation of SEO-optimized content. The relationship between content writing and search engine optimization is deeply intertwined. Most SEO strategies rely heavily on written content. Search engines have also established various ranking factors that directly connect to the quality of the content.
This article is intended to delve into the importance of content in search engine optimization. We aim to shed light on the pivotal role content plays in enhancing your site's visibility and ranking.
In the upcoming sections, we'll provide a comprehensive list of highly recommended tips and tools. These resources can effectively assist you in creating SEO-optimized content with ease. They'll not only simplify the process but also help you produce content that stands out in SERPs.
9 Tips to Create SEO-Friendly Content
It's essential to understand the significance of search engines and how they interpret content for website optimization. Now, let's focus on some key pointers for crafting content that's SEO-friendly.
1. Focus on Your Audience
A crucial first step is to identify who you're writing for. Rather than throwing out generic information, tailor it to a specific audience. This is a step that web content writers frequently miss, resulting in a dip in the website's readability score. Here's what you should consider:
Identify the terms your audience is using in their search engine queries.
Understand the challenges they're facing.
Know the solutions they're seeking.
Explore why existing solutions haven't worked.
Determine how your website can provide the resolution they need.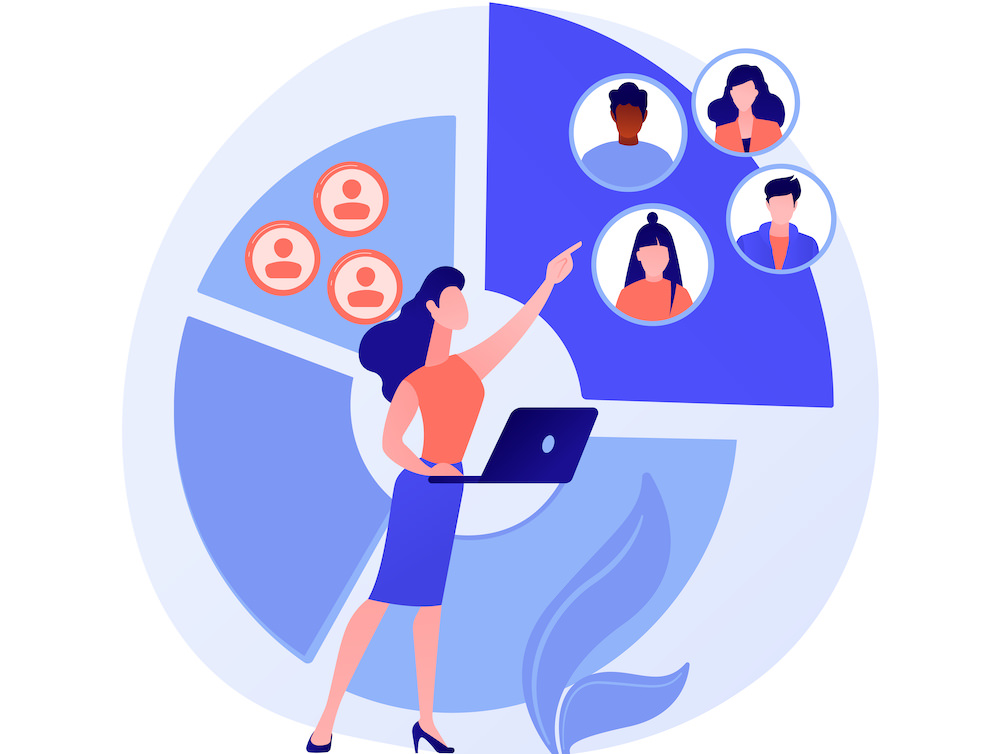 Every website caters to a specific niche, attracting a distinct group of individuals. For instance, if your content revolves around kitchen products and reviews, your target audience likely comprises adult females. Consequently, your writing style should be more conversational and less formal.
2. Determining the Topic
Just as the initial writing tip suggests, you should align your topic selection with the search queries of a particular demographic. First and foremost, ascertain what your website's name signifies. The importance of featuring content that mirrors the name and objective of your website cannot be overstated.
To identify popular topics and search terms among internet users, you can utilize a range of SEO tools such as Ahrefs. By inputting the primary keywords that are relevant to your website, these tools can yield a variety of subjects or inquiries that you can craft your content around.
In addition to understanding your audience's preferences, your website's topic and niche should ideally correspond to your own interests. For instance, it would be unreasonable to expect a medical professional to pen articles about the latest technological trends. Therefore, it's advised that you write about topics within your sphere of interest for a comprehensive understanding of the subject matter.
However, if the topic falls outside your area of expertise, consider employing a proficient writer who is well-versed in that particular domain. This ensures that no important details are overlooked, providing a comprehensive perspective on the chosen topic.
3. Putting Emphasis on Keyword Research
After you've selected a topic to write about, the next step involves pinpointing relevant keywords to incorporate throughout your content. These keywords act as connectors, linking users' search inquiries directly to your website.
Not only do keywords play a critical part in optimizing your content for featured snippets, they are also a major aspect of search engine optimization (SEO). They are an effective tool in driving organic traffic to your site, making them an integral part of your SEO strategy.
Several online tools like the Google Keyword Planner are available to assist you in finding keywords related to your chosen topic. These tools offer valuable data regarding the most commonly searched keywords and the ones that attract the most traffic.
Keywords generally fall into two categories: long tail and short tail. These should be used in both the body of your content and the headings to optimize your website's performance.
Short Tail Keywords
Short tail keywords are those which contain fewer than three words. They are known for attracting a large amount of traffic, however, they also have a high level of competition. Covering a wide range of topics, these types of keywords are included in virtually every section of a website's content.
Long Tail Keywords
Long tail keywords, on the other hand, are made up of three to five words. They are more specific to the topic at hand. While they may not generate as much traffic as their short-tail counterparts due to lower search volumes and competition, they are crucial for targeting niche-specific queries.
4. Develop an Effective Structure
The design of your web content is reflected in its structure and the headings that you include within the article. Typically, high-quality content follows this sequence: Introduction, Body, and Conclusion.
Introduction
The initial segment is your introduction, which sets the stage for the rest of your content. Aim to keep it under 200 words for brevity and effectiveness. Start by connecting with your readers' problems. This could be in the form of a question that touches on their issues or a statement that aligns with their concerns.
Next, offer a solution to these issues. This portion should deliver a succinct outline of what the rest of the content will cover. Consider framing this as an answer to a potential 'snippet' question and try to encapsulate it within the first 100 words.
The third and fourth paragraphs of your introduction should provide a brief overview of the rest of the content. Make it engaging to encourage the reader to continue onto the main body of the content.
Body
The main body of your content should feature distinct sections that elaborate on various aspects of the problem. If you're crafting a how-to guide, maintain coherence by identifying the reasons for the problem before suggesting viable solutions.
Use H2 and H3 tags for your headings to better structure and highlight the content of each paragraph. Ensure each heading is relevant to the primary topic of the section, making it easier for readers to quickly navigate to the parts they're interested in.
Conclusion
The conclusion marks the end of your content and should encapsulate the article's main aim and how it answers the initial query. Here, it's crucial to incorporate pertinent keywords that were introduced in the introduction and developed in the body. This practice keeps the relevance and searchability of your content high.
5. Mastering Paraphrasing
Paraphrasing serves as an effective tool that enhances the quality of your written content. As a writer, acquiring the skill of paraphrasing is paramount. Though manual paraphrasing is a good start, it can often fall short in certain areas of web content creation.
For those seeking to craft SEO-optimized content for their website, using a paraphrasing tool can lead to superior results compared to manual attempts. These utilities not only help refine your content but also augment the readability score and mitigate plagiarism issues.
Increasing Readability
Paraphrasing significantly boosts readability by transforming a piece of original information into a more digestible format. As you paraphrase, always keep your target audience at the forefront of your mind. Stick to a particular lexicon and tone that enhances the content's readability for your audience.
Minimizing Plagiarism
Paraphrasing serves as a practical method to combat plagiarism. It involves rewriting information drawn from a credible source, yet rephrased in a fresh batch of words. The essence of paraphrasing lies in replacing specific words and phrases with synonyms while preserving the original meaning in a new written format.
When you rewrite a passage using a new set of words, it comes across as unique. However, it's important to clarify a common misunderstanding about paraphrasing. Simply altering words does not imply modifying the sentence structure or changing the voice from active to passive.
6. Leveraging Guest Posting to Promote Content
Looking to secure high-quality backlinks? One effective way is to boost the brand authority of your website. This strategy can open doors to valuable opportunities. A key element of this approach involves creating standout content within your niche.
Crafting unique content can play a crucial role in attracting new clients and establishing a stronger position within your market. When it comes to guest posting, make sure you choose sites that align with your content type and can captivate your target audience.
The traffic these sites attract can pave the way for you to redirect their audience to your website. Therefore, never overlook a website just because it doesn't immediately present a backlink opportunity.
If you don't have the time or the writing skills, consider hiring a ghostwriter. A competent ghostwriter can generate content for your website that enhances its authority, making it a beacon in your niche.
7. Ensuring Content is Free of Grammar and Spelling Errors
Content littered with grammatical errors and spelling mistakes can be a significant turnoff for readers. It can also negatively impact your SEO as search engine crawlers tend to ignore error-riddled content.
Therefore, it's crucial to thoroughly proofread your articles and watch out for any grammar issues. Online tools can be beneficial in this regard. They can help identify and correct errors quickly, ensuring your content is clean and error-free.
8. Maintain Brevity
Readers tend to avoid long, complex paragraphs, so it's best to keep your content succinct and easy to read. This principle is especially crucial for meta titles and descriptions, which must adhere to character limits. Here's how brief writing can optimize your content:
Introduction of the Website
Your website's about section should provide a concise overview of your entire site and its offerings. By condensing your content, you can manage vast amounts of information in a few words, giving your audience a quick understanding of your website as a whole.
Facilitates Summarized Content
Brevity in writing helps you create summarized descriptions and topics for your web content. Succinct writing is particularly effective when crafting the introduction and conclusion sections of your content.
9. Ensure Content is Plagiarism-Free
The content on your website should be distinctive and relevant to enhance the user's search experience. Google considers unique, plagiarism-free content as a key ranking factor. Search engines favor sites offering fresh material over those that recycle information found elsewhere.
Once you've finished writing SEO-optimized content for your site, don't forget to run it through a plagiarism checker. This will help determine if your content has been plagiarized from any online source. A notable feature of these plagiarism-detection tools is their ability to locate the original source of the copied text, aiding easy citation.
Content Optimization Tools
You can use the below best tools to optimize your content according to the latest SEO practices:
ShortPixel – Image Optimization
A fast loading webpage is a fundamental element of properly optimized content. However, a webpage laden with heavy images can detrimentally impact the loading speed.
To resolve this predicament, ShortPixel emerges as an effective tool for image and visual optimization. This tool operates by automatically diminishing the image size without compromising the quality.
Webmasters and content creators can effortlessly integrate this plugin with their existing images as well as the ones to be uploaded in the future. Therefore, it significantly streamlines the process of image optimization.
Grammar Checker – Optimize Content for Reading
Presenting content littered with grammatical inaccuracies and spelling mistakes can lead to an unfavorable impression on the readers. Furthermore, such content might adversely affect your SEO as search engine crawlers are likely to overlook error-filled content.
To counter this, a grammar checker can be a beneficial tool. It efficiently identifies all the grammatical and other writing errors present in your content. The tool instantly proofreads your content, accentuating the writing mistakes and subsequently offering the most suitable suggestions to rectify these errors.
SEMRush – Writing Assistant
SEMRush brings to the table an array of modules designed to aid users in content optimization. One of these modules is the "Writing Assistant". This tool is readily accessible via your web browser and also available as a WordPress plugin.
The Writing Assistant is instrumental in enabling users to create SEO-friendly content without any obstacles. It promptly analyzes all the top-ranking pages for the intended keyword, and consequently provides a plethora of recommendations. These include suggestions about the number of words to incorporate in the content, the average readability score to aim for, and incorporating semantically related words in the content.
Final Thoughts
Writing SEO-optimized content significantly differs from penning an essay or crafting an e-book narrative. A meticulous check on various technical elements is necessary to ensure compliance with search engine prerequisites. This adherence allows your content to sustain better visibility within search engine page results.
When well executed, SEO-optimized content forms the cornerstone of your promotional strategy. Every other facet of your digital marketing depends on having content that is well-optimized, featuring relevant keywords and tags.
The tips and tools we've shared above are designed to help you make your content SEO-friendly seamlessly. Our aim with this article is to guide you in crafting content that not only appeals to readers but also encourages them to share it with others.
Regardless of your industry, these strategies can be applied. You can harness these insights to produce content that is both compelling and optimized for search engine visibility.