20 Google Maps Tips and Tricks You Should Know
Google Maps does more than just routing current location to destination. Here's 21 more things it can do.
Google Maps is my go-to app as soon as I step out of the door. Not just for knowing my way, but for the invaluable information it provides regarding my route. I get traffic information, learn more about nearby places, keep tabs on time and distance, plan my full trip, and much more.
From styling Google maps to zooming in really close, as my companion app for over 5 years there are a lot of tricks that I've learned. So for today, I'll share this useful information with you so you too can get the best out of Google Maps.
Read Also:  Create and Customize Google Maps
Let's see how these 20 Google Maps tips and tricks can help you with your daily life.
1. Measure distance
Google Maps allows you to measure the distance between two points. You can either create a full point-to-point custom route and measure its distance, or simply see straight line distance of two points.
How to do it:
Press and hold on a location to drop a pin, it will be the starting point to measure distance. Afterward, tap on the "Dropped Pin" button below to open its options. Here tap on "Measure distance" to start the process.
A crosshair second pointer will show up that you can move by dragging the screen around. You can use the

+

icon button on the right to add points and create a custom map.
The total distance will be shown at the bottom left corner in miles or kilometers based on your preferences.
2. Share real-time location
Google recently added the feature to share your location in real-time. You can use this to let others know exactly when you'll be at your destination, or simply let someone know if you are on the right track or not.
How to do it:
Tap on the main menu on the top-left corner and select "Share location" from the menu. On the next page, you can select a total duration for which you want to share your location, and how you want to share the location.
Here tap on "Select People" to select a friend from your Google contacts. If they don't have a Google account (or are not in your contacts), then you can tap on the "More" button to select a messaging app.
Note: Google Location services must be enabled on your phone to be able to use this feature. When you tap on "Share location" you'll be asked to enable it if it's disabled.
3. Google Maps Lite Mode
Google Maps has a Lite Mode that is lighter on system resources and uses lesser internet data. I didn't get a chance to use this feature often, but as far as basic navigation is concerned, it works perfectly.
However, this feature can only be used in the web version of Google Maps, either on your PC or from your smartphone's browser.
How to do it:
Simply visit this Lite mode link using your browser and Google Maps will load in Lite mode. A lightning bolt at the bottom-right corner will confirm that you are in Lite mode. The same icon will allow you to switch between full and Lite modes.
4. Google Maps Street View
You can also see Street View right inside the Google Maps if it is available for a specific place. A really cool feature for quickly viewing the surroundings of an area.
How to do it:
Tap and hold on your desired location to drop a pin. Next, tap on the location name at the bottom to view options for it.
In the options tap on the Street View thumbnail image of the location and Street View will open up. You can drag to move around in the Street View.
5. Download maps
You can download a map of a specific area to navigate and get location information without any internet connection. I have used this feature many times for my trips to remote areas and apart from real-time features like traffic updates, almost all of the navigation and information features work offline.
How to do it:
When you search a location or drop a pin in any of the locations, tap on the location name/address to access its options. Here tap on the blue "Download" button to start the process.
A square will come up indicating a total area that will be downloaded. You can zoom in or out to tell the exact area you want to download.
The download size of the map will be shown below, the larger the area; the more space it will take. After highlighting the area, tap on "Download" to start the downloading.
Google will automatically update the downloaded map after every 15 days (sometimes earlier).
6. Add multiple stops
If you need to go to multiple places in your trip, then you can add them as stops to get directions accordingly.
How to do it:
Search for your first stop and tap on the car icon to create a route. But before entering the navigation mode, tap on the menu at the top-right corner (three vertical dots) and select "Add stop" from the menu.
Now, tap on the second stop and select the location or place. Repeat the process to add as many stops as you like.
You can tap and hold on a stop to drag it up and down to manage priorities.
7. Find required stops
You can search for required stops in your route while navigating, such as gas stations, banks, restaurants, ATMs or even bakeries. And then manage your trip accordingly.
How to do it:
While in the navigation mode on your route, tap on the "Search" button on the right side.
Here you can either select a category from the given categories or enter your own in the Search bar above.
When the category is selected, you will see all the places that come under that category right on your route.
You can also tap on the place you want to stop in your route, and then tap on "Add stop" button to add it as a stop.
8. Add custom labels
To easily find places that Google hasn't added to Maps, you can add custom labels. These labels will be shown on your maps and you can also find them from the search bar. For example, you can add a label for your favorite hangout place, your friend's house, or even where you first met your spouse.
How to do it:
Add a pin to the location by tapping and holding. Next, access the pin menu and tap on the "Label" button.
Enter the name of the label and confirm it. Now you will always see this label whenever you will navigate to the area.
9. Check the typical traffic
It's one of my favorite Google Maps features for planning trips. Apart from the live traffic updates, Google Maps also allow you to see typical traffic condition of an area at a particular time. You can use this information to plan a trip just at the right time and day. However, this feature is only available on the web version of Google Maps.
How to do it:
From the main menu at the top-left corner, select "Traffic".
You'll see a bar at the bottom showing the traffic condition with color indication and a drop down menu to select "Live traffic" or "Typical traffic". Select "Typical traffic" and you'll see a time and date changer bar.
You can adjust this bar to see typical traffic conditions at a particular time or day.
10. Add parking location
If you have set "Driving" as your usual method of commuting in Google Maps, then you may see cards to save parking location when you get out of the car. If you don't like this feature (it can be pushy) or it doesn't work accurately for you, you can also manually add parking location to easily find your car.
How to do it:
Tap on the blue dot (your current location) while you are near your car and select "Save your parking" option.
This will mark the location with a P icon indicating your parking location.
To manage your location, tap on the P dot and you'll see all the options, including the ability to change the parking location manually or take a photo of the location.
11. Avoid tolls, highways, and ferries
Tolls, highways, and ferries can cost you time, money and resources. If you want to avoid them in your route, then Google Maps can easily help you find a route that doesn't have ferries, tolls or highways.
How to do it:
Search for your destination and tap on the Car icon to see the fastest route to it.
Then, tap on the three vertical dots menu at the top-right corner and select "Route options".
Just check the checkbox next to highways, tolls and ferries option and tap on "Done" to re-route.
12. Contribute to Google Maps
Google Maps largely depends on contributions from locals to improve information about nearby places. You can also easily contribute to Google Maps and make information about your local area better.
You'll earn points for doing so (I only earned 11 points so far) and get rewards if you earn enough points, such as free Google Drive storage or invites to beta tests.
How to do it:
Tap on the main menu at the top-left corner and select "Your contributions" from it.
On the next page, you'll see your name, current earned points and ways to contribute.
There are many ways to contribute; you can review places you have been to, add photos, correct information, or simply answer basic questions about a place.
13. Add a missing place
This is another way to contribute to Google Maps, but the "Your contributions" section doesn't offer an easy way to add missing places. However, you can easily add any missing place on the map and it will be officially added after passing Google Maps verification.
How to do it:
Tap and hold on the exact location where something is missing and drop a pin. From the pin options, tap on "Add a missing place".
You'll see a page where you can add location name, category, opening/closing time and other key information.
Add as much information as you know, and tap on the "Send" button at the top-right corner to send the edit to Google.
Such edits will add to your overall contribution to Google Maps and you will earn points for them.
14. See location history
It can be a bit scary to know that Google Maps tracks every move you are making and keeps a complete record of it. However, Google is nice enough to share this information with us so we could see a complete history of where we went and when.
You can see the places you've visited on any particular date along with route that you took to reach there.
How to do it:
Click on the main menu and select "Your timeline".
Your timeline will show you all the places you ever visited along with handy suggestions, such as frequently visited places, or recent places.
You can also click on the "Calendar" at the top-left corner to select a date and see your activity on that specific day.
15. Call a ride
Google Maps also allows you to call a ride such as Uber, right from the app. It will search for all the ride hiring services in your area and then recommend you to hire one along with the information about nearby cars and fares.
How to do it:
Search for your destination and check the fastest route.
On top, you will see options to select how you want to reach your destination.
Select riding services here, the one with the man with a briefcase icon.
You'll see all the available ride calling services along with their estimated fares and nearby cars.
For Uber, you can hire the car right from the Google Maps app. However, for others, you will have to use their official app.
16. Zoom with one hand
Usually, you have to use two fingers to zoom in or out on the map, which requires two hands to easily do it. But there is a trick that lets you do it with one hand only.
How to do it:
Double tap on the map and hold. Now simply move the finger down to zoom in, and move it up to zoom out.
17. Directly enter navigation mode
Another very simple but handy trick. When you need to navigate somewhere, you usually have to select commute method or best route, etc. However, in most cases, the default settings are perfect for navigation and you just tap the navigation button.
If you trust Google Maps for offering you the best route every time, then you can skip this check and directly enter navigation mode.
How to do it:
Search for your destination and tap and hold on the "Directions" button. After a second, you will directly enter navigation mode with the best route and default commute method selected.
18. Speed limit of an area
Currently, Google doesn't offer any way to check the speed limit of a route and measure it with your current speed. However, you can get this cool feature with the help of a third-party app.
How to do it:
Velociraptor is an Android app that lets you add speed limit widget on Google Maps or any other maps app. It uses data from OpenStreetMap and HERE Maps to offer this service.
Now whenever you will open Google Maps, a widget will show up showing your current speed and max speed limit of your route. You will be notified if you will break the limit.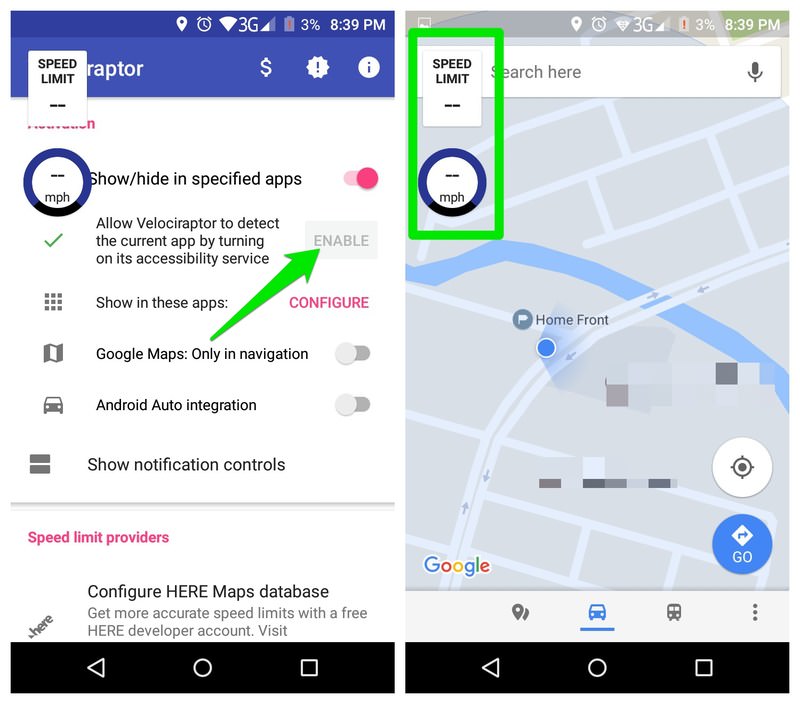 19. Create custom maps
Adding custom labels on the map might be handy, but for ultimate customization, you'll need some extra help. There is a handy tool for this purpose that will help you create custom Google Maps using hundreds of markers and drawing tools.
How to do it:
Go to Scribble Maps and it will open up Google Maps in its interface. You will see multiple editing options in the top bar, including drawing tools, lines, shapes and text adding tools. You can use these tools to edit the map and then save it as an image or embed it anywhere you like.
Most of the required tools are available for free, but for access to advanced tools and editing options, you will have to upgrade to the pro version.
20. Open Yelp links
If you click on an address in Yelp, it will open up in Yelp Maps. This can be really annoying if Google Maps is your go-to maps app. This issue can be easily resolved with a Chrome extension.
How to do it:
Install the Yelp to Google Maps Chrome extension, and whenever you will click on a Yelp address it will automatically open in Google Maps.
Rounding up
These easy to follow tips and tricks make my everyday trips hassle free. I will recommend you to check the Google Maps contribution section to help make your surrounding better.
I have recently started contributing and it feels great to contribute to a service that helps you with your trips in so many ways for free (leaving the data tracking debate aside).
Read Also:  How to Style Google Maps