Organize & Save Your Thoughts with Google Keep
While we lament the impending loss of Google Reader, Google shares some good news recently with the newly launched Google Keep. Its tagline, "Save what's on your mind" describes its function as a note-taking service.
It's currently a stand-alone service and in the early stages of development but will work with Google Drive in the near future. It has still pretty basic features, and we will show you what you can currently do on Keep to help organize your thoughts.
Keeping Your Thoughts Organized
Google Keep is akin to Evernote but with a simpler approach. Keep lets you take down short notes with just a basic title and your note content. You can also choose to add an image to a note and color code each note with one of 8 colors.
Prefer a to-do list style instead? There is also the option to create this, then cross out things that you have completed later on.
However there are a few things to note about Google Keep. At the moment, it does not allow rearrangements of your notes, so it will remain in the order where new notes will be on top. You also cannot have a list just with pictures; pictures can only be accompanied by notes.
Access Google Keep everywhere
You can access Google Keep on a desktop or mobile web browser through https://keep.google.com/u/0/. It features a responsive web design that works really well for smaller smartphone screens to high-resolution tablets.
iOS users as you can access Keep through a web browser like the Chrome app.
'Keep' On Android
Android users have it better as Google has already launched a dedicated Google Keep app on the Play Store. The Android Keep app also looks better than the web version with more vibrant colors to each note you create.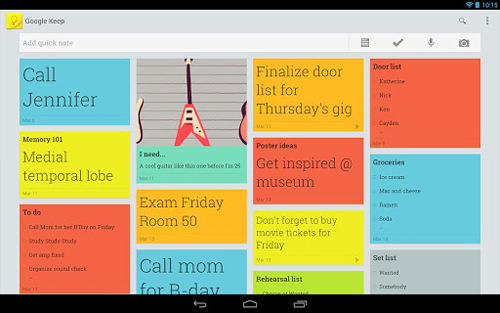 Keep also comes in widget form so you can access it straight on your home screen without even launching the app. The handy widget also allows you to quickly view or create new notes in Keep.
One more handy feature is its speech-to-text recording feature. Tap the microphone to start dictating what you need to remember and it will save a recording of your voice with the text of what you said on the body content of the note. You can also add a picture to this or later download the recording through the Keep webpage.
Wishlist for Future Features
So far, Keep has yet to really blow our minds but that's only because we know there will be more unique and cool features to look forward to for Google Keep.
Knowing Google and its push for innovation, we hope to see Keep eventually:
Integrated with Gmail and Chrome to easily create notes
Have notifications and reminders
Allow uploads of images through urls
Have better organization with folders
Summary
In short, here are some of the pros and cons we derived from playing with Google Keep, for now.
Pros:
Easy to use
Simple functions
Lightweight
Beautiful Android app
Cons:
No rearrangements (yet)
No iPhone app
No reminders