Google Earth Redesigned – Here's What's New
After teasing it for a week, Google has finally unveiled the new and improved Google Earth. Available now on both the web browser and on Android devices, with an iOS release coming soon, the new Google Earth brings with it a number of new features that make navigating the digital globe a joy.
Read Also:  Discover Earth's Transformations with Google Earth Timelapse
Here are all the new features that comes with the redesigned Google Earth:
3D Maps
Navigate Google Earth in a new dimension
Upon your first launch of the new Google Earth, you'll be greeted immediately by the new 3D map feature. Some cities around the world have been given a 3D map, allowing you to zoom in and tilt the camera around to get a better view of certain streets and/or structures.
From a distance, the 3D modelling looks pretty well done considering the amount of detail it has. However, zooming in up close to a specific building will reveal that the 3D models used in it are far from perfect.
Do keep in mind that not all cities have been given the 3D treatment. That being said, you can still navigate the 2D maps in 3D mode if you wish by clicking on the 2D/3D circle located on the bottom right corner of the screen. Just don't expect any 3D models to pop up on a 2D map.
Voyager
Explore the world from the comforts of your own home
Described by Google as a "digital interactive tour", Voyager is a feature in Google Earth that functions like a slideshow that showcases various parts of the world depending on the theme of the "trip".
Besides pointing out the locations that the trip contains, each location is also provided with a description and its history, giving users more insight into some of the locations.
All of the trips in Voyager are custom-made by scientists, documentarians, and experts, with Google Earth now housing over 50 different trips with more to come over the coming months.
Knowledge Graph integration
Learn about the locations directly from Google Earth
Getting more information about a certain location is made easier as Google has integrated Knowledge Graph into Google Earth. Now, whenever you click on a location, a Knowledge Card will appear on the right hand side of the screen.
This Knowledge Card would contain a small excerpt of information about the location, complete with a link to Wikipedia for those who want to learn more.
I'm Feeling Lucky
Go to a random location in the world with a click of a button
Rounding up the new features on Google Earth, we have a feature that many would be familiar with: "I'm Feeling Lucky". Appearing as a dice icon on the left hand side of the screen, I'm Feeling Lucky will cause Google Earth to take you to a random location around the world.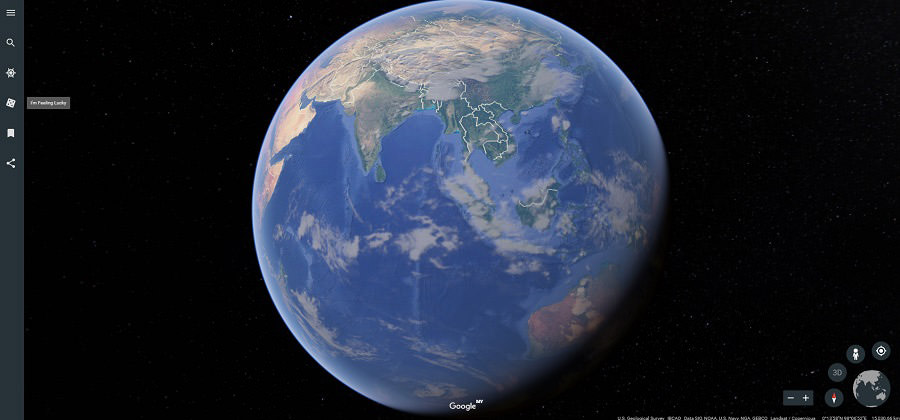 Read Also:  How to Zoom This Close Into Google Maps