5 Best Web Design Agencies to Hire in 2023
Hiring a top web design agency is the best way to ensure that your website will represent you and your business in the best possible light. Web design agencies know how to emphasize what's essential, guide you through the entire process, and build a website that looks and feels "right."
Of course, you can always try the low-cost route, which is DIY using Wix, WordPress, Shopify, or even Squarespace. You might even consider hiring a freelance web designer from Upwork, but if you want a website that functions well and looks great, hiring a professional web design agency is still your best bet.
Here are the world's top five web design agencies ranked based across the US and Europe that will do an excellent job designing and building your online web presence from scratch – no matter what industry you're in.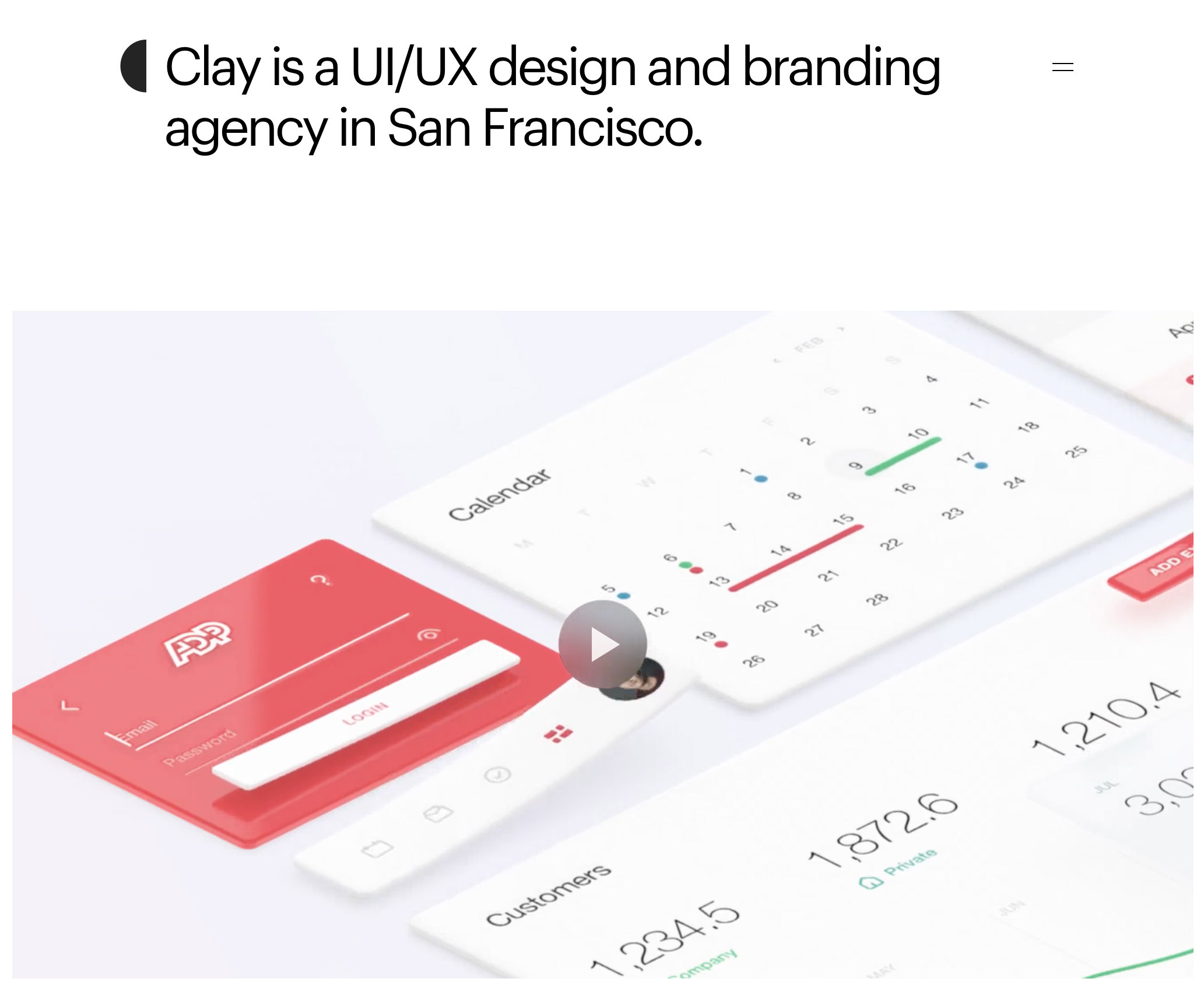 Founded in 2009, Clay Global is a top web design agency and branding firm based in San Francisco.
What makes Clay Global one of the best web design agencies in the world? Quite simply, they're good at what they do. They have a team of talented and experienced web designers who understand both UI/UX and branding, which is essential for creating an effective online identity and digital strategy.
In addition, they've worked with clients across all industries as a digital agency – from small businesses to Fortune 500 companies, and their web design portfolio is packed with stunning examples of previous work ranging from fintech and crypto to healthcare and e-commerce.
Perhaps the biggest testament on why you should consider a website design agency like Clay Global is the big shot tech companies they've worked with – giant enterprises such as Facebook, Google, Coinbase, Coca-Cola, Amazon, Sony, Snapchat, and many more enterprise clients.
One highlight about Clay Global is their full-stack solutions beyond just UI and UX, which is what you'd expect from a top web design firm. Whether you build SaaS, enterprise applications, or other digital experiences for the web, they offer you a dedicated team for web design, development, testing, marketing, and the like.
From what I could find, Clay Global has a team of over 70 experts in their field with 5+ years of employee retention. They charge a blended hourly rate of $200-250/hr and offer fixed-fee engagements.
EY Doberman is a web design company that provides web design services to help companies grow, develop, and stand out. In 2020, they bought Doberman, a Swedish consultancy web design agency, and have collaborated with several companies across multiple industries on web development.
Together with Doberman's 100-strong team of web designers, they help their clients improve and innovate their web design and marketing strategy for specific target audiences and consumers.
In addition to web design and development, they also perform high-quality audits, viewing things from different angles and testing out other perspectives to determine the best approach when dealing with problems and coming up with innovations and solutions.
They are one of the web design companies determined to stay relevant and ahead of the competition by gathering all valuable information that they could get from different sources.
Two weeks before buying Doberman, EY also bought Avalanche Consulting, adding their knowledge and skills to EY's arsenal. Their goal is to make a mark, to make changes, and introduce new ways and opportunities for businesses to thrive through web design and website development.
Pentagram first opened a design studio on April 1st, 1962, and they have been thriving ever since as a leading graphic design agency. Long story short, they lost and met a lot of members until, eventually, they introduced a new business structure. Today, they're a full-service branding and web design agency offering everything from graphic design, brand identity, and digital marketing to web design and digital marketing strategies.
They now have offices in London, New York City, San Francisco, and Texas. As a branding agency, they collaborated with big companies like Citibank and worked on multiple projects for League of Legends, a popular MOBA game, and even contributed to the movie 'Fantastic Beasts and Where to Find Them.'
For many of these clients, they also designed and built award-winning marketing websites, so they truly deserve to be listed as one of the top web design agencies.
Their branding and web design portfolio is the first thing you'll notice on their website, and they take pride in the projects they've accomplished and the well-known companies that they have worked with.
They also have firm partners working in other industries like architecture, business, entertainment, web development, social media marketing, etc. But they mainly specialize in branding and graphic design and are best known for it worldwide.
Bakken & Baeck is a digital agency and web design company that is well-versed in all aspects of digital strategy, website design, and web development to enhance users' experience with the company and client's brands and products, ensuring that the best results are achieved. As one of the most diverse top web design companies, they also offer mobile app development, digital marketing services, and even things like market research and content marketing.
One of their success stories was when they created 'Wake', an online web application where people can collaborate, discuss strategies, and plan with their team, all done virtually. It was so successful that it grew and became a significant company on its own.
From simple digital designs representing your product to full-stack development and prototypes to test out how your digital product or company website would perform, they have the skills, knowledge, and resources in their arsenal to make it happen.
Being an end-to-end creative agency, they collaborate with experts in different fields of software development, conversion optimization, and e-commerce business to gather the most efficient data and to have a new perspective for a better approach when solving a problem. Using those data and further analysis, they make innovations and marketing campaigns to exceed expectations.
With over 60-members, this digital design agency's team is composed of website designers, web developers, strategists, copywriters, and business developers. Establishing your online store or marketing website with their help will be a tremendous jump start for your company.
Code and Theory is a web design agency headquartered in New York founded in 2001. Like Bakken & Baeck, they focus on branding services, digital solutions, innovating products, and improving customers' experiences.
They offer web design services to different clients and corporations in various fields, but their primary focus is on the Digital Marketing and Advertising industry. Being one of the best web design companies, they believe that technology and creativity go hand in hand to create boundless results and possibilities, enabling them to deliver and exceed their client's expectations.
Code and Theory have offices worldwide with over 500 employees spanning digital strategy, web design, and custom software development. They have worked with many prominent startups and well-known companies.
They are a digital agency of record for clients like Amazon, Adidas, CNN, J.P Morgan Chase, Samsung, Spotify, Tiktok, Johnson & Johnson, and Pfizer.
FAQ on Web Design & Web Design Agencies
Launching a website sounds nice and easy, but you might want to consider different options first, depending on your needs.
For example, if you need a website to run your business online, choosing the cheapest option might impact your digital marketing strategy and become more expensive in the long run. And, of course, the opposite is true as well. You should probably avoid talking to high-end web design companies if you need a simple page for an event you're organizing.
Before deciding on anything, you should ask yourself a couple of questions first.
For example, should you do DIY, hire freelance web developers, or enlist a professional web design agency? I have experienced all three (both as the client and service provider), so I can give you some insights on what to look for, how the web design process goes, and what you can expect. They all have their pros and cons, of course.
1. When should you choose the DIY route?
When I say DIY, I mean simply buying a WordPress or Shopify theme and using it as your website's main design instead of going to a digital design agency. You can also use drag-and-drop with WordPress (supposing your theme supports Elementor and similar tools).
In this case, the entire web design process is literally picking a theme, tweaking it, and that's it. The problem with this is most of the time. It's not optimized well for the web, just pretty (if you have an excellent creative sense). But it works if you don't want to splurge on top web design agencies and just need a website created quickly and cheaply.
If you need extra functionality, you might end up spending more time and resources too by enlisting some help from web designers. But on the most basic level, expect only to pay around $100 at most. Not bad!
2. Should you hire a freelance web designer?
If you go to Upwork, you will see web designers offering their services for as low as $300-$1000 for an entire website. This can include everything, from web design services for all pages, logo design, graphic design, and initial content for social media.
And the process is simple… you provide what you need and the project scope, the web designer sends back some sample designs (usually based on an existing theme), you pick, and then they adjust according to your specifications. They obviously won't put any thought into search engine optimization and brand identity, but you'll get a functioning new website in no time.
Cheap, right? But usually, for this, you are just working with a one-man army, a jack-of-all-trades. And the problem that generally happens is the result is usually just average. The translation of your idea might be different from how you envisioned it to be, but it could also turn out greater than you imagined. People often choose this route, and there's no problem with that. If you need a working website quickly, I highly recommend hiring a low-cost freelance web designer to do the job.
3. When is it better to work with a web design agency?
The most striking difference with web design companies is the price and the process. A lot of businesses want to bring their brand identity online, and it's not just a matter of choosing the same colors, uploading iPhone photos, and writing some words. It takes more than that, especially if you're starting an eCommerce business – you need an elaborate digital marketing strategy, which is the main value add of web design agencies.
In one of the design agencies that I've worked with, the process usually starts with a series of discovery calls. This is the stage where the agency's creative director, project manager, lead developer (all three or some) will hop on a meeting with the client to literally discover the client's needs, down to the smallest details like the color scheme, elements needed, features, content management systems, etc.
After that, a series of wireframes are usually presented to the client. If the client approves, then the designing phase starts, and so on. This is also coupled with quality assurance – ensuring that everything is up to web standards (and all other standards like the WCAG). Sure, there are a lot of stages before launch, but if you want to build a brand that will last for several years or even decades, then working with a group of experienced web design professionals with extensive technical knowledge should be your top choice.
4. What does a web design company do?
In the most basic sense, an actual web design agency will not only turn your thoughts into a beautiful website, but a good marketing agency will also work with you throughout the process and will help educate you about specific choices – which content management system is appropriate, why a certain design element should be placed and where, and why X, Y, and Z are important or even tell you what works and what doesn't.
Typically, they have entire processes outlined with a couple of departments who will work on your project in parallel. This could be composed for a digital strategy, UI/UX design team, web development team, digital marketing team, content marketing, and others.
If a creative agency mentions that they will only work on designing your website, and if they don't have any understanding of digital marketing, conversion optimization, and the like, you should run the other way because designing a website, which is an extension of your company's brand, is not just simply placing elements together and making colors work. It is much more than that.
5. How to choose a web design agency?
Always reach out to multiple web design companies to learn more about their process. Schedule a meeting with them, prepare your questions, and finally make your decision if you are satisfied. Sounds easy, but it's tough, much like deciding which architect you should sign up a deal with to design your dream home.
It's essential that the creative agency you will choose to work with check the following boxes:
They should have a robust website design portfolio of existing websites to verify for yourself.
Good reviews from actual people/companies they have worked with.
Response time should be fast. This will tell you that they know what they are doing and are knowledgeable.
They should understand your needs (from the first or second meeting). This will demonstrate whether they have several years of experience working with various types of clients or not.
As I mentioned in the previous section, the best web design agencies aren't just offering you to design your website. They will turn you down if you want your website done in just a few days.
It's not just simply designing a website. It's also about ensuring that everything is user-friendly, appealing to your audience, and well-optimized for the web, search engines, and the like. If they don't take care of these things, you should continue looking.
How much does it cost to hire a website design agency?
As with everything else in website design, it will depend on many factors, of course, but typically a floor price of $10,000 up to six digits is something you can expect when working with web design companies. This is a huge contrast between DIY and hiring a freelancer. But one thing you need to keep in mind is that hiring an actual digital marketing agency is leagues better than having a freelancer or even an in-house designer.
For a five to six-figure price tag, you are not hiring just one person to turn your vision into reality. You are hiring the entire agency with its experts to pool together their years of experience into creating a visual representation of your vision. It is also not unheard of for companies to spend millions for their brand, which includes their logo, web design, brand bible, print, etc. So spending five to six digits is a massive discount if you think about it.
The Bottom Line
Why is hiring top web design companies better compared to DIY and hiring freelancers? Even though the price tag is higher, web design firms have an entire suite of skills and experience that will help bring to life your brand's identity.
Why do you need a web design agency? It is a question that people in this exact situation ask themselves every day. It is becoming increasingly difficult to get noticed in the age where social media is overflowing with marketing messages and stuff. Good website design will help your business attract the right kind of attention from the right people using modern and ever-evolving techniques – which is what design agencies can offer.
If you are after an evergreen website that will last for a very long time, I highly recommend working with a web design agency that has a good track record.