A Guide To Customizing Android Phone Notification Light
The notification light on your Android phone can give much information about your phone. You can find out about an important notification or know if the battery is low, without even touching your phone. Notification light is definitely a useful feature, but are you using it to its full potential?
Read Also:  55 Cool Android Homescreens for Your Inspiration
Your Android phone can use either green, blue or red light to tell you what's going on inside your phone, but what if you could use different colors for different types of notifications? Better yet, change light blinking frequency or customize notification light for individual phone features.
If you are interested, then let's see how you can customize your Android phone's LED notification light to your liking.
What you'll need
In order to get started, you need to make sure that you have an Android phone that actually has an LED notification light; not all Android phones come with one. The notification light is usually in front of the phone close to the front camera.
Do keep in mind that some of the LED lights cannot be customized apart from their basic working. You can also check online for your Android phone's specification to find out whether it supports LED light or not.
To control the notification light, you'll need a third-party app that is also compatible with your particular device/OS version. For this purpose Light Manager is a highly customizable app that is completely free to use and doesn't require root access.
It works on most of the Android devices running Android 4.3 (Jelly bean) and above. Here is a list of all the devices compatible with Light Manager, and in this post we will use this app for demonstration purposes.
However, there are also other similar apps that may offer different features or may be compatible with your specific device. Check the list of apps at the end of this article if Light Manager doesn't work for you.
Provide LED control access to Light Manager
When you install the Light Manager app, you will be asked to give the app access to control LED light. It is essential to provide this access if you would like to control notification light for third-party apps and system functions.
Simply tap on the toggle button next to Light Manager option and the access will be given.
Manage notification light for apps
Once you are inside the Light Manager app you will see all the apps that support notifications, such as calls, messages, Gmail, Reminders, WhatsApp, etc. You can tap on each app to configure its settings and change notification light color.
Below are some of the settings you may find:
Enable: If you want to enable LED light configuration for a specific app, then this option must be checked.
Flash Rate: This is the total time interval between each flash of the LED light. You can set it anywhere between 1-5 seconds.
Color: Light Manager comes with many pre-built colors, including white, red, green, pink and cyan, etc. However it's not limited to just these colors, you can choose any color from the spectrum. Simply click on "Custom color" and "Hex Code for Custom Color" option will open up. Here you can either enter Hex code for the color you want or tap and drag on the color spectrum to manually blend the right color.
Test: Once the above configuration is done, you can tap on this option to test whether it works or not. After tapping, you may have to press the power button to turn off screen light, as the test may not work with the screen on.
Specific Notifications: Each app may have further custom options to specify LED light configurations to specific events, people or accounts. For example, your messaging app may allow you to set different notification light setting for individual contacts.
You can use the above instructions to specify LED control settings to each app. By default, you will only see most important apps. You can also tap on the "Add an application" button to select an app from the list of all your installed apps and control notification light color of it.
Manage notification light for System Functions
Apart from the apps, you can also get LED light notification for many important system functions, such as no WiFi signals, Airplane mode status or when cellular signals are down.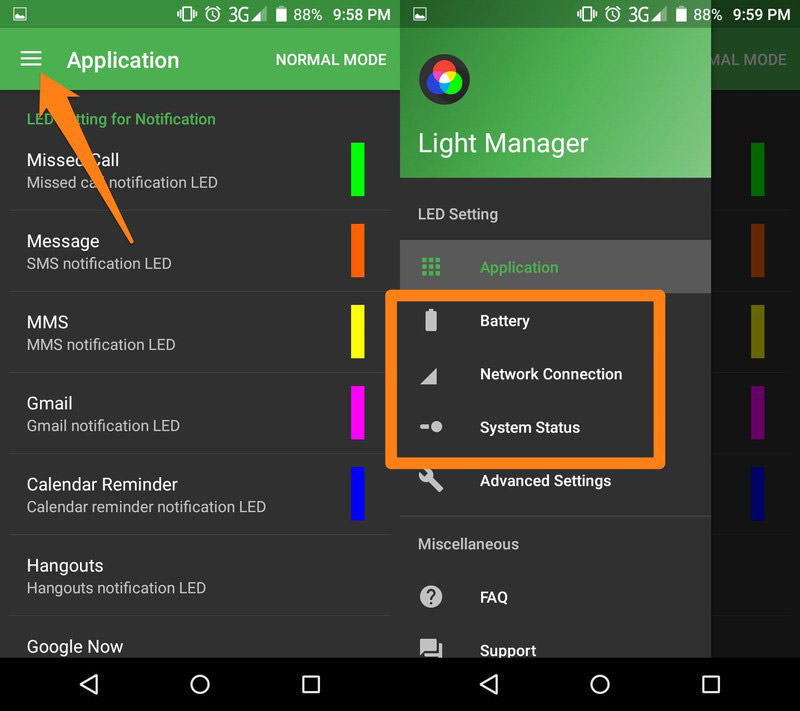 To configure these settings, tap on the hamburger menu at the top left corner and you'll see three options; Battery, Network Connection and System Status.
Battery: Here you'll be able to control LED notifications for battery status, such as low battery, charging or full.
Network Connection: This allows you to change LED settings for network features, such as WiFi, Cellular signals, and Cellular data.
System Status: This customizes different status modes like silent/vibrate/ring, Airplane mode, and Bluetooth, etc.
Configuration settings of these options are same as we have told above, but some of these function may have additional configuration options that you can customize.
Light Manager Modes
Light Manager comes with multiple modes to configure how your settings should be applied. Tap on the "Normal Mode" button on the top-right corner to see all the available modes.
Below is an explanation of each mode:
Normal Mode: During this mode, the LED notification will be showed for only the latest notification. There is a chance you may miss an important notification if it gets under another notification.
Alternating mode: This will keep cycling the LED notifications for all of the current notifications. I believe this is a better mode if you have multiple notifications set up, you will not miss any important one in this mode.
Screen Mode: This mode is for devices without LED light or if the LED isn't customizable. This will display your important notifications on the main screen of the phone with least required resources. Of course, it will use more battery than before, but at least you'll be able to see the notifications without touching the phone.
How to Fix Android Delayed Notifications
How to Fix Android Delayed Notifications
Recently, notifications on my Android phone were being delayed by up to 15 minutes, and sometimes didn't even... Read more
Other notification light customizing apps
Below are some other apps that can help you customize LED notification light of your Android phone, especially if Light Manager isn't working for you:
A concluding look
Controlling LED notification light is a great way to ensure you don't have to open the phone every time to check for an important notification. Light Manager is definitely the best app for this purpose as it is highly customizable and completely free. However, if you don't mind paying few bucks, then Light Flow is also a good option that comes with additional control over sound and vibration.
Do let us know about your experience of customizing notification light, and which app did you use to do so.
Read Also:  5 Free Android Apps to Automate Tasks