20 Cool and Creative Doorstops You Can Buy
When it comes to home decor, it's not that easy to choose items both beautiful and functional for your house or apartment. Door stopper is a really nice and useful thing to prevent damaging nearby walls by the door or keeping the door open. They can be used for keeping the door open or closed.
You can't even imagine how many shapes, forms and sizes of doorstops exist, so they won't left unnoticed. Here we have put together the most creative and interesting doorstop designs which will cheer your home and office decor.
Here you'll find door stoppers shaped like a mouse, dropped ice cream, a ship or shoe, and many more other forms. Any of these doorstops can be bought using the links.
30 Creative Ideas to Light Up Your Room
30 Creative Ideas to Light Up Your Room
Looking for a way to boost your creativity? Why not decorate your house with some unique lights for... Read more
This cute Alpaca will hold the door with all its cuteness. Made with durable cotton and polyester outer case and inner filling of sand, it makes a cute accessory for your kids room, bathroom, or home office etc.
Here is the strongest doorstopper you will ever find. It can hold up heaviest doors in place without budging. This heavy-weight door wedge woks with all floor types be it carpet, wooden, or tiled floor.
The door wedge comes with 2 extra pieces of wall door stoppers and door handle bumper guard for the door knob. You can buy them in black or black-silver with chrome finish.
Cute silicone doorstops in different shapes like a cheese slice, ghost, leaf, key, a melting chocolate bar, and a STOP sign. The doorstops are made with high-quality silicone and add nice effect to any room.
Have you ever seen a cow stuck under a door? Well, now you can. This amusing g doorstop is made in the shape of cute cows that seem like they's stuck beneath the door.
The bottom of the doorstop is equipped with anti-slip material to have a firm grip on the surface. And what's more fun is that the head of the cow can rotate 360 degrees so you can make it look in any direction.
What holds a door better than telling it to STOP, that too, with a sturdy stop door wedge. It is made with high-quality plastic and rubber and is quite durable in use. Simply slide it under any door and make it stop.
A lovely little puppy dog to hold the door for you. Made with premium silicone that's soft in touch and smooth in finish, the door wedge is a cute Bull Terrier with a all-around rotatable head and a PU leather collar.
Bananas are usually slippery but this one is unique. This realistic looking banana peal is actually a pretty useful door wedge made with quality rubber that does not give off any smell.
The banana door stop has smooth round corners so it doesn't spoil your floor and fixes perfectly under any door. You can put it in any room to give a comic touch to the ambiance.
Let the fat little hedgehog hold the door for you so you can move in and out of the room without the door banging. This happy hedgehog has an outer covering of plushy fabric with polyester and sand filling inside.
This multipurpose home accessory can be used as a book end as well as a door stop. The chubby little guy will firmly hold your doors and books as it is equipped with double sized get pad for greater friction.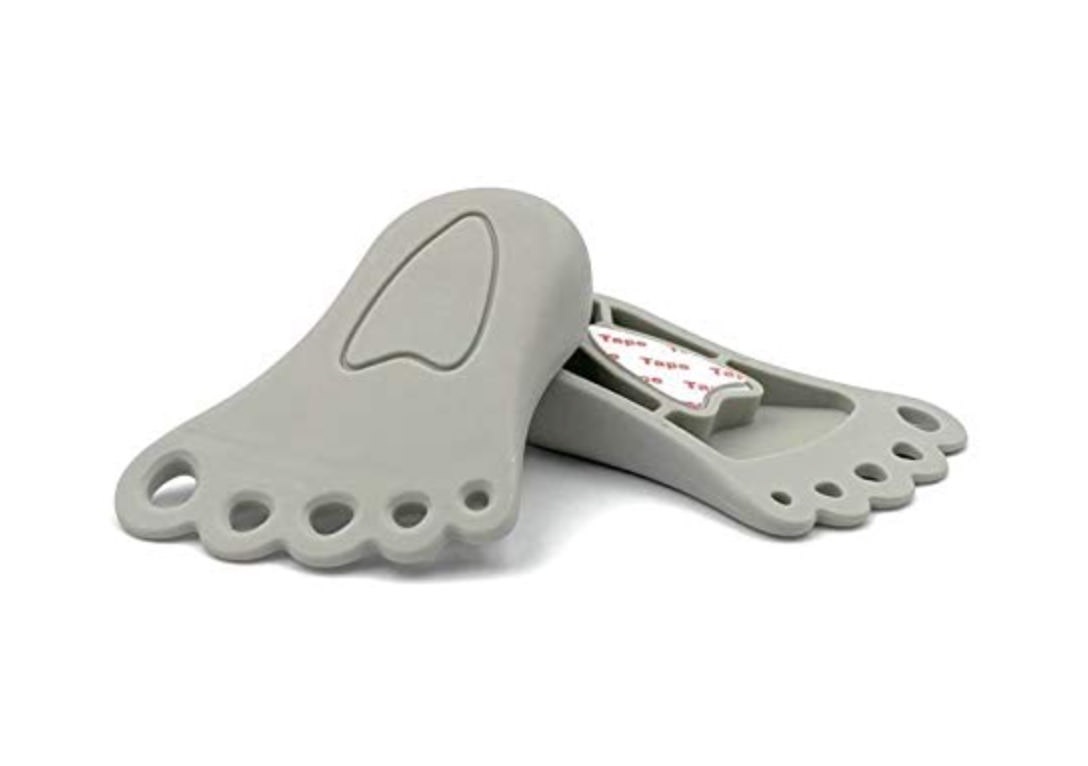 This 2-piece silicone door stopper works in two ways – you can use one part as a door wedge and the other keeps the door from slamming into the wall. Be it marble, tile, carpet, or cement floor, this door stop can hold up the door on any surface.
Here is an adorable-looking mouse and cheese door stop for giving a light touch to any room. It comes with a foam strip underneath so it doesn't slip on hardwood or tile floor. And the sweet little mouse will make you smile every time you'll look at it.
Rightfully called the Last Stop, here is a folded paper plane shaped door wedge. It is made with strong Eva plastic and easily fits under just about any door. Looking at it, people will be amazed how a mere paper plane can stop the door, but you'll know the secret.
An adorable cactus in plan door stop that easily gets under any door and holds it in place. Made with high-quality silicone and rubber, it does not give off any odor and is safe to use in any environment.
Use it on a carpeted floor, wooden or tiles floor, it will never slip. Moreover, you can use it as a decorative element in your car, on your desk or the bookshelf etc.
For plant lovers, especially the ones you are fond of cactus, here is a beautiful sewn doorstop. It measure 6x3x2.5inch and weighs about 2Lb – ideal for any door and any room. The outer is made of cotton and polyester and has sand padding from the inside.
A versatile accessory, it turns into a door stop as well as a wall protector. For door with a larger gap underneath, you can use the two door wedges together and it works perfectly.
The door stop is made high-quality rubber and doesn't slip plus it comes with a holder to store the wedge when not in use.
For the kitchen door, it would be better to choose something a little appropriate. This door stop seems like a perfect choice. It looks like a piece of cheese but it's not meant to be eaten but rather to keep the door open.
This fantastic doorstop looks like Wicked Witch of the East's legs from Wizard of Oz. It's perfectly sized for the job, I mean holding the door, but it's also nice and heavy. It could be an amazing Halloween accessory.
It does not really matter that it's winter outside. Inside your house it will be always autumnal with these nice doorstops made like leaves fall on the floor.
Slamming doors can be also avoided in a cool funny way by using this Pause Doorstop which glows in the dark! The doorstop bears a pause and play system like your music players which can decide whether your door stays stable or is moving.
Who would not like to have a doorstop like this, I mean a piece of pure gold! Gold bullion doorstop is a weighty doorstop in the shape of a metallic gold bullion bar! Perfect to use as a paperweight, it is the ultimate house and office accessory.
This heavy knot doorstop is a hand woven of rope over cast iron. You can call it a perfect accessory for nautical decors.
Stoppy Universal Door Stop is a nice doorstopper shaped like a comma or a bird. It works on carpet, wood, tile, and cement. You can keep your door or window open using it.