40 Best Christmas Resources: Wallpapers, Themes, Icons, Vectors and More
Christmas is getting close. Whether you are still in the midst of the last minute Christmas newsletter design, or just want to spice up the desktop a little bit, chances are there's always something for everyone. We are talking about the free Christmas related icons, vectors, fonts, wallpapers, tutorials, themes, etc created designers and shared all over the net. They are probably our early Santa.
Here's our final Christmas related entry – a mash-up of the Best Design Resources for Christmas around. If there's any we've missed, let us know in comment, we'll add it in. Merry Christmas in advance.
1. Icons
Web Design Ledger presents you 23 Awesome Christmas Icon Sets to put you in the Christmas spirit.
aComment: 13 Elegant Free Christmas Icon set in PNG/Gif
aComment showcased some elegant and high quality Christmas icons which lets you use them in your websites easily.
Design Bliss has hand-picked 10 sets of beautiful Christmas icons from deviantART and they're all FREE!
Photoshop Roadmap built this list gathering some new (and old) Christmas related tutorials, brushes, cliparts and icons for personal use..
Vu Nguyen: 20 Beautiful Christmas Icons
Vu Nguyes prepares 10 beautiful Christmas icons for you to decorate your web according to the Christmas spirit.
Smashing magazine has selected high quality Christmas icons, and Christmas WordPress themes to let you get into the true Christmas spirit, decorating your personal desktop and adding some Christmas flavour to your recent designs or weblogs.
2. Wallpapers
PixelResort: Xmas Holiday Wallpapers
You will find a few goodies of Xmas holiday wallpapers to decorate your desktop.
Some Xmas specials – for your desktop or current web-project.
HongKiat showcased some really Beautiful Christmas Wallpapers for you to decorate the desktop while counting down to Christmas.
Here's another 30 Remarkable Christmas Wallpapers collected at our home.
Some really nice Christmas wallpapers posted by A New Morning.
Take this opportunity to put your desktop in that festive mood with wallpapers courtesy of some of Crestock's finest contributing photographers and designers.
3. WordPress Themes
Developer Fox: 15 Interesting Christmas Free WordPress Themes
Developer Fox thinks you might be interested in dressing up your blog with a new Christmas free wordpress themes.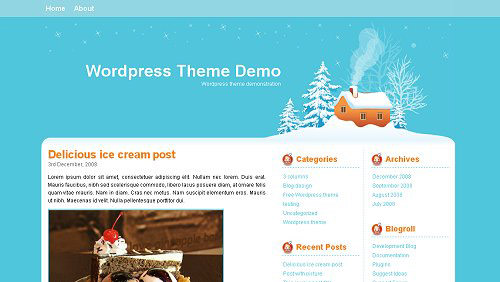 SheepTech has compiled 30 Christmas WordPress themes if you are a WordPress user and wants some holiday feel on your WordPress blog.
Pulse2: 42 Free Breathtaking Winter WordPress Themes
Here is a list of 42 of the best WordPress winter themes to get your blog ready for the winter.
4. Photoshop Brushes
There are pine, ice, snowflake, snow and many different Christmas related brushes for every taste in this list.

This is a giant design pack which includes Photoshop Christmas brushes, Free Christmas vectors, and Christmas-related Photoshop & Illustrator tutorials.
Observin has gathered these winter photoshop tutorials and brushes are the perfect way to spruce up your designs and get you in the holiday mood.
Here are some free Christmas Photoshop brushes Design Bliss found over the past year.
A collection of free Christmas Photoshop brush sets that you can use to design something special during the holidays.
Photoshop Roadmap has compiled another nice selection of Christmas Photoshop tutorials and brushes. All the brushes featured on this article are free to use on personal, non-commercial, projects.
Gosublogger: 16 Photoshop Brush Set For Christmas
This sets include xmas tree brushes , xmas ornaments brushes, xmas decoration brushes and other sets.
5. Photoshop Tutorials
To help you prepare for this year's Christmas celebration, Toxel presents this collection of free Christmas-themed Adobe Photoshop tutorials.
StayUpdate: 31 Free Christmas Photoshop tutorials
StayUpdate has gathered free Christmas Photoshop tutorial for designers to be able to have the best design skills for Christmas.
My Ink Blog: 10 Fantastic Christmas Inspired Tutorials
My Ink Blog helps get everyone in the Christmas spirit by sharing some awesome Christmas related tutorials.
You'll learn how to design Christmas trees, snow globes, snowflakes, Christmas candles, Christmas balls and much more.
6. Fonts
Dafonts provides over 70 free Christmas for download without paying a single penny.
Take a look at this list with some of Woork's favourite Christmas fonts which you can download and use on your design projects.
Font River gathered a wide variety of funny fonts and dingbats to pep up your designs. Make your own matching Christmas cards, invitations, favors bags, place cards, napkin rings, and much more!
Simple Thoughts: 20 Attractive Free Fonts for you This Christmas
Simple Thoughts prepared 20 fonts for you this Christmas which are absolutely free.
7. Misc
Life Rock 2.0 has compiled a list of top Christmas themes with Wallpapers for Windows XP and Vista to decorate your desktop.
CrazyLeaf Design thought some free Christmas vectorial resources will be welcomed for the coming holidays.
PSDFan has rounded up 20 of my favorite christmas themed designs. Hopefully these will help inspire you in your own works:
Garcya: 2000+ Christmas Goodies – PNG, Vectors, Icons, Wallpapers, Cliparts and PSD files
Garcya has prepared a mega list of free Christmas goodies just for you to have a stack of Christmas resources .
Lifehacker highlighting the holiday-inspired goods of readers have created.
More: Christmas Wallpapers
Here are some Christmas wallpaper articles we've previously published: