5 Best Android Launchers to Download
A collection of 2018's best and free launcher apps for Android that help you create beautiful yet intuitive home screens.
An Android launcher app creates the home screen you see and use after unlocking your device; thus it needs to be beautiful yet intuitive enough to provide an amazing experience. Fortunately, Google Play Store hosts a plethora of launcher apps that you can download and use to customize your experience.
In this post, I am going to introduce you to the best and relatively new launchers that you can download and use on Android without paying a penny. I have picked down these launcher apps based on their fresh design and features and support for Android O's features, and customization options. Come on, let's dive in.
30+ Android Apps for Power Users
30+ Android Apps for Power Users
Android, with all its design charm and ease of use, is one of the most powerful platforms for... Read more
OO Launcher is an Android O style launcher with support for round icons, vertical app drawer, context popup menu, and unread notification counters. What I liked the most is, the launcher features app hider cum locker and private folder to strengthen your privacy and supports night mode as well.
It avails a few ready-made tools like battery saver and cleaner to help optimize your device though you may not need them if you already use such apps. More of its features include gestures support, side-page, etc. Lastly, it packs in lots of customization options, including themes, icon packs, backgrounds, and more.
Flick Launcher provides a Pixel Launcher-inspired interface for your apps. I liked that it promotes privacy — you can hide the apps or lock them using a password or your fingerprint. Moreover, it supports Google Now and offers a customizable interface with support for night mode and immersive mode.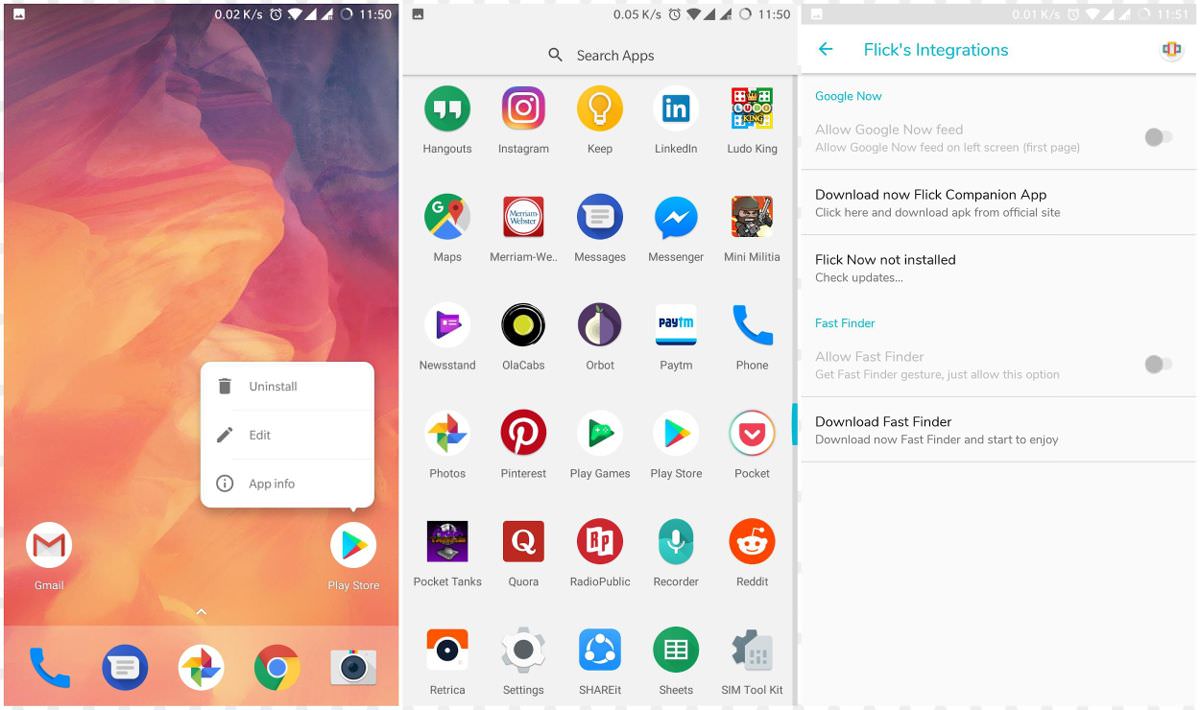 That is not all, its support for app shortcuts, notification badges, and gestures help provide a superb experience. The launcher avails numerous options to customize the home screen's look and feel, including the option to customize app icons and notification dots, folder layouts, page transitions, and many more.
Hola Launcher is a powerful launcher with smart tools like app manager, battery saver, and performance booster. I became a fan of its Omni Swipe, which allows you to open and switch apps from any app or screen. Also, it permits you to personalize your home screen with fonts, themes, and wallpapers.
It also packs an app lock facility along with a feature to hide apps, which help protect sensitive apps from prying eyes. Moreover, its booster feature improves overall device performance, and its charging tool ensures the phone has efficient charging. Lastly, it can repair battery drainage problems as well.
Evie Launcher comes with exciting features like instant navigation, custom shortcuts, and a wide range of personalization features. Like the above apps, you can lock the apps you wish to keep private to yourself. Other salient features such as notification dots are also integrated into this launcher.
What caught my eyes is its universal search feature — it allows searching for apps' contents from one place, which reminds me of searching on Windows 10. Moreover, it provides customization options to make your home screen unique by changing app icons, layout, wallpaper, and a lot more options.
Microsoft Launcher does not feature Metro UI — it fails my first expectation, but for good. It does come with Cortana, as expected, the Microsoft's personal digital assistant. Cortana can help you at making calls, change wallpapers, schedule meetings, read headlines, and do a lot more tasks.
What I liked the most is its 'Continue on PC' feature, which lets you start a task on Android and continue it on your PC, like editing a document on Office 365. Also, the launcher has customizable gestures, a universal search bar, and a news and events feed personalized for you. Last but not least, you can customize its look & feel by setting accent colors, icon packs, wallpapers, and themes.
More:
Lawnchair Launcher is an open-source attempt to bring Pixel Launcher features to all Android users. Among its brilliant features, you will find feed integration with Google Now and Android Oreo features such as notification dots and enhanced app shortcuts for quick-navigation through an app.
Moreover, Lawnchair Launcher also brings customizable icons, changeable grid size, various dock customization options, and much more. Last but not least, it is a multilingual app with support for certain popular languages and numerous enhancements like blurry interface and snowfall options.
Z Launcher, from Nokia, personalizes and adapts to your smartphone usage to provide a unique experience, thanks to high adaptability features. I was amazed by the way it tracks usage patterns and later suggests the right apps and search terms at just the right time — I almost felt that it knew me.
How it works? You only need to scribble a letter on the home screen to look for something, say an app. It supports multiple languages, like Lawnchair, and also offers an option to hide the applications to maintain privacy.
Smart Launcher 3 is an innovative launcher with automatic app organization features. What I liked more is, it packs in a universal search bar, multiple app launch layouts, option to hide and lock down apps. Also, it avails gestures support and multiple features/ways to turn off the device quickly.
Moreover, Smart Launcher 3 also comes with a collection of in-built wallpapers with new wallpapers added every day. You will also find a plethora of free themes to customize your lock screen interface once and for all.
ADW Launcher 2 comes with a host of enhanced features like support for app shortcuts and an improvised app drawer that shows app categories and shows a search bar to locate apps quickly. Interestingly, this launcher has also added a backup manager to import data and settings from other launchers.
It supports user gestures, themes and widgets, and a lot more expected features. Lastly, its customization features include options to configure icon badges and effects, folder appearance, app drawer, etc. and various desktop transitions.
SquareHome 2 is a Metro UI styled launcher, i.e., the look & feel of Windows 8 and 10. It has numerous features, including a notification count indicator as well as a smart app drawer that sorts the apps based on your usage patterns.
If you ask me, it is an easy-to-use, powerful launcher. Interestingly, you get quick access to your contacts and numerous options to customize its interface as well. Last but not the least, it offers amazingly beautiful tile effects.
AIR Launcher is a power-packed launcher — one of its amazing features is its 'Smart Folder', which efficiently organizes your home screen by arranging apps into folders. You can make a search by just swiping down on the home screen. Also, you can hide or lock apps with password or pattern to protect privacy.
Additionally, AIR Launcher works like an automatic power booster and junk cleaner for your phone apart from being a launcher app. That said, you may find few of its tools as bloatware if you already use such tools in your device. Last but not the least, it comes with a large number of themes, wallpapers, emojis and many more options to customize its interface, thus your experience.