19 Most Beautiful Castles Around The World
The architectural glory of European country is represented by their magnificent castles. Besides the intricate work of art, it reveals the technology and methods on how it was built. It also reflects the country's civilization and how people have evolve alongside while building the castle. Which justify the popularity of castle as a tourist attraction.
They are a delightful sight for people who are interested to unravel the buried stories or legends that these castle embodied with. Secret dungeons or annex, haunted castle you name it! In this post, we have listed some of the most beautiful castles standing in the world that one must visit during their castles exploration expedition.
Gifu Castle, Japan
Gifu Castle is a castle located in the city of Gifu, Gifu Prefecture, Japan. Along with Mount Kinka and the Nagara River, it is one of the main symbols of the city.
(Image source: Yosuke Yasuda)
Krak des Chevaliers, Syria
Krak des Chevaliers, transliterated Crac des Chevaliers, is a Crusader fortress in Syria and one of the most important preserved medieval military castles in the world. It is located approximately 40 km west of the city of Homs, close to the border of Lebanon, and is administratively part of the Homs Governorate.
(Image source: Ian Cowe)
Kilkenny Castle, Ireland
Kilkenny Castle is a castle in Kilkenny, Ireland built in 1195. It was a symbol of Norman occupation and in its original thirteenth-century condition it would have formed an important element of the defences of the town with four large circular corner towers and a massive ditch, part of which can still be seen today on the Parade.
(Image source: Dave Bassett)
Peles Castle, Romania
Peles Castle is a Neo-Renaissance castle placed in an idyllic setting in the Carpathian Mountains, near Sinaia, in Prahova County, Romania, on an existing medieval route linking Transylvania and Wallachia, built between 1873 and 1914.
(Image source: Gaspar Serrano)
Matsumoto castle, Japan
Matsumoto Castle, also known as the "Crow Castle" because of its black exterior, is one of Japan's premier historic castles. It is located in the city of Matsumoto, in Nagano Prefecture and is within easy reach of Tokyo by road or rail.
(Image source: megabn)
Blair Castle, Scotland
Blair Castle stands in its grounds near the village of Blair Atholl in Perthshire in Scotland. The Castle, one of Scotland's major stately homes, is open for visitors on a daily basis. Its many rooms feature important collections of weapons, hunting trophies, souvenirs of the Murray clan, ethnographica, paintings, furniture, needlework etc, collected by the Murray family over many generations.
(Image source: Andrea Vigliocco)
Hohensalzburg Castle, Austria
Hohensalzburg Castle is a castle in the Austrian city of Salzburg, atop the Festungsberg. With a length of 250 meters and a width of 150 meters, it is one of the largest medieval castles in Europe.
(Image source: mbell1975)
Sleeping Beauty's Castle, France
"Sleeping Beauty's Castle" is a structure that stands at the centre of the Disneyland Park at Disneyland Paris and is a continuation of a concept first seen at Disneyland in California. The castle is home to an Audio-Animatronic dragon, which at 27 metres from head to tail was the largest Animatronic figure ever built.
(Image source: Martin Waller)
Castle of La Mota, Spain
The Castle of the La Mota or Castillo de La Mota is a reconstructed medieval fortress, located in the town of Medina del Campo, province of Valladolid, Spain. It is so named because of its location on an elevated hill, a mota, from where it dominates the town and surrounding land.
(Image source: Manuel Zaldvar)
De Haar Castle, Netherlands
Castle De Haar is located near Haarzuilens, in the province of Utrecht in the Netherlands. The interior of the castle is decorated with richly ornamented woodcarving, which reminds one of the interior of a Roman Catholic church.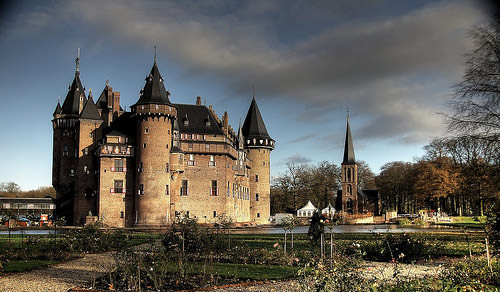 (Image source: JsAero)
Hatley Castle, Canada
Hatley Park National Historic Site is located in Colwood, British Columbia in Greater Victoria. It is the site of Hatley Castle and Royal Roads University. The castle is the setting of the X-Men film series as Professor Xavier's School for Gifted Youngsters. It was used as the mansion in the Made-For-TV movie Generation X, which is based on a comic that is a spin off of X-Men, also castle appears in the Smallville television series.
(Image source: Royal Olive)
Moritzburg Castle, Germany
Schloss Moritzburg is a Baroque castle in the municipality of Moritzburg in the German state of Saxony, about 13 km northwest of the Saxon capital Dresden. The castle is famous for its sandstone decorations and stuccos.
(Image source: Hans Vaupel)
Guaita Castle, San Marino
Guaita is one of three peaks which overlooks the city of San Marino, the capital of San Marino. The Guaita fortress is the oldest of the three towers constructed on Monte Titano, and the most famous. It was built in the 11th century and served briefly as a prison.
(Image source: Francesco Dazzi)
Castle of Chambord, France
The royal Chateau de Chambord at Chambord, Loir-et-Cher, France is one of the most recognizable chateaux in the world because of its very distinct French Renaissance architecture that blends traditional French medieval forms with classical Italian structures.
(Image source: Herve BRY)
Lichtenstein Castle, Germany
Lichtenstein Castle is situated on a cliff located near Honau in the Swabian Alb, Baden-Wurttemberg, Germany. Its self-descriptive name in English means "light stone." The castle contains a large collection of historic weapons and armour.
(Image source: Paramedix)
Castillo de Coca, Spain
Castillo de Coca is castle located in the province of Segovia, central Spain. The castle, belonging to the House of Alba, now serves as a tourist attraction, having been listed as a historical site by the government since 1931.
(Image source: Matthew Trommer)
Hochosterwitz Castle, Austria
Hochosterwitz Castle is considered to be one of Austria's most impressive medieval castles. It is situated on a 160 metres Dolomite rock near Sankt Georgen am Langsee, east of the town of Sankt Veit an der Glan in the state of Carinthia. The castle is one of the state's landmarks and can be seen from about 30 km away on a clear day.
(Image source: Fiorenza Baratti)
Frederiksborg Castle, Denmark
Frederiksborg castle is a castle in Hillered, Denmark. It was built as a royal residence for King Christian IV, and is now known as The Museum of National History. The palace is located on three small islands in the middle of Palace Lake, (Danish, Slotse), and is adjoined by a large, baroque formal garden.
(Image source: Kirsten Lentoft)
Burg Hohenwerfen Castle, Austria
Burg Hohenwerfen is a castle approximately 40 km south of the Austrian city of Salzburg. The castle is majestically surrounded by the Berchtesgaden Alps and the Tennengebirge mountain range.
(Image source: edujoser)