(More) Useful Web Usability Testing Tools
Usability and User Experience (UX) are two extremely important factors for developing a site or app that really stands out from the competition. With the increasing competition in sites and apps, there are also an ever increasing number of tools to help you make your site or app more usable, and to help you ensure you provide a great experience for your users.
Of course, with this influx of usability and UX tools, it's hard to sift through all of the rubble to find tools that meet your needs, or even to find any tool at all. We've covered a number of great web usability tools in the past, and today we are happy to provide you with more to help you make the web a more usable place, one site (or app) at a time.
Read on for a handy list of a whole bunch of tools, and be sure to let us know in the comments if there are any great tool we've missed.
(Full disclosure: I work on IntuitionHQ.com, one of the website usability testing tools featured in this list.)
Along the same lines as Skype, this makes it really easy to communicate and observe your users. A good alternative if you need one. ($49/month)
Intercept users (live!) on your site and ask them questions or even call them. It's a great way to recruit people for testing, and it looks pretty too. (free – $199/month)
This tool provides testers, and then records videos of them using your site, as well as their comments on their experience. From this you can work out what is working well or not so well, and make changes from there. (£30+/user)
Neat concept. Show a user your screenshot for five seconds, and see what sticks in their mind. Simple and easy. (free – $200/month)
Submit questions about your site and pay to get 10 responses from their reviewers, all within a short period of time. Good option for quick and dirty testing. ($15/test)
Create tests and tasks, send them out to users then view a report of the results. An annual license is also available. ($350/test)
Set your tasks, send out the tests, and get feedback; users can also leave notes on each of your screenshots. You provide your own participants, topping out at 200 on the $139 plan.(free – $139/month)
You upload a sequence of screenshots with a set task/success method and send them on to your users to run through. It then provides results based on the success criteria you set earlier. (free – $200/month)
Video Testing
Records everything your visitors do on your website, including keystrokes ad mouse moves so you can see exactly what they do and how they do it. You can monitor results in real time as well. ($99 – $990/month)
Similar to WhatUsersDo, they provide a video of a tester using your website, and narrating their thoughts as they go. They also provide a written response to a questionnaire. ($25/test)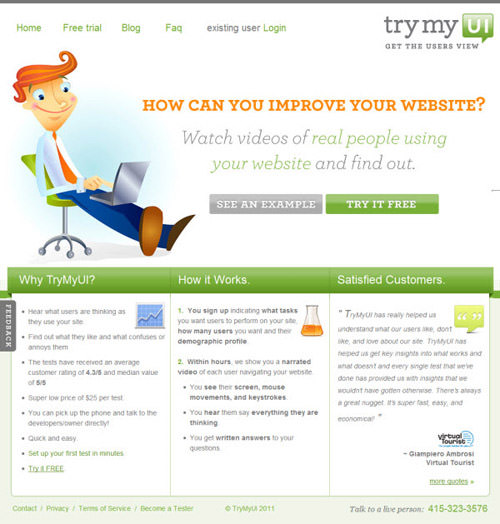 Userlytics provides particpants, and records videos of both users and their interactions with your site. You also get to ask a survery post your 10 minute test. ($299/test)
Very similar to Userlytics, but you only need to pay for one tester at a time. Gives you a video of users talking about your site as they use it, and a written summary of problems they encountered. ($39/tester)
OpenHallway
Another site that records users as they use your site; but they host your video online for you, and you provide your own testers. ($19 – $199/month)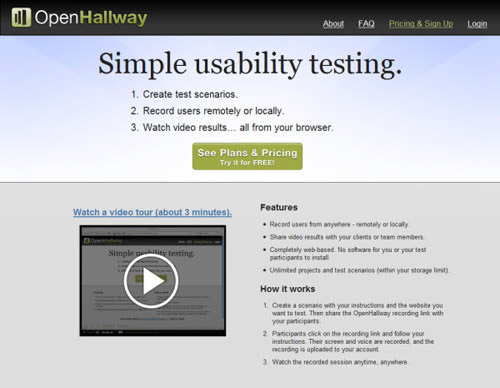 More Tools
Gazehawk is an eye tracking tool that recruits participants and provides results for you. They do this through heatmaps and replays and of how people have interacted with your site. ($495 – $995+)
Last but not least:
Eyes and Ears.As obvious as this may seem, the first thing you need to do while testing usability is to use your eyes and ears. Watch what people do. See how they interact with a certain interface. Listen to their comments, and observe their behaviour. You'd be amazed what you can learn.
Pencil and Paper.Following closely on the heals of eyes and ears, pencil and paper are two tools that you almost always have on hand. They don't require any technical expertise, and you can quickly and easily produce prototypes of any design or interface that you can imagine. If nothing else, at least try sketching out your ideas.
So Now What?
Now you've found all of these great tools, where do you go from here? It's always a good time to test, and there is always something you can learn with your testing. The following few articles, along with all the tools featured above, will help move you in the right direction:
Do you have any other tools you'd like to see in this list? Questions or comments about the usability testing process? Be sure to let us know in the comments. Happy testing!