10 Best Twitter Analytics Tools For Social Media Marketers
Social media is a useful method for any person out there to to take the marketing up a notch. Twitter is one option if you'd like to do this but sometimes it can get a bit complicated trying to figure out what works and what doesn't.
In this post, we take a look at some of the best tools that you can utilize to help you scrutinize and examine the performance of your Twitter account.
Twitter Analytics is Twitter's own analytics tool that allows you to measure and boost your presence on the platform. It gives you a clean analytics dashboard with a summary of your tweets, tweet impressions, profile visits, mentions, and other statistics over the period of a month. You can also see which of your recent tweets got the most impressions.
The best thing about it is the ease of use and even the most novice ones can easily grasp the way around the tool. However, if you are looking for more advanced analytics, then the features offered by this tool might not be enough.
Sprout Social is a versatile tool that helps you manage your social media presence and establish more powerful connection with your audience through better engagement. It also gives you some of the most advanced tool to analyze your social media presence, including Twitter.
The tool provides you precise metrics and meaningful insights to help you plan your marketing strategy. From the pricing angle it is quite expensive but if you're working as a professional social media manager or marketer, then investing in an advanced analytics tool goes a long way.
A tool designed especially for social managers, social markets and their teams, Union Metrics offers advanced tools that help you develop a solid social media strategy. They offers some free Twitter analysis tools including Twitter Assistant and Twitter Snapshot report.
The tool gives you insights on what kind of content you need to post on Twitter, which hashtags to use, and who are the most influential people in your audience. It also gives you a free snapshot report on reach, impressions, top influencers, and estimates on size and scope of any Twitter conversation.
Tweets map is a unique tool that offers AI-driven Twitter analytics as well as insights to help you manage your account. For a frequent or professional twitter user, it helps in saving time while optimizing your audience engagement. And it is totally free!
With the tool's Twitter Engagement feature, you get deep analytics that tell you about the sentiments and interests of your audience. Similarly, The Tweet Scheduler feature guides you on the best time to tweet on the basis on analytics driven data.
Keyhole is an intuitive analytics tool for Twitter. It assists you in measuring, boosting, and reporting your impact through your Twitter account on the basis of real-time data, powerful insights and actionable metrics.
One thing that I found most interesting in this tool is the hashtag tracking feature that gives you complete analytics on a certain hashtag or keyword across Twitter. Moreover, there are features that give you audience engagement metrics on reach and impressions instantly as a well as custom reports for yourself or your client.
An analytics tool for Twitter that helps you in managing, analyzing, and optimizing your Twitter account for social growth. It gives you a clear picture of audience demographics of your own account as well as a comparative analysis of your competitor's followers.
With this tool you can search twitter bios to connect with people of interest, analyze the activities that made you gain or lose followers, and a lot more to enhance your engagement rate. The tool is free for one profile with limited features but even the paid options are not very expensive and come with many advanced features.
An AI-powered analytics tool for Twitter, Tweepi helps you in engaging current followers and getting more followers through data-driven strategies. Basically, the tool enables you to follow and unfollow people in bulk.
You'll like the simple interface that the tool offers along with many features including, following and unfollowing suggestions, retweet recommendations, and actions to take in order to get more quality followers.
Klear is basically an influencer marketing solution that lets you find the most suitable social media influencers for promoting your message or brand. All you need to do is enter the category or keyword to find a list of most suited influencers in the field and/ or location.
A simple yet powerful social media monitoring solution, Brand24 helps you in tracking any mention of your brand across social media, blogs, news, forums, and podcasts etc. This way you can follow up on the positive comments and brand mentions and respond to the negative ones before it's too late.
Some of the tool's worth-mentioning features include automated sentimental analysis to work out positive, negative, and neutral comments, instant notifications in case someone negatively mentions your brand, and tracking online reviews to know what your customers are disliking about your brand.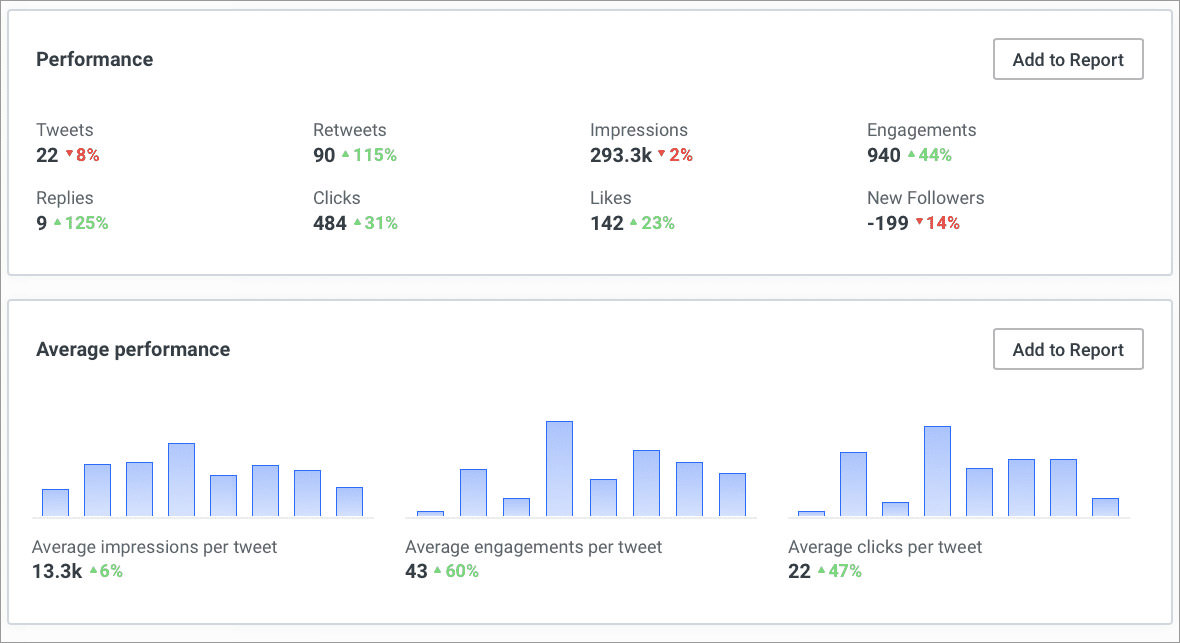 Buffer is already a popular platform for analyzing and managing a powerful social media presence. It gives you in-depth social analytics, audience insights, and scheduling techniques to maximize your influence on social media.
Apart from other platforms, Buffer offers reliable analytics for Twitter profiles. You get an overview of your account, know what, when, and how to post as well as creating professional reports that you can download and share. What's more? There's a free plan with basic features to get you started with.