50 Cheatsheets and Infographics for Social Media Marketers
Being a social media marketer, you need to be constantly updated with the new trends and technology. Although there are a lot of ways to update yourself in this area like, workshops, online courses, and ebooks for social media marketers etc. However, the quickest and most interesting of these tools are infographics.
Whether you want to give a quick refresher to your knowledge or make it a part of your presentations, here are 50 interesting cheatsheets and infographics for social media marketers. Go ahead and take a look at the full list after the jump.
35 Free Ebooks for Social Media Marketers
35 Free Ebooks for Social Media Marketers
Social media marketing is gaining its place as one of the most sought-after professions in the online world.... Read more
This infographic explains in detail about the importance of visual content over textual content, which is a basis for getting successful at social media marketing.
This detailed infographic shares about numerous social media tools available for every social marketer for running a winning campaign.
This infographic shares details about various available tools for managing your social media campaigns and growing your presence.
How to Create Your Social Media Strategy
This comprehensive yet easy-to-follow infographic explains everything you need to know before creating your own social media strategy.
A Visual Guide to Social Media Content Marketing
A simple infographic that introduces you to social media content marketing and provides tips and tricks for becoming a successful one.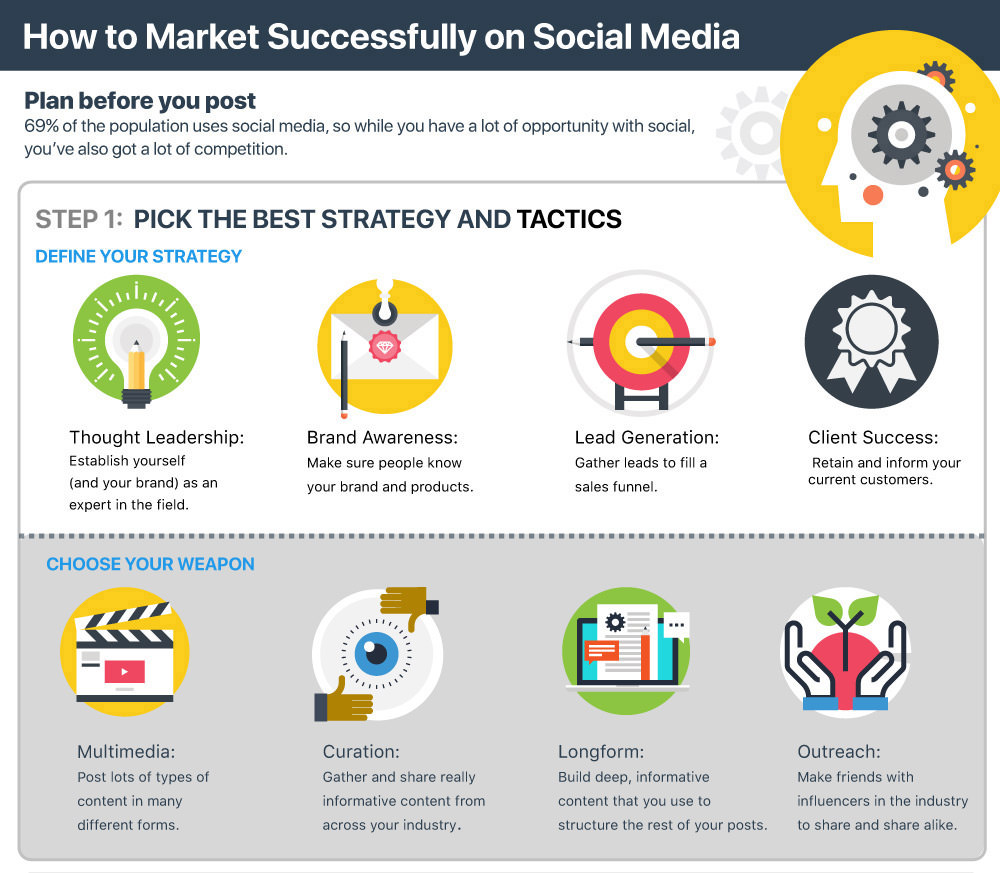 How to Combine Your Email & Social Media Strategies
An infographic with a simple flow shares tips and tricks for combining marketing strategies between email and social media.
Social Media Marketing Cheatsheet
This infographic tells you all the information about doing social media marketing and helps you to become a winning marketer.
Social Media Cheat Sheet for Brands And Users
This infographic shares complete information about social media including the best channels to create campaigns and a lot more info.
Develop Your Social Media Strategy in 60 Seconds
This infographic shares a simple-to-follow social media strategy template for creating your strategy quickly and easily.
A cool visual representation that helps you understand and create a successful social media strategy for making your product or business success.