8 Tools to Customize Your Windows 10
Windows 10 offers many customization options, but they are either difficult to access or require tinkering with Windows registry. Thankfully, there are many third-party tools that can make it easier to customize Windows 10 with just few clicks.
In today's post, we will list down 8 tools you can use to customize Windows 10 according to your taste. Whether you are a pro Windows user or a novice, these tools should help you get the best Windows experience.
Read Also:  10 Cool Features of the Microsoft Edge
1. Winaero Tweaker
Winaero Tweaker basically offers a set of handy Windows features and tweaks in a single interface. It has been updated for Windows 10, so most of the tweaks you will see will be focused on fixing WIndows 10 nuisances. From hidden settings to registry tweaks, Winaero has everything to customize Windows 10 as you prefer.
Some of its customization options include color title bar, control animations, change icon style, disable Aero Shake/Aero Snap, stop Windows 10 from restarting after updates, Enable USB write protection, configure Windows update settings, customize hidden mouse settings, configure advanced boot options, change lockscreen background or disable lockscreen, see last login time, disable action center, disable live tiles, add power plans in context menu and dozens of other handy tweaks.
You should not have any problem configuring these options as each option has a detailed description of what it does and negative impact it could have.
2. MyFolders
A simple but very handy tool, MyFolders adds a context menu entry from which you can easily access all your favorite folders. Its interface allows you to add the folders and manage their location in the context menu.
Once all the folders are added, right-click anywhere and hover your mouse cursor over "MyFolders" entry. Move to "Go to" option and you will see all the folders that you have added. You can click on any folder to quickly open it.
You can also add or remove folders by right-clicking on the folder and selecting "Add/Remove folder". Furthermore, there is also an option to open a command prompt window in select folders from the same menu.
If you want to quickly access different folders, then MyFolders is perfect for you.
3. Ultimate Windows Tweaker
True to its name, Ultimate Windows Tweaker is the granddaddy of all the customizing tools for Windows 10.
It has a plethora of options to customize Windows 10 interface, boost performance, enhance security and privacy, add functions and shortcuts to context menu and control user account behavior.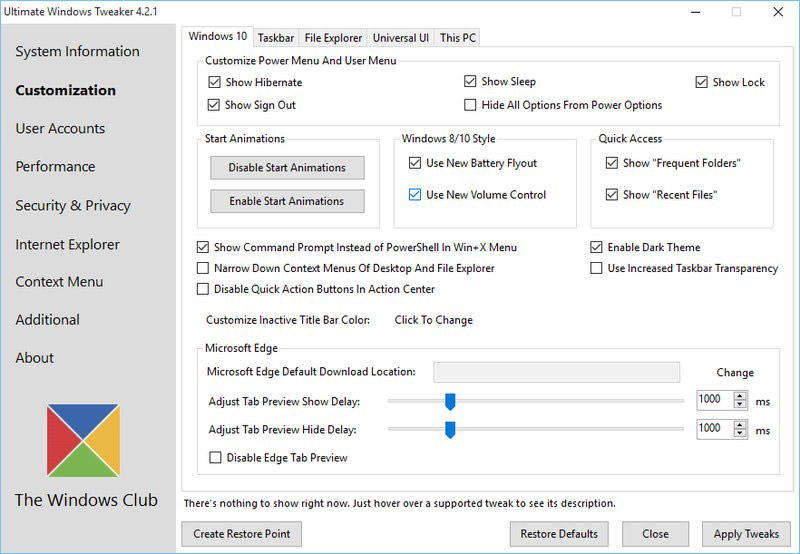 Some of its notable tweaks include, add hibernate option in power menu, control Windows animations, configure Microsoft Edge, remove items from the taskbar, change menu colors, delete pagefile at shutdown, disable lock screen, control notifications, add/remove items from This PC, turn off unrequired services, disable key system programs, disable tracking, customize scrollbar and much more.
Similar to Winaero Tweaker, Ultimate windows Tweaker also shows a description of each function and what it does. All you need to do is hover your mouse cursor over the option.
4. Start10
This is your all-in-one tool to customize the Windows 10 Start menu. You can change the look of the Start Menu to the Windows 7 Start Menu or something similar but with a modern twist. Alternatively, you can change background color and use different start menu themes to make it look out of this world.
There are also cool Start Menu icons to choose from, such as biohazard (see below), sonar, Windows 8; you can even upload a custom photo if you like.
Apart from appearance, you can also configure what to show in the Start Menu, the number of items to show, item size and location. You have full control over the transparency of start menu items and the background.
Start10 is a paid program with a 30-day free trial. After the 30-day free trial, ifyou like it, you can buy the program for $4.99.
5. 7+ Taskbar Tweaker
7+ Taskbar Tweaker lets you customize Windows 10 taskbar to make it more interactive. You can change functions of current buttons and configure how mouse buttons should interact with the taskbar.
It allows you to change the thumbnail preview, configure what happens when you middle click on items in the taskbar, manage grouping, configure mouse wheel interaction with taskbar items and more.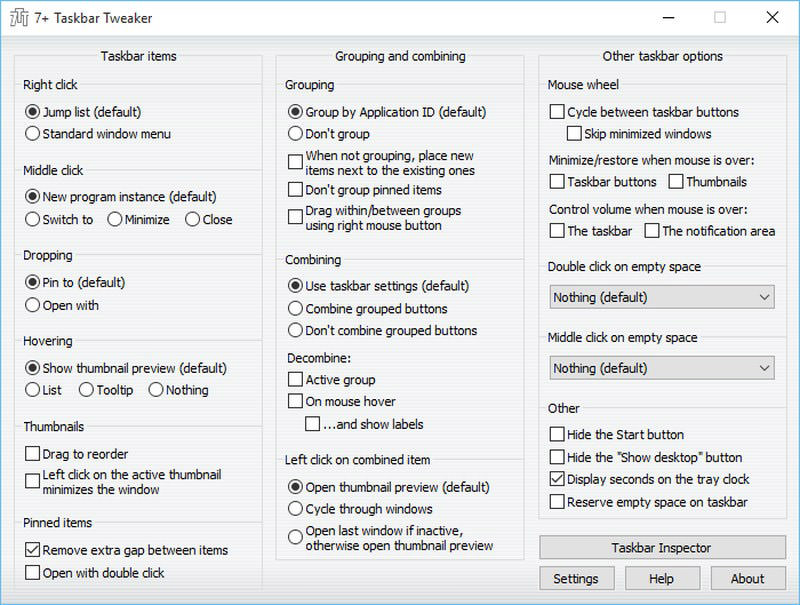 You can also add more functions that you can trigger by double-clicking or middle clicking in an empty space on the taskbar. Functions you can add include show desktop, open task manager, mute volume, hide taskbar and open start menu. It can also remove the Start Menu and show desktop buttons from the taskbar.
6. RocketDock
A docking software is a must have for any Windows power user. These software allow you add apps and files to a dock that allow you to quickly access them from anywhere.
When it comes to docking software, I swear by RocketDock for its amazing customization options and interactive dock. You can move the dock anywhere you like (I prefer left side) and control how display the items inside the dock.
You can configure opacity of the dock, use different themes, change size and fonts, change display style, auto-hide dock, change font color and much more. Best of all, it has support for dozens of third-party addons to enhance its functionality, such as create multiple docks, add clock, and add many other Windows functions in the dock.
7. WindowBlinds
From the creators of Start10 comes WindowBlinds that allows you set custom skins for Windows 10. These skins will completely change the look of windows, buttons, applications, fonts, icons and many other visual aspects of Windows 10.
WindowBlinds comes with 12 built-in skins that are completely customizable. You can change color, transparency, fonts, add textures and more.
If these skins are not enough for you, then you can also get thousands of new skins from WinCustomize.com. The skins are really awesome, but some of the really good ones are paid costing anywhere between $3-9.
WindowBlinds also has settings to customize which parts of the skin should be applied, like you can choose to apply all the aspects of the skin except for icons. Similar to Start10, WindowBlinds is also a paid tool costing $9.99 after the trial period.
8. CustomizerGod
This tool is all about customizing the icons of Windows 10 to your liking. Basically, CustomizerGod will open up all the icons that are available in Windows in one place.
After that you can select the one you want to change and click on the "Change" button below to upload a new icon you would like to switch it with. You can also control size of the icons, both current ones and uploaded ones.
The icons are displayed by categories such as taskbar, volume icons, network icons, folder icons, battery icons and general icons, etc. Furthermore, the icon file must be in PNG, JPG or BMP format and preferably in 64×64 size.
If you know any other cool tools to customize Windows 10, do share with us in the comments.