10 Edgy Features of the New Microsoft Edge
Have you ever spent hours with optimizing your design for the different versions of Internet Explorer with the help of various polyfills, filters, and even more sneaky tricks? Well, it seems finally the lords of Microsoft listened to the prayer of thousands of desperate web developers, and in the new Windows 10, they've allowed the veteran browser to retire.
In its place, Microsoft has built from the ground up, a new browser with its own rendering engine and christened it Microsoft Edge. Although the logo disturbingly reminds us of Explorer's, in our tests, Edge proved itself a modern and fast browser.
In this post we will take a look at some of its edgy features (if you can get over the bad pun).
1. Use Cortana as a Search Assistant
Cortana is Microsoft's new intelligent personal assistant and knowledge navigator for Windows 10. You not only can use it from the Start menu but it's also integrated with Microsoft Edge, so it can help you in quick internet searches.
If you want to use this feature, you need to enable Cortana systemwide, and turn the "Get Cortana to assist me in Microsoft Edge" option on inside Advanced Settings.
Cortana works together with the Bing search engine, her presence is indicated by the two concentric circles on the left-hand side. Her colours depend on what default color you chose in Windows 10's personalisation settings.
Using Cortana
Cortana uses natural language processing, so it's important that you use the right terms. Right now she shows up only with certain search queries, but her knowledge and capabilities are said to improve over time.
By typing the word "weather", Cortana shows the current weather of your location with a nice visual weather icon.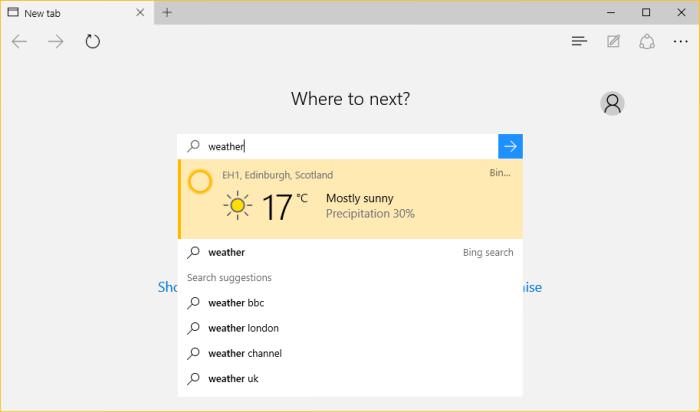 The search assistant can also be used to quickly convert foreign currencies to your home currency real-time.
You can use her as an English-English dictionary by typing the word "define" before the word you want to know the meaning of, and she's also good at real-time time zone conversion, or tracking the current status of a flight.
2. Doodle Directly on a Web Page
Designers will love this cool feature. Microsoft Edge allows you to add your own web notes to a web page. Any time you wish to do so, click on the "Make a Web Note" button on the top bar (it's indicated with a paper-and-pen icon). When the drawing toolbar with the purple background shows up, you can begin to doodle.
There's a pen, a highlighter, an eraser, a typed note, and a clipper tool. You can choose from different colours and brush sizes. The typed notes enable you to add ordered text notes to a web page.
When you are ready with the page, you can save the note, so you can return to it at any time. There are three options: You can save it to your OneNote account, Microsoft Office's default note-taking app. If you don't have Microsoft Office installed, you don't have to worry, as you can also use Office Online. Other than that you can save your web notes to either to your "Favourites" or your "Reading List" folder.
By clicking on the Sharing icon, you can also send the note in email, or share it on different social media sites.
3. Get Rid of Distractions
If you sometimes find flashing ads, comment sections, sidebar widgets, and other distractions annoying, and feel you can't concentrate on your reading because of them, you will make good use of Microsoft Edge's "Reading View" feature.
Reading View is usually not active on the home page of a site, or on other category pages; it's active only when single posts are displayed.
The interface is minimalistic and elegant, it reminds us of RSS readers. The only shortcoming is that it's so distraction-free that it gets rid of pictures too, so maybe it's not the best idea to use it on sites that use pictures as part of the content (like hongkiat.com).
However, if you need to read something quickly without being drawn away, this is the perfect feature for you. When you are ready with your reading, you can easily jump back to the original view, as Edge includes a link to it at the top of the Reading View.
4. Create a Sophisticated Reading List
Microsoft Edge's "Reading List" feature brings a handy reading list manager inside to the browser. It might not have such a refined interface like those of Pocket, and you can't add your own tags, but you can use it on the go without being tied to a third-party app.
You can add a web page to your Reading List by clicking on the Favourites icon in the top bar (marked by a star), and choosing the "Reading List" tab.
You can access your Reading List later by clicking on the Hub icon (three parallel lines) in the top bar. Your saved articles will be there below each other, and the latest page you read will be displayed on the top in a bigger size.
You can also pin the Reading List to the screen if you want it to be displayed while you are browsing.
5. Go Dark or Lighten Up
Microsoft finally seems to catch up with other browser makers by allowing users to choose from different themes. It's not a big thing though as currently there are only two theme options in Microsoft Edge – a light and a dark one. And you also can't add your own theme yet, but it shows Microsoft's intentions in taking the visual needs of its users more seriously than before.
You can choose the theme you want by clicking on the "More actions…" icon in the top bar (marked by 3 dots), choosing the "Settings" option, and the theme switcher is right there at the top.
6. Sharing via Integrated Share Panel
The Edge browser has an easy-to-access integrated Share Panel that enables you to easily share the content you find while surfing the net. To access it you need to click on the Share icon in the top bar (marked by 3 small circles connected by arcs). The Share Panel includes the sharing apps you currently have activated.
You can increase the number of options by installing new apps from the Windows Store. The background colour of the Sharing Panel depends on your default colour settings.
7. Pin Web Pages to the Start Menu
You can easily pin important web pages to your Start Menu with the help of the "Pin to Start" feature. This gives you easy access to sites you frequently visit. The option can be found inside the "More actions" menu in the top left-hand corner (marked by 3 dots).
If you click on the option, the web page displayed on the screen is saved as a live tile to your Start menu screen. On the screenshot below you can see the two pages I saved, represented by two blue tiles with the white Microsoft Edge logo.
8. Analyze Your Site's Performance
Edge's Developer Tools got a new look and some new features too. The tool can be still invoked by pressing F12 just like in Internet Explorer, but it can also be accessed via the "More actions" top bar menu item.
The Unified Performance Profiler can be found in the "Performance" tab, and its goal is to help you figure out the reasons behind a slow website. Microsoft Edge unifies the JavaScript Profiler and UI Responsiveness tools of Internet Explorer to provide developers with a more efficient workflow.
Among the new developer features we can also find include SASS & LESS source maps, a new Network tool, and some improvements of the Debugger such as XHR breakpoints.
9. Be Safe from Troublesome Extensions
Microsoft Edge doesn't support browser extensions that can be used for different exploits such as ActiveX, VML, and VB scripts. Only one scripting language is allowed and that is JavaScript.
On the other hand, if you have a website that still depends on ActiveX, you need to move to HTML5 or a newer technology if you want it to be properly rendered by Edge.
There are other cool security features in Microsoft Edge like the Edge Login Process, Sandboxing, an improved Microsoft SmartScreen, and others. You can find security options such as Smart Screen Filtering and cookie management inside the Advanced Settings panel.
If you are interested in details about Microsoft Edge's security features, here is a good post about the topic.
10. Dig Up Internet Explorer
In case you were a fan of Internet Explorer, you don't have to worry as it's still integrated in Microsoft Edge.
If you want to open a website in IE 11, you only have to choose the "Open with Internet Explorer" option in the "More actions" sidebar panel. Right after doing so, you can experience the difference in speed between Microsoft's new and old browser at once.