10 Cool Features of the Microsoft Edge
Did you ever struggle trying to make your design work for different versions of Internet Explorer? You had to use many tools and tricks, right? Good news! With Windows 10, Microsoft has finally replaced the old browser.
Now, we have a brand new browser called Microsoft Edge. Even though its logo looks a lot like the old one, our tests show that Edge is modern and fast.
In this article, we'll explore some of its simple and useful features.
1. Search Easily with Cortana
Cortana is the new helpful assistant for Windows 10. You can use it from the Start menu. Plus, it's now part of Microsoft Edge to help with quick online searches.
To use this, turn on Cortana in your system settings. Also, make sure the "Let Cortana assist me in Microsoft Edge" option is switched on in Advanced Settings.
Cortana uses the Bing search engine. You'll know she's there when you see two circles on the left side of your screen. The color of these circles depends on your chosen theme in Windows 10.
How to Use Cortana
Cortana understands everyday language. Right now, she responds to specific search words, but she'll get smarter over time.
For example, if you type "weather", she displays the current weather for your location with a clear weather icon.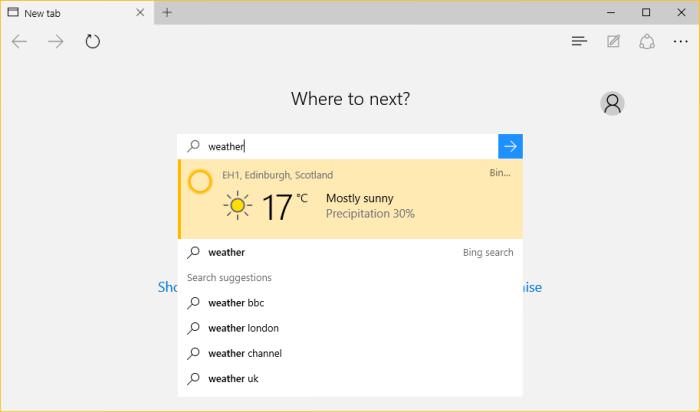 Need to check the value of foreign money in your own currency? Cortana can do that quickly. She can also act like a dictionary. Just type "define" followed by any word you want to understand better. Plus, she's handy for converting time zones or checking a flight's status.
2. Draw Directly on a Web Page
Designers and creatives, this is for you! With Microsoft Edge, you can now add notes directly on a web page. Just click the "Make a Web Note" button at the top (it looks like a paper and pen). When you see the purple toolbar, you can start drawing.
You'll find a pen, a highlighter, an eraser, a text note, and a clipping tool. Pick your favorite colors and brush sizes. The text notes let you add neat text comments on the page.
Done with your notes? You can save them for later. Save them in your OneNote account, which is part of Microsoft Office. If you don't have Office, you can use Office Online. Or, simply save your notes to your "Favorites" or "Reading List" folder.
Want to share? Use the Share icon to send via email or post on social media sites.
3. Read Without Interruptions
Ever get bothered by flashing ads or comment sections when reading online? Microsoft Edge's "Reading View" can help.
This feature works mainly on individual articles, not on home or category pages.
It gives a clean, reader-friendly layout, similar to RSS readers. One thing to note: it's so clean that it might hide images too. So, think twice before using it on sites where pictures are key (like hongkiat.com).
If you just want to read without distractions, this is perfect. Once done, simply click the link at the top to go back to the regular view.
4. Make a Simple Reading List
With Microsoft Edge's "Reading List", you get a basic reading list manager right in the browser. It's simpler than apps like Pocket and doesn't let you add tags. But it's built-in, so you don't need a separate app.
To add a page to your Reading List, click the Favorites star icon at the top, then pick the "Reading List" tab.
Find your Reading List by clicking the Hub icon (three lines) at the top. Your saved articles will be listed, with the most recent one shown larger at the top. If you want, you can pin the Reading List so it stays visible as you browse.
5. Choose Your Theme: Dark or Light
Microsoft now lets you pick a theme for your browser. It's a small change; right now, there are only two themes for Edge: light and dark. But it's a step showing Microsoft cares about user preferences.
Switch themes by clicking the "More actions…" dots at the top, then "Settings". The theme switcher is easy to find at the top.
6. Share with the Built-in Panel
Edge comes with a handy Share Panel, making it simple to share what you find online. Click the Share icon at the top (it looks like 3 circles connected by arcs). This panel shows the sharing apps you've set up.
Add more sharing options by getting new apps from the Windows Store. The Share Panel's color will match your chosen theme.
7. Quickly Add Web Pages to Start
Want quick access to your favorite sites? Use the "Pin to Start" feature. It lets you add web pages to your Start Menu. Find it in the "More actions" menu (the 3 dots) at the top left.
Choose this, and the current page becomes a live tile on your Start menu. Below, see the two pages I added. They're the blue tiles with the white Edge logo.
8. Dive Into Your Site's Speed
Edge's Developer Tools got a makeover and some added features. Access them with F12, as in Internet Explorer, or through the "More actions" menu.
The Unified Performance Profiler is under the "Performance" tab. It helps you understand what's slowing your site down. In Edge, tools from Internet Explorer come together for a streamlined developer experience.
Other developer updates include SASS & LESS source maps, a new Network tool, and Debugger improvements like XHR breakpoints.
9. Stay Protected from Risky Extensions
Microsoft Edge skips extensions known for risks, like ActiveX, VML, and VB scripts. It focuses on safer options like JavaScript.
If your website still uses ActiveX, consider updating to HTML5 for Edge compatibility.
Edge packs additional security features, such as the Edge Login Process, Sandboxing, and an enhanced Microsoft SmartScreen. Look for settings like Smart Screen Filtering and cookie management in the Advanced Settings.
For a deep dive into Edge's security tools, check out this detailed article.
10. Access Internet Explorer Within Edge
If you miss Internet Explorer, it's tucked inside Microsoft Edge for you.
Want to open a site with IE 11? Simply select "Open with Internet Explorer" from the "More actions" panel. You'll quickly notice the speed difference between Microsoft's latest and its classic browser.
Further Reading
Explore more articles related to Microsoft Edge: