Better Bookmarking With RainDrop.io
Even with all the advanced technology available, there is still one thing that hasn't changed about the way we explore the Internet and that is bookmarks. Whatever the reason, we still like to keep a track of the things that really catch our interest.
Traditional bookmarks are not that social and are not optimized for easy and organized viewing. You can actually do this without relying on the default bookmark manager in your web browser. Raindrop.io makes it possible to bookmark websites, pictures, articles, and videos from the web in a more pleasant manner.
Recommended Reading: Enhance Your Chrome Bookmarks With Dewey
Getting Started
RainDrop has a simple registration and setup process. Just create an account, optionally install the Chrome, Safari, Opera, or Firefox add-on, and start bookmarking. Raindrop's interface is well designed and is flavorfully organized with custom icons, tags, filters, and smart searching.
In-App Reading
Instead of directly linking out to the source website of an article, RainDrop automatically organizes all bookmarked articles and provides a clean, ad-free, and organized way to read articles without ever having to leave the RainDrop app.
With the in-app RainDrop reading tool you can edit parts of an article as well as its description and overall style. This includes things like fonts, font sizes, images, tags, and topics within your collections thus improving organization.
The reader also supports full-screen reading with "Next" and "Previous" buttons, so you can easily read through all of your favorite articles and bookmarked content.
Collections
Collections are RainDrop's way of organizing an unlimited amount of bookmarks, much like folders. You can easily upload an icon to organize your collections and to make it look more organized. If not, you can even choose from their gallery of over 100 icons.
You can find collections or bookmarks with RainDrop's Smart Search. You can also organize collections via a drag and drop method. You can choose to do so in alphabetical order or by the number of bookmarks there are in each collection.
Sharing
Sharing is one of the many features that makes RainDrop so great. Within a collection, or even a single bookmark, you can instantly share via Facebook, Twitter, Google +, LinkedIn, or send it as an email.
You can also share your bookmarks by giving out a custom RSS feed URL to your friends or co-workers, so that they can either view everything you bookmark or just a single collection of bookmarks.
Privacy
Privacy is important, all of your bookmarks on RainDrop are private and only accessible by you. Of course, this changes if you're keen on sharing profiles and collections with the people that you want to. Ultimately, this depends on what you think is right for your situation.
Profiles
With your RainDrop account, you get a custom profile in which your public collections and bookmarks are rounded up and organized into a grid layout for your friends to see, view, and discover.
Though there are customization features for profiles and feeds like cover photos, backgrounds, color customization, and profile pictures; I would love to see some more profile and collaboration features such as messaging and pinning bookmarks to other profiles among other things.
Feeds
RainDrop includes a feed feature much like public collections on profiles, you can easily round-up bookmarks and content into an organized grid for easy reading and viewing. Feeds can be made by providing RainDrop with links to RSS feeds, following other users' collections, and by collection topics.
Subscriptions
Subscriptions allow you to "subscribe" to public feed collections by people like you. Subscriptions are organized in a grid layout and is a great way to discover new websites and content on topics you enjoy.
Smart Search
RainDrop's smart search is a quick and intuitive way of finding collections or bookmarks just by typing in part of a description, tag, topic, subject, or title. RainDrop instantly displays the results and recommends words for you. Just type the kind of page you're looking for, press enter, continue searching, and choose from the refined results.
Browser Add-Ons
RainDrop has an add-on for all of the major web browsers: Chrome, Safari, Opera, and Firefox. The add-on operates as an elegantly designed bar that slides out from the right side of the browser window with convenient drag and drop features.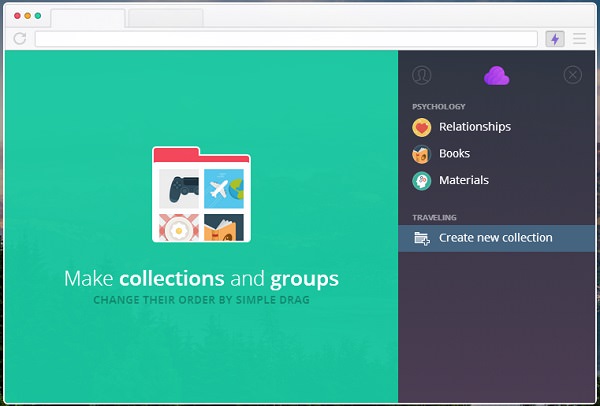 The add-on carries the primary tools from the left menu in the RainDrop web app with functions like collection icons, numbering and organization, collection creation, exporting tools, collection settings and editing. It also includes a search function but does not support RainDrop's handy smart search from the web app.
Importing And Exporting
Import and export features are a vital part of bookmarking tools, in which RainDrop has thought of perfectly. You are able to either import bookmarks from the Pocket service or you can import from a web browser using a file uploader. RainDrop also allows you to quickly export all your bookmarks and collections for use in another bookmarking service or web browser.
Advantages
It's free
Organize bookmarks easily with collections
Upload and set icons to your collections
Use smart search to easily and quickly find bookmarks and collections
Customize and share your profile in a grid layout feed
Share your bookmarks and collections with friends and co-workers
Has its own in-app reader
You can register with Google+, Facebook, Twitter, or Email
Import and Export features from browsers and Pocket
Firefox, Chrome, Safari, and Opera browser add-ons
Disadvantages
No messaging
No commenting on feeds or bookmarks
Some segments of the app are in Russian, even with an English setting
Conclusion
RainDrop is an organized and beautiful alternative to traditional bookmarking and is a great way to stay social in a new way, discover new websites, and organize your bookmarks better. With RainDrop's browser add-on supporting 5 browsers, RainDrop is sure to satisfy your bookmarking needs.