Stunning Business Card Designs for a Lasting Impression
If you are asked to recall your favorite business card, I bet you don't have an answer for it. No worries, me neither because who notices the generic look for business cards? Fact of the matter is, for many people, their business card is also a promotional tool for them, particularly when they are not attached to any organization – and some of them are really great attention-grabbers.
While most of us will fall back on a business card template or the minimalistic style, after going through all the considerations required of the card that will sell your services for you, sometimes it's good to just let down your hair and have fun with it.
In this post we will show you 15 business cards that are anything but regular or normal. These cards will make you want to play with them.
Bentply
Richard's Bentply business card lets you play a paper folding game while learning about the brand, talking about efficiency!
Image Source: Richard C Evans
Cardapult V2
If you want your business card stand out from the rest, congrats, this Cardapult card is available for purchase.
Image Source: Cardnetics
Easel
Want your client to keep your business card on their work desk? Give them a reason to.
Image Source: Egil Paulsen
Frizitka
Let your fashion sense run wild with Frizitka, a hairdresser company. They are definitely having fun with their business cards.
Image Source: Igor Perkusic
iPhone
Someone's an iPhone and Facebook fan. One does not simply laugh at this card without touching on it.
Image Source: Beasty Design
Junpiter Futbol
Sports companies, here's an idea to steal for your business card. Bravo!
Image Source: Bravo Company
Krakatua Greeting Card
I doubt people will forget these 3D business cards once they played with it.
Image Source: yienkeat
Web Design Harlow
I will not be surprised to hear this web design company getting more business.
Image Source: We Are Sweet
Mais Pilates
While this is certainly an entertaining toy, it also perfectly explains the core benefits of doing Pilates: to develop better posture and flexibility.
Image Source: Marketdata
Mogibo
Now your potential client is not only going to remember your brand, but also your face for a great time to come.
Image Source: Mogibo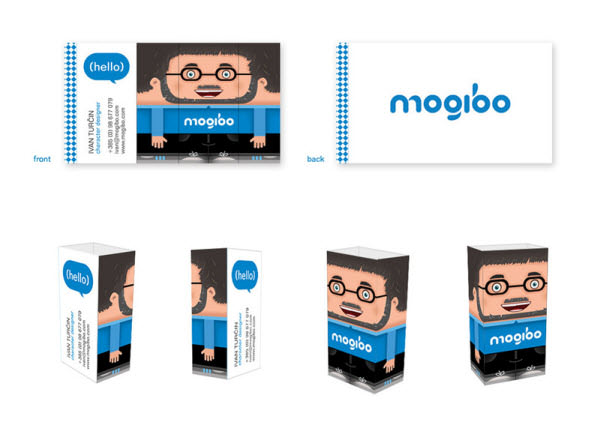 Gabe Ferreira
Why make a business card when you can just print the brand out?
Image Source: Gabe Ferreira
Ninja BTL
The only problem with this business card is the receiver will throw it around, for fun!
Image Source: Ninja BTL
Sparkle Labs
Sparkle Labs just used its electronic kit product to build business cards. Pretty expensive, but it is going to be the most impressive one you would ever receive. Light 'em up.
Image Source: Sparkle Labs
Penny Shooter
"Shoot pennies with my business card!" I doubt if saying this will bring me any business but hey, nobody hates a penny shooter.
Image Source: Cardnetics
Tiny Pants
You don't need to read the business card to know what this company is delivering. Maximum marketing effectiveness.
Image Source: Bravo Company