20 Amazing Stuff You Can Make With 3D Printers
If you can print in 2D, can you print in 3D? Well, the technology is already here. You can print out 3-dimensional objects based on a working template, and they aren't just for show. They actually work! Manufacturers can provide you with a template where you can print a broken part of a machinery, let's say, a screw, rather than order then wait for a replacement to come in.
Alternatively, you can make a model replica of an expensive car, like a 1960 Aston Martin DB5 in a 1:3 scale then crash and burn it for entertainment, like how the makers of the James Bond flick, Skyfall did.
3D printing is made possible by fusing layers upon layers of materials made from durable plastics and metals based on a template, designed with a 3D Computer-Aided Design (CAD) software. Each layer is about 0.1 mm thick and consist of liquid, powder and sheet materials.
With this technology and a 3D printer, you can create designs or print 3D models of just about anything under the sun, provided you have the templates. Just to give you a taste of what 3D printing can do, here are 20 amazing masterpieces made from 3D printing.
1. A Working Gun
In the past, 3D printed firearms easily break after firing a few rounds. However today, non-profit corporation Defense Distributed offers users to download the necessary files to print your own firearms provided you have a 3D printer at home.
Here's a video of one of their creations firing at semi-auto and full-auto modes.
2. 3D Printed Acoustic Guitar
Scott Summi created the world's first 3D printed acoustic guitar, which means the rest of us now know it can be done.
With 3D printing, guitars can be made with plastic, complete with the metal soundhole cover and heel joint. Apart from making working musical instruments, avid guitarists can also make a 3D replica of the guitars of their favorite musicians or idols.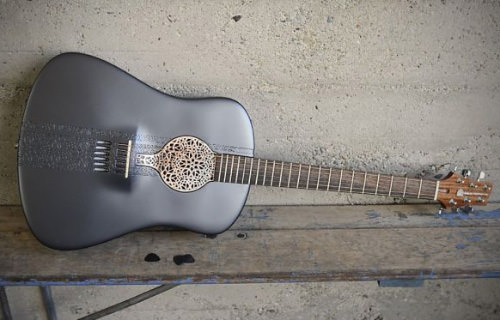 3. Hand-made Camera Lens
A camera lens is complex to create, but with 3D printing you can make your own lens and even stumble upon some creative and unique results.
The creator of this camera lens used acrylic to replace the glass on the lens and other tools and machines to combine the many small parts together. And best of all, the lens works! Check out these few pictures taken with 3D printed lens.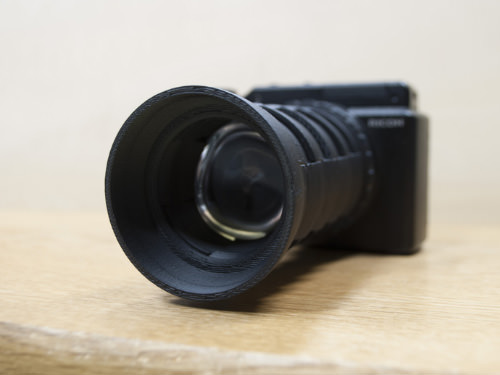 4. Shakuhachi Flute
This is a beautiful Japanese flute made out of stainless steel, 3D printed. It comes with a few different finishes such as gold plated matte or glossy and antique bronze matte (pictured below). The flute is 9.4 inches long and has a tiny dragon design if you look closely enough.
You can buy this beautiful music instrument for $239.95. Can you imagine what this means for fans of fantasy movies?
5. Rigid Heddle Loom
If you're into weaving fabric then you could create this rigid heddle loom with a 3D printer and some raw plastic material; the whole thing held together by screws. The creator used a 3D modeller program called openSCAD to design this.
History class would be a whole lot more interesting when you can see actual tools of the trades from a period in time.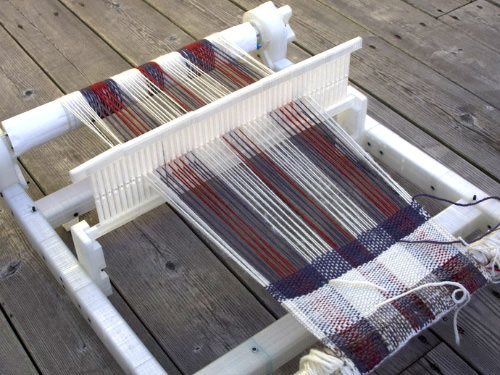 6. 3D Figurines From Children's Drawings
Ever wanted to turn one of your child's drawings into something 'real', from a drawing to maybe a sculpture? Well now you can, for 99 Euros. Your child's colorful drawing can be turned into a work of art thanks to 3D printing.
The object is about 4 inches in length and can be used to decorate your work desk or home or be used as a trophy for your kid's artistic talents.
7. 3D Fetus
"3D scans" of your unborn child is taking on a whole new meaning. Instead of a picture of your ultrasound, a Japanese company is now giving you a 'Shape of an Angel', a 3D print of your foetus for $1275. The 3D model is created by 3D processed image data with BioTexture.
8. 3D Printed Medical Models
When it comes to tech, science has to have a dab in it. With 3D printing, doctors would have a cheaper alternative to learn about the human anatomy and also be able to inject realism into surgery practice without the use of cadavers.
Since the printing of these medical models is so accurate, surgeons can also plan a surgery on a printed model like this before the real patient goes under the knife.
9. Electric Light Shoe
This shoe filled with intricate detail and lights is 1 meter long and not a pair of shoes you can wear. It was used as an Onitsuka Tiger commercial and created with a 3D printer. The link says you can purchase it for 5879.83 Euros and keep it as a modern sculpture in your home.
10. iPhone Case & Card Holder
This creation by Janne Kyttanen might look like a well designed iPhone 5 case, but it's really more functional than that. It can also hold two cards too.
It's named the Mondriaan Case which is derived from the painter, Piet Mondrian, who liked the design of multiple horizontal and vertical lines. There are 3 colors to choose from for a price of $34.99.
11. Gear Wraps
If you like to bring your gear around with you and want it to be organized neatly, then you could buy this 3D printed Gear Wraps that can save you the hassle and time of untangling your many cables.
It can be printed in a wide variety of different colors and ranges from a price of 10 to 20 Euros depending on the color you choose.
12. Infinite Sisu – iPad Stand
This stand is inspired by a Finnish concept of determination; the little muscular 'man' holding up the iPad is pretty hard to miss. This is definitely a work of art which you can purchase at a price of $161.
It might seem pricey for an over-glorified smartphone or tablet stand, but it's the hefty price you pay for any kind of beautiful art.
13. Customizable 3D Printed Bugdroids
Android enthusiasts would love an Android figurine to display on their desks, but what's awesome about these 3D printed ones is that they have custom themes to describe your personality.
There are 25 designs to choose from for a price of $21.99; if you don't find something that describes you, there is the option to customize your own Bugdroid at a starting price of $29.99.
14. Hanging Light
From the same person who created the iPhone 5 case above, here is the Palm Lamp. Janne Kyttanen created this eye-catching work of art which comes in a variety of sizes. Use it as part of your decor, as a standing lamp, a table or ceiling light fixture.
15. Kaleidoscope Clock
Here is a two-piece 3D-printed clock, which comes in two parts, Part A and Part B. The clock is split into 2 'faces', the purple numbered face and the design face behind it.
With a few instructions, you can put the two together and have it up and running in no time. The white Kaleidoscope Clock kit is available for a total of $51 or a black one for $61.
16. 3D Anatomica di Revolutis Sculptural
This work of art is the creation of one of the most recognized 3D printing designer Joshua Harker. It's printed with polyamide, a combination of nylon and glass fused together with a laser. Check the link out for more close-up photos of this fascinating and intricate creation.
17. Coffee Cups
These are espresso coffee cups printed out of Glazed Ceramics. The printing process takes almost a full day, and the One Cup a Day project aims to design and create 30 unique cups in 30 days. You can purchase their creations from this website where prices range from $36 to $77.
19. 3D-Printed Fabrics
Designer Jiri Evenhuise worked together with Janne Kyttanen to make the needle and thread obsolete by using a software that collects a person's body data to instantly create perfect fitting clothing.
This type of technology is recyclable, requires less labor, shortens production time and ultimately lowers the carbon footprint for a greener way to create clothing. Plus, you can be sure that clothing you buy online can fit you like a glove.
20. 3D Printed Bikini – N21
This high-tech bikini is made from Nylon 12, a strong, flexible and 0.7 mm thin material that is waterproof. Because of this, the creators said it's ideal for swimwear and actually becomes more comfortable when exposed to water. This futuristic 3D clothing costs $200-300 and can be ordered from this website.