10 Mobile Apps for Better Driving Experiences
While we don't suggest that you use your smartphone while you are driving in your car, there are plenty of apps that can actually help you handle your vehicle. In this list, we've got for you a collection of 20 mobile apps to help you get the most out of traveling with your vehicle.
From displaying traffic conditions to finding parking spots, locating the cheapest gas stations near you or remembering where you park your car, there is bound to be an app on this list that will meet your driving or traveling needs.
We tried our best to locate the many different platforms the apps below are available on but do take note that a lot of them only work within the United States. If you are looking for a navigation app that works offline though, you can try out OsmAnd or find other apps in this list of 60 mobile apps to take with you on a road trip. Know of more handy apps? Let us know in the comments!
GasBuddy
This is a handy app for smartphone users who reside in the US or Canada. GasBuddy can help you locate the cheapest gas stations near you. Just key in your city, state or zipcode and you'll be provided with a list of gas prices for your area. The prices are submitted by GasBuddy users. When you post gas prices you come across, you stand a chance to win prizes. [Free]
Platform: iOS
Waze
With a community of 50 million users, Waze is a must-have to stay on top of what is happening on the road. With this app, you will get access to things like up-to-date traffic conditions, live-routing and maps, comprehensive voice-assisted navigation, alerts about road hazards, and even notifications when a Facebook friend is heading towards the same destination. [Free]
Platform: iOS
INRIX Traffic
INRIX Traffic is one handy app for maximizing your chances of arriving at your destination in time. With this app, you can see traffic conditions of more than 6.4 million kilometers of road, get all the relevant traffic news, find out the quickest route to get to your destination, and much more. [Free]
Platform: Android
Find My Car
Find My Car is a simple but useful app that makes use of GPS services and Internet connectivity to help you find your way back to your parked car. The latest version of the app also comes with a feature that enables you to look for your car with augmented reality technology. [Free]
Platform: Android
Craftsman Garage Door
Craftsman Garage Door Openers allows you to you can control your garage door with an app and AssureLink Connectivity. With that set up, you can open or close your garage door anytime, anywhere, even if you are not home. You can also set it to alert you if the door is opened or closed by someone else. A separate plugin allows you to turn the garage door light on and off. [Free]
Honk
Can't seem to remember when your parking meter is about to expire? Honk is an app that not only shows you the way back to your parked car, but also lets you know how much time you've got left before the time on the parking meter runs out. [$0.99 | Free]
Platform: iOS
FYI Mileage
FYI Mileage is a user-friendly app that makes keeping track of both your personal and business mileage a much simpler task. It comes with features such as exporting reports through email/Wi-Fi and support for more than one driver or car. [$2.99]
Platform: iOS
Parkopedia
An encyclopedia for parking spots, Parkopedia has coverage of more than 25 million parking spaces in close to 30 different countries. Definitely a handy app for making sure you don't overlook any available parking space in the area you are in. [$1.99]
Platform: iOS
Taxmileage
If you're looking for an easier way to keep track of your mileage for tax return or reimbursement purposes, Taxmileage is an app that should meet your needs. It has a long list of features that include generating reports, automatic backups, real-time tracking with GPS, and support for more than one user. [Free]
Platform: Android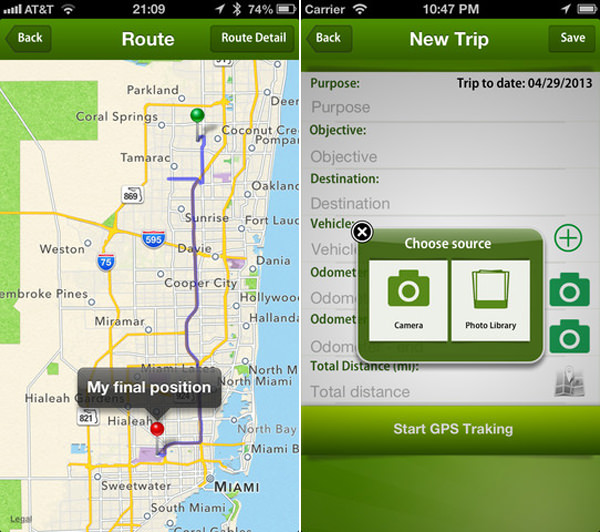 Speedometer Speed Box
In Speedometer Speed Box, you have a quick and easy way to check if your car's speedometer is indeed working properly. The app also has other features such as calculating average/max speeds, giving speeding alerts, GPS functionality, and calculating distance traveled. [Free]
Platform: iOS