Wondershare Dr.Fone Version 13 Review (2023)
Explore Wondershare Dr.Fone for iOS: from data recovery to password management. Our review highlights its key features and pricing, guiding your informed decision.
Smartphones are a big part of our daily life. They hold important information and are how we talk to people. It's very important to keep them working well and keep our information safe.
Wondershare Dr.Fone is a tool that helps with this. It has features like saving data and helping with common phone problems. Let's see what it offers.
Before we dive into the review, let's know a little about the people who made the app…
About Wondershare
Wondershare started in 2003 and has become a well-known name in the world of software. They focus on making creative software that's easy to use. People from over 150 countries trust them. Wondershare wants to help people be creative and come up with new ideas.
Wondershare Dr.Fone Features:
The Dr.Fone app is available in two different bundles: Dr.Fone Basic and Dr.Fone Full Toolkit. Each bundle comprises a different set of tools / features. In the following, we will discuss each of the tools and the bundle to which they belong.
1. Phone Manager
Summary:
Perfect for people who want complete tools to manage their phone.
Part of Dr.Fone Basic, together with the 'Phone Backup' and 'Screen Mirror' tools.
Works with: iOS, Android.
The Phone Manager is an easy-to-use tool that makes managing your phone simple. It lets you move music, ringtones, and other files between your phones and computers without needing iTunes. It also helps you tidy up your phone by putting together duplicate photos and songs to free up space. Plus, you can back up, share, or delete many apps all at once.
If you use social media a lot, the Phone Manager lets you see, save, and print messages and pictures from apps like WhatsApp, LINE, Kik, and Viber. It also makes dealing with your contacts and texts easy. You can move, change, or delete contacts without any trouble.
There's also the Phone Companion feature which allows wireless sharing between devices. This means you can get messages and notifications from apps on your iPhone or iPad straight on your computer.
2. WhatsApp Transfer
Summary:
For people who want to easily back up and move their WhatsApp chats between devices.
Part of the Dr.Fone Full Toolkit.
Works with: iPhone, Android.
This tool is great for anyone using regular WhatsApp or WhatsApp for Business. It lets you move and save your WhatsApp chats without any trouble. If you're getting a new phone or bringing chats from two phones together, this tool helps you transfer all your messages and their attached files between both iPhone and Android. This includes all chats, even those for business on WhatsApp and GBWhatsApp.
It's easy to save your chats, and it's more than just keeping them safe. You can see the saved chat, look at certain messages, and even save specific chats to your computer as PDF or HTML files. When you want to, putting these chats back on your phone is easy.
3. Phone Transfer / Switch
Summary:
Makes moving data between different phones and systems easy.
Part of the Dr.Fone Full Toolkit.
Works with: iPhone, Android.
The Phone Transfer tool lets you easily shift your important files, including WhatsApp chats, from one phone to another. It works with many systems, like iPhone and Android. You can move pictures, contacts, texts, and your favorite music with this tool.
Phone Transfer works with over 8,000 devices from big brands like Apple, Samsung, and HUAWEI. Depending on the phones you're switching between, you can move up to 12 different kinds of files. Like, if you're going from an iPhone to an Android, you can shift pictures, videos, contacts, voice recordings, and even the settings for your alarms. Plus, if you're moving between two Android phones, you can even take your apps with you.
4. Data Recovery
Summary:
For people who want to get back lost data from their phones or backups.
Part of the Dr.Fone Full Toolkit.
Works with: iPhone, Android.
The Data Recovery Tool lets you recover different types of data from iPhones, iTunes, and iCloud. This includes pictures, WhatsApp chats, and more.
Using the "Selective Recovery" feature, you can pick exactly what data you want to restore, so you won't accidentally replace any new files. Before recovering, you can use the "Preview Lost Data" option to look at the data for free. Once you're sure, you can either put important items like texts, iMessages, contacts, and notes back on your iPhone/iPad or save them on your computer to keep safe or print out.
5. Screen Unlock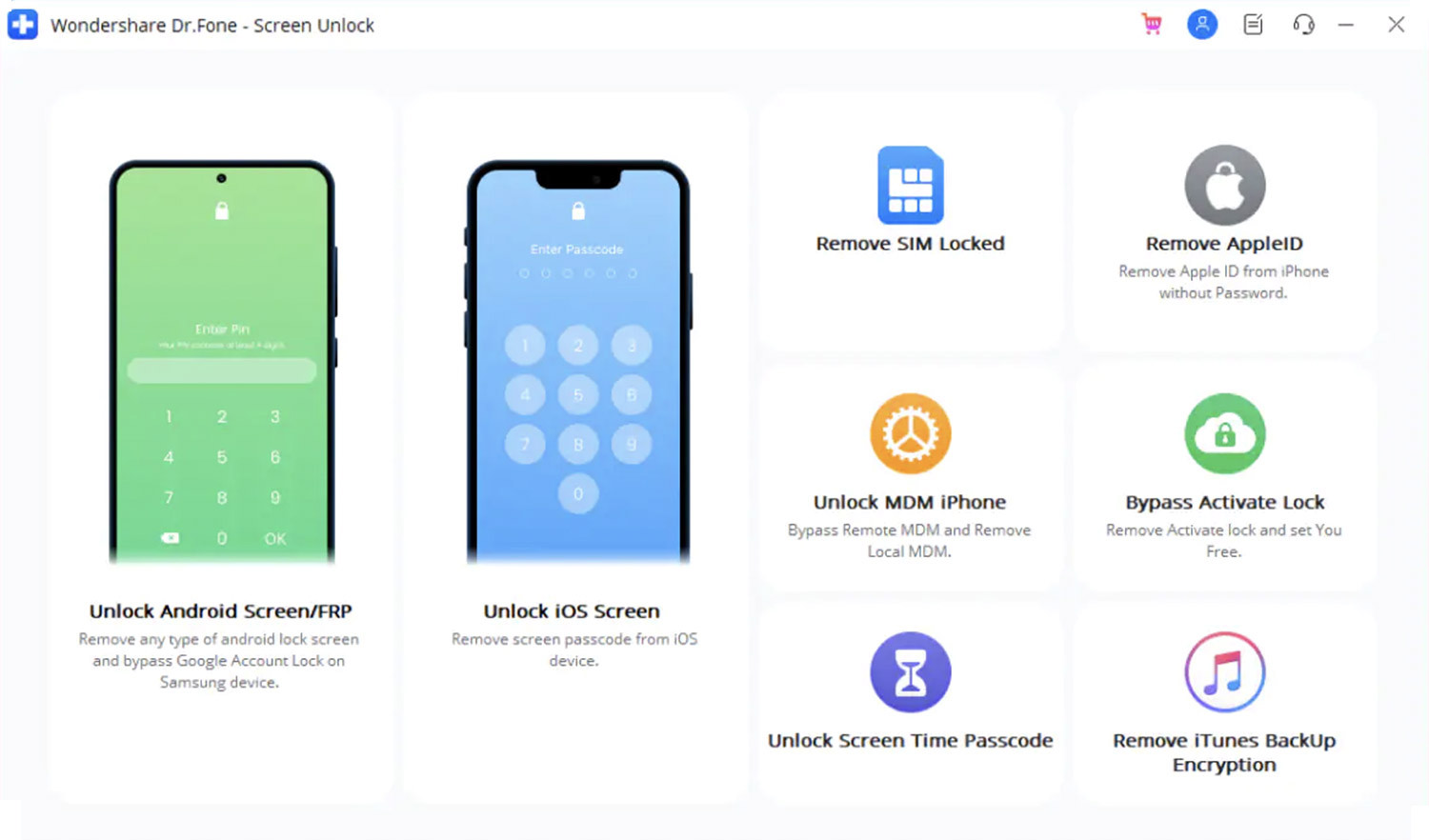 Summary:
For people who can't get into their iPhones or have iCloud issues.
Part of the Dr.Fone Full Toolkit.
Works with: iPhone, Android.
If you're locked out of your iPhone, iPad, or iPod touch because you forgot the passcode, Screen Unlock can help. It works with many passcodes, from the usual 4-digit or 6-digit ones to Face ID and Touch ID. If you have custom or Screen Time Passcodes, this tool can get you back in without needing to be a tech expert.
If you have problems with an iCloud lock, maybe because you forgot the password or bought a used iPhone, Screen Unlock can help. It can get past the iCloud lock, letting you set up the phone with a new Apple ID. If you can't use iCloud or other Apple services because you lost the Apple ID password, Screen Unlock lets you get past the Apple ID lock, even if "Find My iPhone" is turned on.
6. System Repair
Summary:
For people having problems with their phone systems.
Part of the Dr.Fone Full Toolkit.
Works with: iPhone, Android, and iTunes.
If your phone shows the Apple logo too long, restarts by itself, gives the 1110 error, or has other system issues, the Dr. Fone's System Repair tool can help. This tool lets you both update and go back to an older system without breaking any rules.
It can fix common problems like a screen that's all white or black, or a phone that restarts a lot. If your iPhone gets stuck while starting or freezes a lot, this tool can help with that too.
To use it, you just connect your phone and follow the steps given. In a short time, your phone should work better. But remember, going back to an older system depends on Apple still supporting that old version.
7. Data Eraser
Summary:
For people who want to delete data fully and make their iPhone work better.
Part of the Dr.Fone Full Toolkit.
Works with: iPhone, Android.
Data Erase makes sure your personal stuff, like messages, contacts, pictures, videos, and chats from apps like WhatsApp and Viber, is fully deleted. It cleans your device well and removes files you don't want, making your iPhone or iPad faster.
When you delete data with this tool, it's gone for good. You can't get it back, not even with special recovery tools.
This tool can also make your iPhone faster by getting rid of data you don't need. It cleans out short-term and system trash files. It can even make photos smaller without making them look worse, saving up to 75% of the space they take up.
8. Password Manager
Summary:
For iPhone users who want help with managing passwords.
This is its own app.
Works with: iPhone.
This tool does everything you'd expect from a password helper. If you need to find your Apple ID, email passwords like Gmail or Outlook, or passwords for social sites like Facebook and others, it can help. It can also tell you your Wi-Fi password and screen time codes. Plus, you can see, share, and handle all your passwords easily.
Wondershare Dr.Fone Prices:
Let's talk about how much this app costs. Wondershare Dr.Fone has two choices: Dr.Fone – Full Toolkit and Dr.Fone Basic. The Full Toolkit gives you all the features, but the Basic choice gives you fewer. For a full list of what's in each choice, check the info above.
You can try each feature for free before you buy it. You can also buy features one at a time. For more details, check this page.
Dr.Fone Basic: $39.95/year or $49.95 to own it forever.
Dr.Fone – Full Toolkit: $99.95/year or $115.95 to own it forever.
When you get the Dr.Fone Basic or Dr.Fone – Full Toolkit, you get a 1-year use of Dr.Fone Air for free. This app lets you share your screen and files between phones and computers online.
Download Dr.Fone for: