Mixxtape: The High-Tech Music Player with a Retro Twist
Once upon a time, the cassette tape was one of the early technologies that shaped today's digital media world. Unfortunately, as time went on, the cassette tape was replaced by the far more portable CD, which in turn was replaced by the modern day digital audio player.
While the days of the cassette tape are most definitely over, a company called Mixxim is looking to update the format for the modern day user. The result of that update is the Mixxtape, a cassette-shaped digital audio player that doubles as a fully functional cassette tape.
Read Also:  10 Best Music Apps for Android
For the digital audio player part of the Mixxtape, the device comes with a memory card slot that allows the user to use a microSD card of their own. Once the card is inserted, the Mixxtape would then proceed to play music from it.
As for supported music files, the Mixxtape is capable of playing a wide variety of modern day music files such as the standard MP3 and lossless file formats such as FLAC.
Controlling the Mixxtape is pretty simple as well, as it comes with a built-in LCD display and touch controls. The Mixxtape also comes with Bluetooth 3.0, so you can choose to broadcast your music to a Bluetooth speak. However, if you're looking for a more traditional experience, the Mixxtape does sport a 3.5mm headphone jack.
The battery life of the Mixxtape is pretty impressive as well, as it can provide up to 12 hours of playback. Once the battery is drained, it can be fully charged within an hour.
However, what makes Mixxtape standout among the other digital audio players is its capability to function as a normal cassette tape. With the Mixxtape, the creators have chosen to implement a magnetic head, which replaces the magnetic strip that can be found on a standard cassette tape.
With it, the user could simply pop this thing into an old school cassette player, and the player would be able to play it like a normal cassette. Of course, whether or not one still owns a cassette player is a different matter altogether.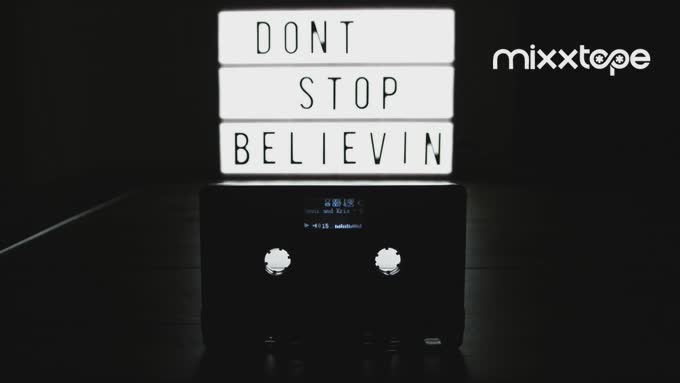 As of the time of writing, the Kickstarter project for the Mixxtape has reached its funding goal of 10,000 USD with 14 more days to go. Those interested in grabbing one of these devices will need to pledge at least 40 USD, and can expect to receive their devices by November 2017.