iPhone 4 Accessories: 30+ Unique Cases and Sleeves
Most people are no longer buying cases and pouches simply to protect their iPhones; we want something which we feel good having. Much as having an iPhone versus a Blackberry or a HTC phone gives a statement about the kind of person you are, you might still wish to stand out from the growing iPhone crowd and claim an identity for yourself. One way to do that is to personalize your iPhone by equipping it with a casing or pouch that represents who you are. You may go for the cutesy cartoonish ones, the no-nonsense businessman kind or the geeky techy style – it's all up to you.
With the surge in iPhone ownership over the past few years, it's not surprising to find that there is now a large variety of iPhone casings and pouches in the market to cater to iPhone users. Apple is all about creativity, so iPhone users like myself crave originality in designs more than anything else. The list below consists of some of the most striking designs I could find on the market in terms of its aesthetic and protective functionality, and perhaps most crucially, the overall feel of it. Do check out the source of the casing or pouches if you are interested in purchasing them!
Casings
Grip Ergo with StrapThe cool wavy texture on this rubber casing reduces the chances of slipping your iPhone 4 out of your hand by providing a safe and secure grip. (via Belkin)
CrystalRoc Swarovski Iphone 4You'll like this if you crave for the glamor lifestyle with shiny glittering crystals on things you own. (via CrystalRoc)
Designer Steampunk iPhone 4 Cogs and GearsThe beautifully crafted design on this casing oozes a feeling of elegance and exquisiteness to your delicate iPhone 4. (via CWestbrookDesigns)
GeoMetric CaseLife is not perfect; not everything we see is as smooth as we want them to be. This case says it all with its asymmetrical textured side which makes it unique from the rest of the casings we see every day. (via Speck)
ToughSkin CaseWhether you are an adventurer who loves outdoor activities or the careless person who drop or bump your phone countless number of times, this ToughSkin case is your defense against physical abuse of any sorts to your iPhone.
DeflectorSmooth and clean design brings out the simplicity in you. (via Uncommon)
ZeroChroma TeatroA rather functional piece of casing that enables users to place their iPhone upright with a built-in stand at the back. Great if you are watching movies on your iPhone on your desk. (via Art of the iPhone)
Trident Cyclops Hybrid CaseLooking for a case that offers maximum protection? Then the Cyclops case is for you, with its hard shell for both the front and the back of the phone, topped off with a silicone rubber band to protect the edge.
The New Vapor Pro Limited EditionThis is one of the most pricey casing around, but it might well be worth it. It's light, stylish and safeguards your phone against scratches and negligent mechanical damages. Dig this, it even has an aerospace polymer insert to counter potential connectivity issues you have when you grip your phone. (via Element Case)
Perforated Snap CaseSome of us may be concerned that certain casings trap heat and drain the battery life out of the phone. Well, this perforated case probably reduces that likelihood. (via Incase)
iWood 4 CobraThis polished wood makes a very refined casing for your iPhone. It's a play of contrast between your hi-tech phone and the traditional woodpiece as your covering. (via Miniot)
Stacks CaseThis case offers customization by allowing for the flexibility to stack six different colored pieces to your own preferences to create your own distinctive modern design. (via Case-mate)
Waddler CaseA penguin-inspired theme for your iPhone casing, available in different colours.
Quartet CaseAnother customizable casing which you can connect four different, interchangeable colored pieces to create your look.
Facets CaseGeometrical patterns on a slim case gives a very modern feel to your iPhone.
Black Retro Cassette Tape Silicone CaseReturn in time to the decades before 2000 when cassette tapes were the primary medium for transmitting music to your earphones from your walkman. (via Blue Unplugged)
Pouches
Hoodie SweaterEven iPhones want to make a fashion statement by suiting up this hoodie sweater. (via SplashingKoi)
80's Retro Mix Cassette TapeGo Retro: Conceal your iPhone within a cassette tape inspired outer pouch. (via Coolbeans717)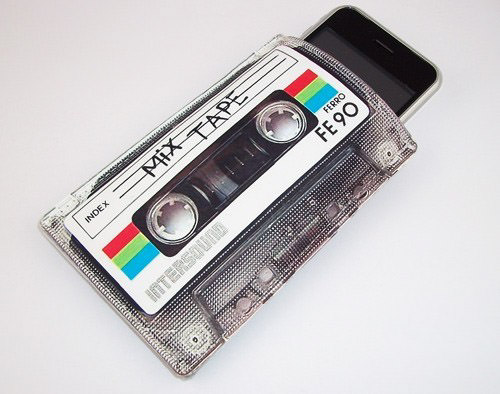 Bacon and EggA very cute pouch to remind you of what you have for breakfast every morning. (via Antjes)
Denim Gadget CaseA DIY pouch made solely from your old, worn-out Levi jeans! (via Instructables)
DomoCan't get enough of everyone's favorite monster, Domo? Get this adorable pouch and amuse your friends each time you need to check your messages on your iPhone. (via SydneyAngel)
BENDER FuturamaFor those of you who are fans of Futurama, you'll identify this pouch as the face of Bender Bending Rodríguez. The amazing thing about it is that it is hand-made from high-quality wool felt blend, so you can be sure it will feel good on your hands. (via Nokomomo)
NES Nintendo Entertainment System Control PadRemember back in the 80s' when NES Nintendo console was the 'in' thing? This will definitely send you reminiscencing those times you spent playing Super Mario all day long. (via EgoorEngland)
GameboyYet another pouch to flood you with memories of your younger days. Before PSP and iPhones, we had gameboy.
Grey DomoInstead of the original brown Domo, how about a gray one?
Monochrome AppleThe ultimate Apple fan will want everything they use to represent Apple. This monochrome Apple pouch brings you closer to that goal.
1UP Mario MushroomEveryone remembers those delightful mushrooms in Super Mario. This is available in various sizes for your Kindle, iPod, etc as well.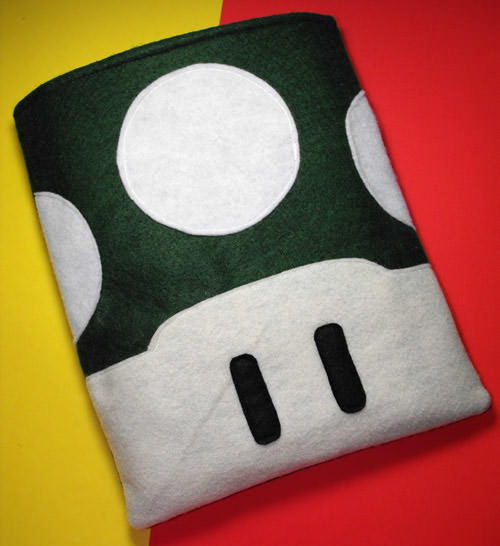 PlaystationThe classic first-generation gray Playstation and its analogue controller. (via Rabbitrampage)
Xbox360For all you Xbox360 fans, this is a very detailed design using felt.
Sushi Bento Box Japanese CuisineWho would have thought of seeing sushi on your iPhone pouch? This'll definitely draw curious stares and start conversations. (via Coolbeans717)
Light Blue PhoneCute little blue classic phone inspired pouch to contain your, well, iPhone. (via Hine)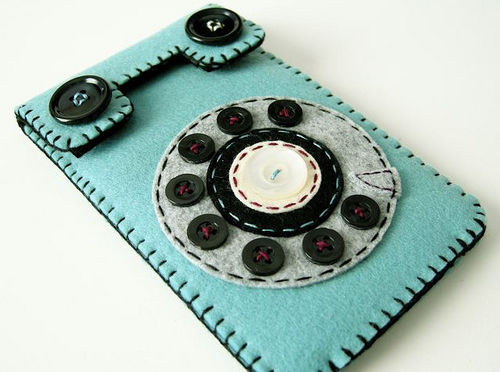 Gray & GrayThis one's a phone too, but includes a lovable cat figure and it's in gray.
Red EnvelopeInstead of a pouch, why not use an envelope to seal your iPhone? Think out-of-the-box. (via Vintage Coquette)
Red and TanHow about a red and tan manila envelope to enclose your iPhone with?