iOS 8: 20 New Features and Tips
If you're an iOS user and have recently upgraded to the latest iOS 8, you may be confused as to what is actually new. You are not alone. Like most of Apple's previous updates on its operating systems, whether it's for the desktop or mobile OS, the latest iOS 8 hasn't really had a major overhaul in terms of its user interface.
However, there are still plenty of new features and functions that come in quite handy. We've had a go for ourselves and have been playing with this new iOS upgrade for awhile now. The result? We've handpicked 20 new features and tips that we think you should know about the new iOS 8.
38 iPhone Tips & Tricks You Should Know
38 iPhone Tips & Tricks You Should Know
Your iPhone is nothing less than a magical device that can do hundreds of functions and substitute many... Read more
1. Sharing Photos And Videos Is Easier
The new OS makes sending photos and videos via the Messages app a lot more convenient. Just click once on the camera icon (located at the bottom left) and you are able to share multiple recent photos. You can even add a comment to the photos you send. Alternatively, if you click and hold the same camera icon, you can immediately take a photo or video and share it with your friend right away.
2. Send Audio Through Messages
If you're a regular user of WhatsApp, LINE, WeChat or other messaging services, sending audio messages is nothing new. However, it's good to know that Messages now has this function as well. Just tap and hold to record your audio message. Tap again to replay the audio message, or click the cross icon to cancel, or the Arrow Up icon to send.
3. Listen To Your Audio Messages Discreetly
Listening to your incoming audio messages and replying to them can be done in a private and discreet manner too. All you have to do is raise your phone as if you were answering a normal phone call. This feature can be turned off and on under Settings > Messages > Raise to Listen.
4. Changes To My Photo Stream
In the latest iOS8, Apple has made some changes to My Photo Stream. The My Photo Stream folder has been removed from your Photos app. From now on, all your new photos will be automatically synced across all your iCloud devices when connected to Wi-Fi.
In short, this means the next photo snapped on your iPhone will be available on your iPad as well as any other connected devices. The best part is there's no longer a limit of 1000 photos.
5. Mark Your Emails By Swiping
When going through emails in your inbox, you can quickly mark an email as 'Unread' by swiping to the left. You can also flag it, or access more options by swipping to the right.
If you want to customize the swiping options further, go to Settings > Mail, Contacts, Calendars > Swipe Options.
6. Instantly Reply To an IMessage
You no longer have to leave your home screen or a current running application. Reply instantly to an incoming message by pulling down on the iMessage notification and replying as you normally would.
7. Access Recent Contacts With The Home Button
Now when you double click your home button, you aren't just able to access the latest opened applications, you can also see a list of all the people that you recently contacted. Click on their profile picture to call, message or Facetime them.
8. Capture Time-Lapse Videos
Besides capturing square, slo-mo, panoramic photos and videos, the latest iOS 8 allows you to take time-lapse video, a feature very similar to Instagram's latest application – Hyperlapse. At the moment though, the time lapse feature is a little basic, as there's no control over the frame rate.
9. Set A Timer For Your Photos
Another small feature that's been added is one for photo taking. You can now set a timer of 3 or 10 seconds for your snapshots. This would probably be something ideal for those who love to take selfies and for group photos.
10. More Photo Editing Options
There are also more options when it comes to editing photos shot with your iPhone or iPad. On any photo you want to edit, click Edit to crop, add filters or edit the colors.
11. Easily Find Out The Name Of A Song That's Playing
Hear a song that you like and am itching to find out the song title? All you have to do is just click and hold the home button. Then ask Siri, "What song is this?", she'll give you the answer right away.
12. Battery Usage Data
For Android users, this is probably nothing impressive. For the iOS users, rejoice as Apple has added in Battery Usage data. This will be able to give you an idea of the applications that are utilizing battery power the most. This information can be pretty useful for battery life optimization. Find out your battery usage at Settings > General > Usage > Battery Usage.
13. 3 New Native Apps
There are now 3 new native apps that come installed with the new iOS8. They are the Health app, iBooks and Tips.
14. Organize Your Messages
If you're someone who likes to keep their Messages app clean and organized, this may be of interest to you. That's right, the latest iOS8 allows you to purge your text messages. You can choose to keep them forever, or delete them after 30 days or after a year. You can access this feature via Settings > Messages > Keep Messages.
15. Instant Notification For Emails
Have an important email thread that you need to constantly get updates on? Now you can get instant notifications instead of waiting for that push notification. Just go to the specific email that you want to be up-to-date with, click on the flag icon (on the left), and select 'Notify Me'.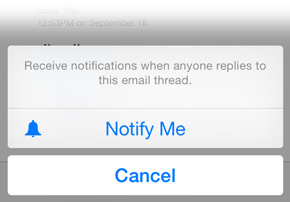 16. Locate Your Phone As Your Battery Is Dying
A dying battery is not something you want when your iPhone gets lost, or worst, stolen. By turning on both the 'Find My iPhone' and 'Send Last Location' feature, your last known location will be sent via icloud.com. Handy right? To turn it on or off, access it at Setings > iCloud > Find My iPhone > Send last Location.
17. Share More Things With Your Family
With the new update, you can invite up to 6 family members to share all songs, movies, books and apps purchased within the iTunes store. Once an item is purchased, downloaded and shared, all family members will be able to access them for free. If you rather not, you can also keep specific items private. Click here to learn more about family sharing.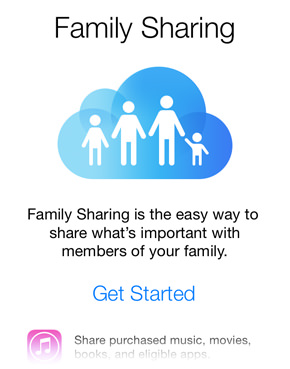 18. More Functions With Notes
Taking down notes in iOS gets better. You can now add images to your notes. What's great is that you can even resume editing your notes on your Mac and the changes will reflect instantly on your iOS's notes.
19. Switch Between Emails With Ease
Isn't it annoying when you're trying to compose an email in the Mail app and can't refer back to the previous email? Apple has resolved that issue. In the new Mail app, if you are composing a new email, you can easily switch between your draft and your Inbox. If you are replying an email, you can switch between your reply and the previous email.
20. The Compatibility Check
Last but not least, you want to make sure that your device is compatible with this new software update. Here is a list of all the devices that iOS 8 is compatible with:
iPhone
iPhone 4S
iPhone 5
iPhone 5C
iPhone 5S
iPhone 6
iPhone 6 Plus
iPad
iPad 2
iPad 3rd Gen
iPad 4th Gen
iPad Air
iPad Mini
iPad Mini with Retina Display
iPod