The Very Best of Hand Painting Art [PICS]
The human hand is a work of splendour. It is also a tool that can create other marvellous work as well. Take for instance the art of Hand Painting. Using the hands as part of the final artwork itself, hand painting breathes life into a piece of art through movement, the surface of the skin or the lines on the palm.
In some cases, it makes you look at art from a different angle, especially when it comes to the use of the hand as a canvas. At times it is pronounced, other times the hand disappears into the artwork like an optical illusion. The following are just some of the examples of how talented artists deliver their art with their hands, literally.
Lara Hawker
Lara Hawker is an artist in New Zealand who does a lot of face and hand art – the kind that will make you sit up and pay attention. That's not surprising since she started since she was 14. Her projects are thematic; if you want to be impressed, look at what she did for Halloween last year. You can follow her on Facebook or find out more from her Tumblr blog.
Guido Daniele
Since 2000, Guido Daniele has embarked on creating "Handimals" – the art of creating animal paintings on hands. If you have ever come across Handimals on the Internet, chances are, it is linked back to Guido Daniele. He also does plenty of other types of art and exhibitions. You can find more of his masterpieces at his site.
Mario Mariotti
Mario Mariotti may no longer be around but his hand art still prevails to this day. A conceptual artist, he transformed his hands into odd yet fascinating creatures. His book Animani is a showcase of wild fauna and flora pulled together by paint, his hands and a few household items (string, buttons).
Annie Ralli
Annie Ralli was with BBC for a decade as a scenic artist, creating and painting sets and backdrops for scenes in films shot there. Now, she creates body painting (including hands), murals and advertising copies for clients. You can see more of her work from her site.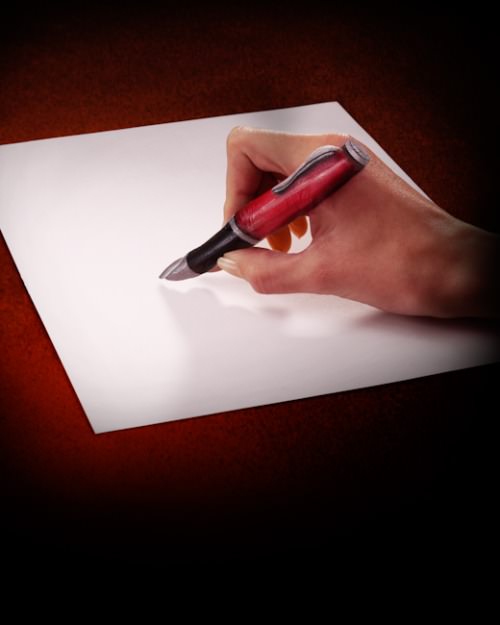 Svetlana Kolosova
A musician, poet and artist, Svetlana Kolosova likes to paint on her hands but don't that fool you into thinking that she isn't creating masterpieces. Each of her painting depicts fairy tales scenes inspired by the works of authors like Hans Christian Anderson. They take between 1 and 3 hours to complete, and she washes them off every day. Find more of her work here. Images here are from Cuded.com.