50 Beautiful Hand-Drawn Web Design
This article was published on: Jun 3, 2009.
Journeying back to the roots of design, many a web layout springs to life from humble beginnings of pen meeting paper, only to be digitized later with tools like Photoshop. Yet, in a delightful twist of trends (perhaps not altogether novel), the charm of sketch-based designs has found its way back into the spotlight. Unquestionably, hand-drawn art has emerged as a beloved trendsetter in the realm of web design, lending a refreshingly unique touch that echoes individualism.
In this post, we're thrilled to unveil 50 mesmerizing blends of hand-drawn art and web design, illustrating how this classic technique has been elegantly repurposed to breathe life into the digital landscape.
1 – K4 Laboratory
2 – Esteban Muñoz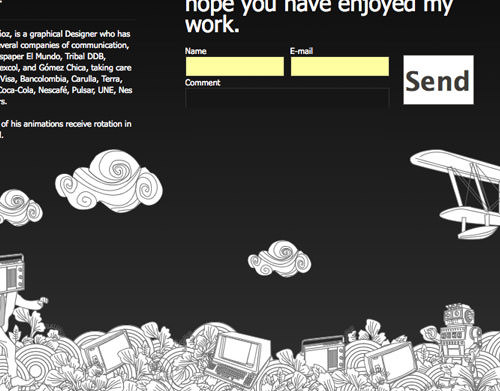 3 – Studio IMG
4 – Espuma Restaurant
5 – Agami Creative
6 – Biola Undergrad
7 – Kusoyama
8 – XM Radio – Wild Ride
9 – WeFail
10 – Web Designer Wall
11 – Dean Oakley Web Design
12 – Fat Heads Creative Studio
13 – Booma Web Design
14 – Boompa
15 – Casio Exilim Lab
16 – Bootb
17 – Richard Stelmach
18 – Dax and Alice
19 – We Are Not Freelancers
20 – Von Dutch Originals
21 – Toucouleur
22 – Simon Reynolds
23 – Teresa Walsh
24 – Satsu Design
25 – St. Francis is Happy in Greenville
26 – Flossy Yannik
27 – Pointless Ramblings
28 – Philippe Mignotte
29 – QuakeQuizSF
30 – Mplusz
31 – Christian Sparrow
32 – Matt – Multi Account Twitter Tweeter
33 – Mariska
34 – Lucuma
35 – Mikimottes
36 – Mobious
37 – Kutztown University
38 – Kitty Attack
39 – Look Designs
40 – Idiotic Adventures of Philippe and Pierre
41 – Lionite Internet Ventures
42 – Get ready to rox
43 – Elan Snowboards
44 – ARS Media
45 – It Looks Good
46 – Jesus Rodriguez Velasco
47 – Kinetic Singapore
48 – Bearskinrug