25 Awesome GoPro HERO3+ Accessories You Can Buy
GoPro founder Nick Woodman recently released its latest update to HERO3, called the HERO3+ which improved the lens among other additional features for the same price. The GoPro allows you to take awesome action sequence pictures and videos since it's small and can be easily mounted anywhere (even Superman is in on it).
However, there are plenty of accessories that can even take your GoPro Hero3+ to greater heights. From giving you plenty of mounting possibilities to letting you film underwater, some of these accessories go to extremes so you can get the most of your extreme sports experience.
Some of these accessories should even work with the HERO3 or HERO2 as they share the same mounting holes, but please check the product page to ensure it's compatible before making any purchase.
Recommended Reading: Capture Jaw-Dropping 360-Degree Videos And Panoramas
Zipmount. Here is a mount that can be mountained on bars of any size by cable tie. Its adhesive mounts are reusable, a plus compared to other similar products. [$28]
Octomask. Scuba divers can record a first-person view of their underwater encounters with the Octomask. Mount your GoPro on the in-built on top of the mask. [$79]
EasyGimbal. For stable shots with your GoPro, try the EasyGimbal. It is an electronic stabilizer that can detect the orientation of the camera and keep the camear level with built-in motors. [$619]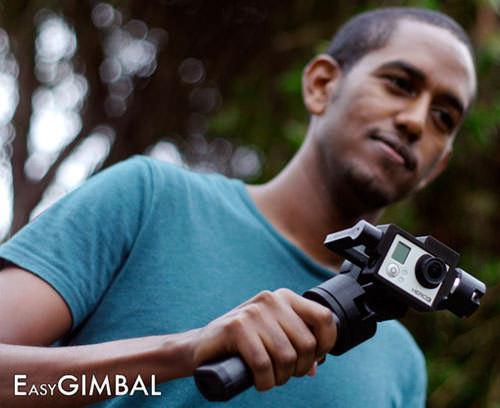 DJI Phantom 2. To take great aerial shots with the GoPro, you can use the Phantom 2 quadcopter. Your GoPro will be mounted to the underside of the drone. [$889]
Backscatter Flip 3.1. The tiny GoPro camera sensor can sometimes distort color, especially when filming underwater. With this interchangeable lenses, and color filters, you'll be able to record with more accurate colors. [$149.75]
Gun Rail Mount. For paintball, airsoft or even gun owners, this Gun Rail Mount will give you a first person view of what your gun is aimed at. [$15]
RollPro III. For GoPro enthusiasts, this field pack ensures that all your mounts, thumbscrews, cables, batteries and even cameras can be easily and securely brought about. [$79]
The Bobber. The Bobber is a 2-in-1 gadget that attaches to the mounting holes of the GoPro. Not only is it a handle for stability, it is also a floating device, great for use at sea or in your regular swimming pool. [$29.99]
GoPole Reach. This device would allow you to take great shots of yourself having fun on your adventure with the GoPro. The GoPro attaches to the end of the 17" pole that can be extended to 40". [$54.99]
Ribcage Mod Kit. This modification kit turns your GoPro into a camera that accepts interchangeable lenses, giving you a very unique recording experience. [$249]
Aluminum Housing. For a sturdier than the regular plastic housing you get with your GoPro, try out this inexpensive aluminum housing for better protection for your GoPro. [$40]
Aluminum Mounting Accessories. Mounting accessories that come with the GoPro are made of plastic, however, you can buy these aluminum third-party pieces that not only look great but are extra sturdy. [$9.95-29.95]
Fat Gecko Mini Mount. This is no ordinary suction cup mount as it gives the GoPro more flexibility with its pivoting arm and rotating head. [$39.95]
GoTough Wedge. The GoTouch Wedge is the handlebar-like device you see that allows you to mount DSLR, multiple GoPros and even LED lights. [$149.95]
Aluminum Lens Ring. Replace the standard plastic lens casing with this aluminum one that features a ring allowing you to securely tether your GoPro. [$10]
Silicone Cover. These colorful silicone covers add a little personality and safety to your GoPro's waterproof casing, protecting it from scuffs and scratches. [$19.99]
Lehmann Aviation LA100. You can mount a GoPro to this gliding, autonomous UAV drone to capture an awesome aerial view of the surrounding area. [€990]
Morpheus Stabilizer. The Morpheus Stabilizer is an all-in-one device that can function as a stabilizer, tripod, dolly, crane and slider for unique GoPro shots. [$139]
Handle Mount. For extra stability and a unique filming angle with the GoPro, the Original Handle is perfect for. Works particularly well for capturing low angle and third-person shots. [$30]
Handlebar Mount. Cyclists would love this handlebar mount that can be used on 31.8mm bars to capture all your high-action cycling shots. [$34.99]
The Arm. The arm attaches to the standard mount, extending the placement of the GoPro and giving you the ability to capture the reaction of your face as you do attempt extreme sports. [$19.99]
Cobalt Cage. The Cobalt Cage is for users who want protection for their GoPro. It also comes with many mountain holes for greater versatility for their GoPro. [$99]
Clamp Mount. Clamp and mount your GoPro anywhere to get the best angle of your antics and stunts. [$25]
Underwater Lighting Set. For scuba divers who want to capture everything they see on a night dive, this underwater lighting set with 2 powerful LED lights will do the trick. [$1099]
Floydie Wave 360. Mount your GoPro on the back of your hand, via a secure globe for the best view during your extreme sports. Great for third-person views. [$54.95]