20+ Awesome GoPro HERO8 Accessories
GoPro HERO8 is an incredible action camera with Hypersmooth stabilization, improved HDR, built-in mounting, and more. However, to use the camera to its full potential, one needs certain accessoriesaccording to one's needs.
So for this post, we have compiled a list of the latest GoPro HERO8 accessories. From protective cases and carrying bags to battery chargers and mounting straps, you'll find an array of useful stuff to take on your next adventure. That said, let's take a look at the list.
In times when you are making videos in a dark environment GoPro Light Mod can come really handy. It is an extra LED light for GoPro 8 that gives your footage smooth and even light. It comes with a built-in rechargeable battery that can last for up to six hours.
You will love its compact design that's easy to carry on the go with 4-levels of brightness with up to 200 lumens. Moreover, it is perfect for any kind of adventure because it is tough and even waterproof to 33ft.
When you are you doing underwater filming with your GoPro8, GoPro Floaty can be very useful. It is lightweight and suitable for all kinds of water activities, i.e., snorkeling, surfing, and wakeboarding.
Coloured in bright orange, surrounded by protective padding, and a wrap-around design, this coat provides all sorts of protection for the Hero 8, giving you some real peace of mind.
For selfie enthusiasts, this little accessory is a boon. It reflects the picture from the rear screen of GoPro camera making it easy for you to see yourself while taking your selfies or making your own video.
The Flip Mirror Set is compatible with GoPro Hero 5/6/7/8, and it does not need WiFi or Bluetooth connectivity. is equally suitable for vloggers while they record their videos with Go Pro and want to see how their video footage is looking like.
An official GoPro accessory, this rechargeable battery is perfect when your GoPro camera runs out of battery juice. It is a lightweight with 1200mAh lithium-ion battery which can be quite useful while filming outdoors.
For such a low price, this is certainly a must-have accessory for those who love to use their GoPro to its maximum.
When outdoors, you do not want to miss out any necessary accessory especially if you are on a professional shooting trip. So here is a large carrying case for 2 GroPro cameras and different accessories that can be super helpful in keeping your items safe, protected, and organized.
This 13 x 9 x 2.5 inches bag is equipped with foam padding with pre-cut slots to hold your gear in place, and high-quality EVA interior to provide maximum protection to your gear.
At times when you want to edit the footage captured through GoPro on your phone, this SD-card reader can be really helpful that also features a type-C USB. It is fast and easy to use and can be connected with your tablets via the USB-C connector.
The best part about Quick Key is that it pairs with Capture – the GoPro mobile app, allows you to access your content easily. Apart from that, it is compatible with all GoPro cameras and comes with a carabiner-style clip and weather-resistant cover.
GoPro is an expensive camera and owing to its functionality, it is usually used in rough conditions but that does not mean it needs no protection. Here is a set of tempered glass protectors for your GoPro's screen and lens.
It is specifically designed for GoPro Hero 8 Black Action Camera as it allows 9H hardness of the screen surface while protecting the lens from scratches, dust, and signs of wear and tear.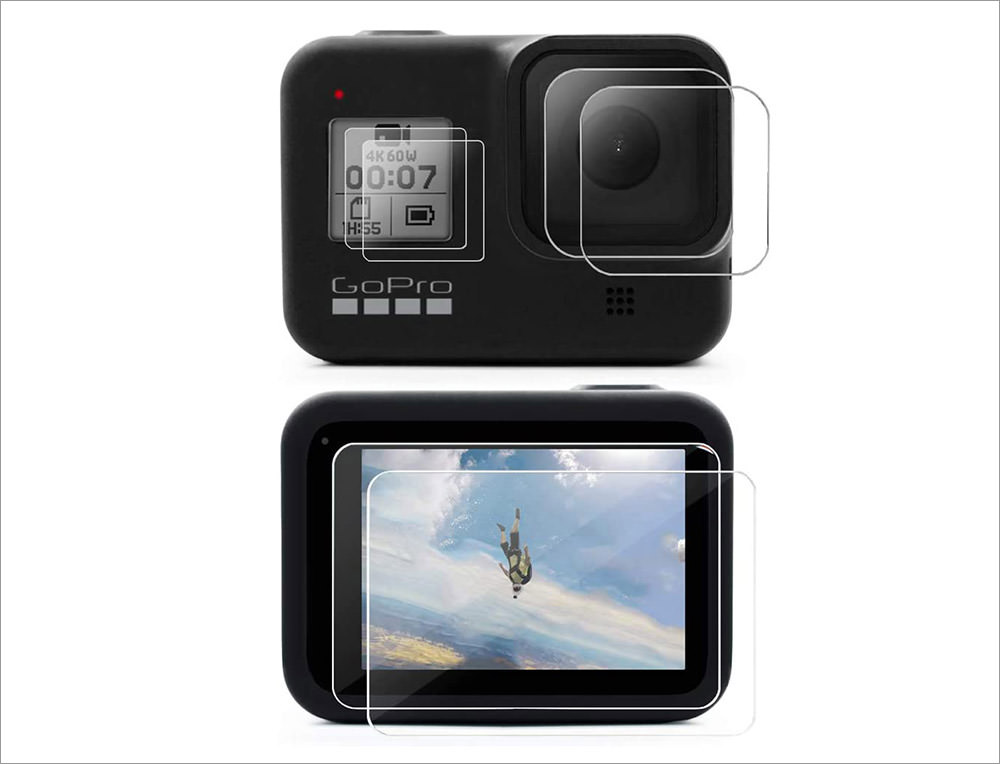 If you're working with two GoPro cameras at the same time, it can come to a point when both cameras run out of battery. In such a situation, having GoPro dual battery charger becomes life saver, because it conveniently charges two GoPro batteries at the same time.
Additionally, it charges via USB port for faster charging or via the optional GoPro Supercharger. It comes with the dual LED lights display charging status of each camera.
When you want to capture scenes from the human perspective, then the best position is to mount GoPro on your chest, and for that, the official GoPro Chest Mount is a perfect little tool.
It is a lightweight, flexibly constructed accessory that makes sure you have no issue of breathing while using it. Moreover, it is fully adjustable to fit wide body types and over heavy winter jackets. So, if you are into capturing stable, hands-free footage, GoPro Chest Mount is your go-to-product.
Just like the chest strap, GoPro Head Strap is quite useful for capturing stable footage in hands-free modes. This official accessory allows you to attach your GoPro to a backward baseball cap or other 3 millimeter to 10 millimeter thick objects.
Besides that, it can be worn over a helmet or directly on your head in a headlamp like position and it is compatible with all HERO products.
Here is a mount that can be mountained on bars of any size by cable tie. Its adhesive mounts are reusable, a plus compared to other similar products.
Scuba divers can record a first-person view of their underwater encounters with the Octomask. Mount your GoPro on the in-built on top of the mask.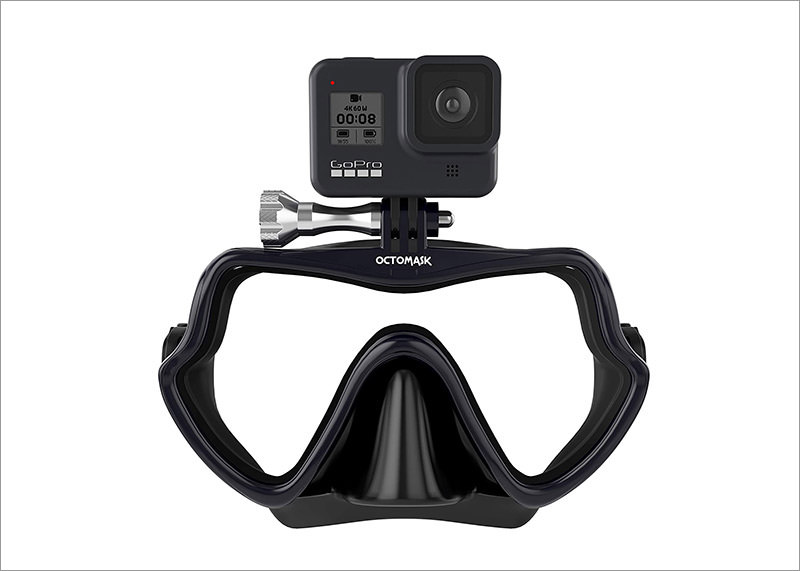 For stable shots with your GoPro, try the EasyGimbal. It is an electronic stabilizer that can detect the orientation of the camera and keep the camear level with built-in motors.
The Bobber is a 2-in-1 gadget that attaches to the mounting holes of the GoPro. Not only is it a handle for stability, it is also a floating device, great for use at sea or in your regular swimming pool.
This device would allow you to take great shots of yourself having fun on your adventure with the GoPro. The GoPro attaches to the end of the 17" pole that can be extended to 40".
For a sturdier than the regular plastic housing you get with your GoPro, try out this inexpensive aluminum housing for better protection for your GoPro.
This is no ordinary suction cup mount as it gives the GoPro more flexibility with its pivoting arm and rotating head.
The GoTouch Wedge is the handlebar-like device you see that allows you to mount DSLR, multiple GoPros and even LED lights.
These colorful silicone covers add a little personality and safety to your GoPro's waterproof casing, protecting it from scuffs and scratches.
For extra stability and a unique filming angle with the GoPro, the Original Handle is perfect for. Works particularly well for capturing low angle and third-person shots.
Cyclists would love this handlebar mount that can be used on 31.8mm bars to capture all your high-action cycling shots.
The arm attaches to the standard mount, extending the placement of the GoPro and giving you the ability to capture the reaction of your face as you do attempt extreme sports.
Clamp and mount your GoPro anywhere to get the best angle of your antics and stunts.