A Look Into: Google Experience Launcher For Android
Android KitKat 4.4 comes with a number of new features, some of which are exclusive to the new Google Nexus 5 at the moment. One of these is the new Google Experience Launcher. It brings some interesting changes, including Google Now integration and a new app drawer that separates apps from widgets, and it's almost indefinitely going to be something you can find only on Nexus 5.
Of course, it didn't take long for the new launcher's requisite .APKs to be extracted from the Nexus 5 factory image and posted online for everyone to try on their devices. If you're interested in trying Google's new launcher out on your device, read on.
5 Best Android Launchers to Download
5 Best Android Launchers to Download
A collection of 2018's best and free launcher apps for Android that help you create beautiful yet intuitive... Read more
Trying Google Experience Launcher
There are a few things to note before we start installing the new launcher.
Firstly, the Google Experience Launcher will only work on devices running Android Jelly Bean. Secondly, you will have to enable Allow installation of apps from unknown sources in your Settings to get it installed. And as always, you should also make a backup on your device, just to be safe.
Installation
To install the new Google Experience Launcher on your phone, you're going to need three .APK files:
PreBuiltGmsCore.apk – which is update 4.0 for Google Play Services
GoogleHome.apk – the actual Google Experience Launcher itself (both available in a .zip here)
The apk update for Google Search
[Note that the .zip file contains another .APK, velvet.apk. You can ignore this .APK, as it's been superseded by the Google Search update linked above.]
If you downloaded the .APKs onto your desktop, you first need to transfer them to your phone. You can use something like PushBullet, or use the old-fashioned way by connecting your device to your PC via USB for file transfer. Once the files are on your phone, navigate to the files using your file manager.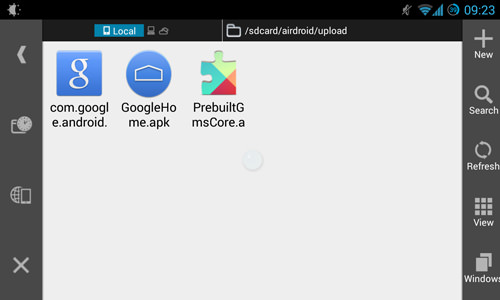 Install the files one by one. Installation order doesn't matter, just make sure you install all three. Once you've installed all three files, press your phone's Home Button and you'll be given a choice of launchers. Choose Google Launcher and enjoy.
Take note that Google Experience Launcher will not give you transparent navigation bars by itself; if you want those, you'll need to be on Android 4.4.
Also, there were reports of Google Search crashing and force closing when updated using velvet.apk. Not to worry, the new Google Search update linked in this post appears to have this fixed.
Adding Home Screen Panels
Aside from the new look, new animations and so on, the most notable change in the new Google Experience Launcher is how it handles home screen panels and widgets. You can have as many home screen panels as you like but adding panels in the Google Experience Launcher is a little different from most custom launchers.
Instead of adding panels via a settings menu, you add new panels by first going to the app drawer. Hold down on an app icon of your choice. Once you're at the screen where you place the app, simply drag it to the far right of the list of screens. The launcher will then create a new panel with the icon on it.
Removing panels is as simple as removing all the widgets and icons from a panel. Note that you can only add panels to the right, since the leftmost panel is always Google Now.
Adding Widgets
Adding widgets is also a bit different, since there isn't a Widgets section in the app drawer for this launcher.
Instead, hold down on an empty area of a home screen panel again. This time, instead of going into Settings, go into Widgets, and choose your widgets as you normally would. Like app icons, you can drag widgets to create new home screen panels if you wish.
The new Google Experience Launcher may not have the bells and whistles of custom launchers like Nova, but its sleek and smooth interface should appeal to those looking for a simple, usable launcher. Give it a go and tell us in the comments what you think of it.