How to Transfer Content from Desktop to Android Devices with PushBullet
If you frequently switch between multiple devices like desktops, tablets, and smartphones for work, you probably want to receive the same updates, notifications, and alerts on all of them. This guide is for you!
For Android device owners, PushBullet offers a simple solution to transfer content from your desktop to your Android device. You can send files, notes, links, reminders, and even addresses directly to your Android device and access them from the notification bar.
The best part? The app will suggest the most suitable application for the content you've sent. For example, if you send an address to your Android device via PushBullet, you can instantly open it in Google Maps or Waze. Let's explore more features of PushBullet.
How to Get Started
First, download the PushBullet app. Install it and open the app. Sign in using your Google account, and you'll be taken to the app's home page.
Setting Up File Transfers
Before you can send files to your Android device, you'll need to visit PushBullet's web service. Make sure to sign in using the same Google account you used on your device. Then, choose the device you'd like to send files to and click the Push to this device button.
How to Use PushBullet
PushBullet offers a simple interface with five options for sending notes: Note, Address, List, File, and Link. Let's focus on how to use the Address feature.
Sending an Address to Your Phone
If you prefer finding addresses online, you can easily send them to your phone using this feature.
Enter the name of the location in the Name field and its address in the address field. Then click Push it! You'll receive a notification on your Android device.
Check your Android device's notification bar to see the name and address you've sent. Tap on the notification to proceed.
A prompt will ask you which map app you'd like to use to open the address. Choose one, and the address will automatically appear in your chosen navigation app.
Additional Features of PushBullet
1. Create and Send Checklists
Using the List tab, you can create a checklist that will appear on your phone with checkboxes. Each line represents a single item on the list.
After sending the list to your Android phone, you can view it in the app. You can then tick off items as you complete them and delete the list when you're done.
2. Send Files
If you want to send a file from your computer to your phone, PushBullet allows you to do so. Simply upload the file and click Push It!
A notification will appear on your phone. Tap it to open the file using any compatible app.
3. Share Web Links
You can also send web links to your phone. Just enter the link title and URL in the Link tab.

Once you get the notification on your phone, you can open the link in any browser or share it with others.
You also have the option to Copy the link for later use.
4. Send Between Android Devices
You can send notes and links between Android devices. Open the PushBullet app and tap the icon at the top right to start.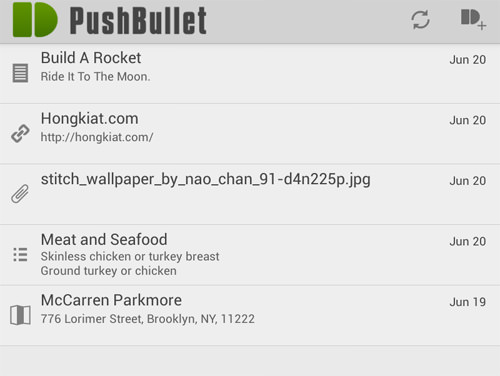 Enter the title and content, then send it to your other Android devices.
Note: You can't send files between devices using the app, but you can through the web service.
5. Chrome Extension
PushBullet offers a Chrome extension for added convenience. However, it doesn't support sending addresses.
Limitations
PushBullet has some limitations. For example, you can't send files larger than 10 MB, send multiple files at once, or push content from your phone to your computer.