30+ Cool Bike Gadgets For Avid Cyclists
There's no doubt about it: cycling is in! Whether for commuting, recreation or sport, it seems that just about everyone is riding some sort of bicycle these days. But in this technology-dominated day and age, there's so much more you can have on your bicycle than just a bell and some simple lights.
If you're a cyclist, or know someone who is, here's a list of 25 bicycle gadgets you should check out. Some gadgets help make cycling safer, others help you find your way and there is even one that lets you charge your devices from the power of cycling.
Monkey lights are cool LED-based bike wheel lights that light up in the most interesting way displaying 8-bit graphics when you move the wheel.
You have 42 built-in themes to choose from and the lights provide you with a 360 degree visibility.
The Garmin Vector is a pedal-mounted power meter system topping crank-based power meters when it comes to portability and easy installation
The Vector records cadence and a variety of metrics such as kilojoules, average power and power zones.
It can also read power separately for the pedals, so compatible bike computers can display the power output for each leg.
The Scosche boomBOTTLE is a wireless Bluetooth speaker that's geared towards outdoor activity. It fits perfectly in a bicycle water bottle cage, and is IPX4 splash proof.
The boomBOTTLE also has a built-in microphone, so it can work as a speakerphone. The rechargable lithum battery offers 10 hours of use.
The boomBOTTLE comes in pink, grey, blue, yellow and green.
Here is a bike tail indicator light for giving out left or right turn prompt or warning to other vehicles on the road.
It works with a wireless remote control that you can install on your bike's rod. The tail lights are bright, USB-rechargeable and pretty easy to install on your bike.
Garmin Edge is a bike navigator to navigate your way and find the best route during a cycling trip.
The GPS navigator is equipped with navigation alerts, rider-to-rider messaging, performance tracking, and setting personal goals and challenges.
Super bright front light for your bicycle that is USB-rechargeable and pretty easy to install on your bike's rod. The light has an amazingly long run time.
The front light comes with a small red tail light for free so you can experience a hazard-free bike ride.
A device to protect you before, during and after a crash accident, ANGi sensor connect with your smartphone and alters your contact in case of an accident.
It attaches to your helmet and can detect and report potential harmful helmet impacts.
Hövding is an inflable helmet, worn around your neck. It uses sensors and algorithms to detect when a crash occurs, and immediately inflates itself to protect your head.
The catch? It's a one-use wonder. Upon inflation, you have to buy another one. It does however have an external shell that can be changed to match your outfit but it's currently only available in the EU.
Convert any bike into a motor-operated e-bike with this electric bike conversion kit.
The conversion kit is compatible with fat bike, mountain bike, road bike or any other, and comes with Mid-drive motor, brake lever or brake sensor, thumb throttle, chainring wheel, LCD display, speed sensor, locknut, and headlight etc.
Here is a smart GPS watch for cyclists, adventurers and explorers. The SUUNTO AMBIT3 watch features heart rate monitoring, smartphone connectivity and some useful weather functions.
It has a rechargeable battery that keeps working for a long time and is fully water-resistant.
Lumos is a smart bike helmet with bright LED lights and smartphone connectivity for activity tracking, light customization, and for checking its battery life.
It's designed with EPS foam core to protect your head from impact of an accident. Activate front or rear turn signals with the remote control or through hand gestures via Apple Watch.
Another cool front light for bicycles, Beryl laser light is cool in a way that it projects a bicycle symbol in green light in front of you so you can easily see where you're going.
The bright LED light with 3 laser modes captures the attention of vehicles, is USB rechargeable, and pretty easy to install on your bike.
SmartHalo is an all-in-one smart device for your bicycle. It offers GPS navigation, anti-theft alarm, fitness tracking, speedometer, odometer, and voice assistant.
What else can you want from a device for your bike.
A Swiss knife to carry on your bicycle trips, the Crankbrothers M19 Multi-Tool kit is perfect accessory for cycling enthusiasts.
The kit includes 19 tools, has a universal chain tool, different wrench sizes, and comes with a case to carry it conveniently around.
Kong Oi is a unique and interesting bell for your bike. It has a beautiful minimal design and a pleasing yet high-pitched ring.
The body of the bell is made with high high-grade aluminum with a strong nylon mount and comes in different sizes for different bicycles.
Bike riders need care too. So here's a handmade care kit for bikers with muscle rub, chafing cream, and sunflower seed oil beautifully packed in a tin casing.
It makes a perfect gift for a biker friend or to spoil your own self.
When everything is going smart, why not your bike's lock. Lattis Ellipse smart bike lock has a 17 mm forged steel shackle and comes with theft-detection.
It has a built-in solar panel and being keyless you can unlock it easily with your smartphone.
Topeak Ninka P is a mini pump that easily fits inside your seat post and weight as light as a feather.
Whenever you're thwarted by a road debris or a nasty thorn, you can take the pump out and put it to work.
A rear-facing bike camera, Cycliq Fly6 allows you to see what's happening behind you.
The camera captures a looping footage that you can save or forget and offers 6 hours of camera and light function.
Rightfully named, Ass Saver is a cool mudguard for your bicycle that saves your back from dirt and water splashes.
The mudguard fits to any bike and is super easy to attach to the saddle without any tool required.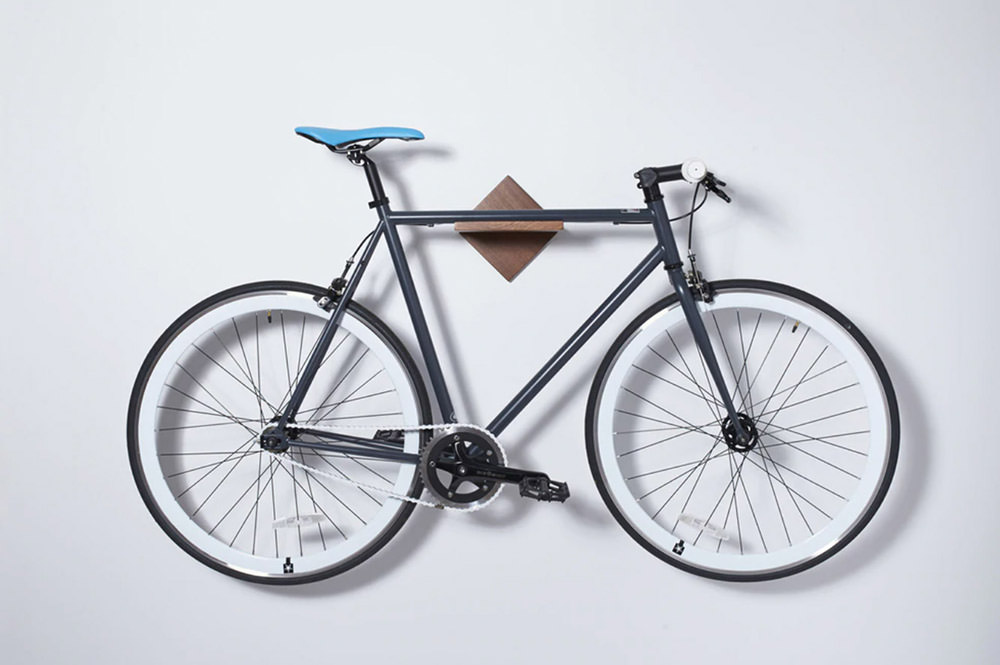 Burnside is a bike rack for mounting your bicycle on the wall or your room, foyer, garage or any other space.
The rack is made of Mahogany wood and offers some extra shelf space for your helmet, keys or other accessories.
Here's a bike security anchor by Anker. You can fix it to any wall or floor surface and combined with a chain lock it can give great protection to your bike.
FEND is a bike helmet like no other. It is a bicycle helmet that folds up into half of its volume so you can easily carry it around.
The helmet is made with ABS shell, ultra light PC, and a high impact absorbing EPS core and can be adjusted to fit perfectly.
Another LED bike wheel light in the list, it displays the graphics that you program into it. The bike wheel light is waterproof and allows you to choose any picture or graphic by syncing it to XuanWheel app.
ALPEN bike capsule is an innovative, minimal and beautiful solution for storing your bicycle and its accessories.
It is made with durable and protective materials and offers enough room to store your bike as well as cycling equipment.
Did you ever think that your bike's handlebars could be an amazing tripod? With this awesome bike mount, now you can shoot videos and take pictures as you ride along.
This vintage bike accessory will add a touch of personality to your bike. Made with wood, aluminum, and brass, it not only looks classic but would last forever.
This bike multitool with stylish finishing is made to be hidden in the handlebar. Best of all, it's designed to fit almost any type of handlebar.
With the tagline "Be cool, Stay dry, Keep riding!', this umbrella will do just that. It may look a little funny, but this umbrella for bicycles will shield you from rain or sun.
Keep your bottles silent and protected on the way home from the store with this awesome 6 pack bike bag.
With this disco ball inspired helmet, you can turn each bike ride into a super groovy event.
Safety on the road is extremely important, especially at night. This compact bike USB light is easy to attach to the bicycle, is really bright and fits any model.
This bicycle can cage will keep your beverage safe while riding, so you can quench your thirst anywhere and anytime.